4 Burdensome Lies Mothers Tell Themselves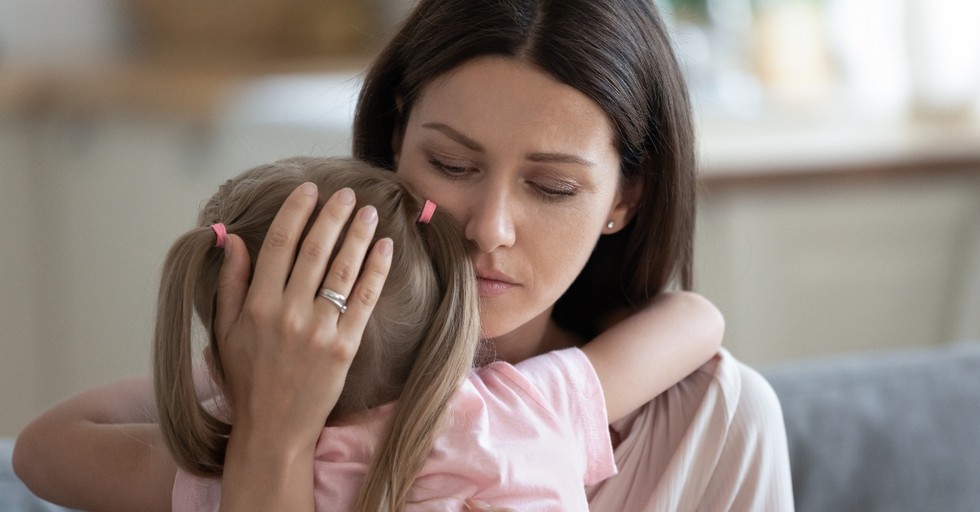 "I'm going crazy," Sally confessed, "do we vaccinate our kids or not. Do we home school or we don't?"
Sally and millions of moms today fret and anguish over decisions, big and small. And social media adds nothing to help a mom's restless heart.
What we find is added pressure. We see pictures displaying fun-looking dishes put together by moms to get those kiddos to eat broccoli and cauliflower. Are you kidding? How do they do that? Most of us manage to serve--a steady diet of--mac and cheese and chicken nuggets
In the meantime, we have our own nuggets of remorse that haunt us. We compare ourselves with other moms. Their wisdom emphasizes our flaws. And sometimes we're convinced their kids are healthier, better and no doubt, happier.
Time to convince ourselves of something different. Comparison is never good. That unhealthy comparison cooks in the heart of a mom a hearty serving of guilt. If we're not careful that guilt triggers emotional indigestion. It invades our moments of peace. It disrupts our security. And it dismantles our confidence.
But although guilt is the enemy, God's grace is the weapon. Under His grace we find wisdom. We discover His truth. And we march forth to win.
The victory begins with destruction. We must destroy those lies that fuel guilt. They have no place in a mom's heart. These are the first four that must be washed away with the water of God's Word.
Photo Credit: ©Getty Images/fizkes
1. I Don't Have What it Takes to Be a Good Mom

Slide 1 of 4

That's because no one told us what "it" is. Is it possessing endless energy? A degree in motherhood? Years of experience? Or an online course in "great moms 101?"

None are available. That means all of us moms start in the same place--knowing nearly nothing about raising those little ones.

We apply the lessons we learned from our own moms. Some work, others don't. But we try to persevere by tackling one more day of spilled milk, wet diapers, sibling wars, or teenage moods. At the end of the day, our energy is gone, but what remains are the nagging thoughts, "did I do it right? Did I do enough?

Rachel asked herself those questions, until one day, she changed.

"I realize sometimes I don't have what it takes to be a good mom," she said, "that's why I'm desperate for God's wisdom to help me. So, I ask Him every morning when I wake up to give me His wisdom to face the day."

Can she count on God's wisdom? Here's His answer:

"If any of you lacks wisdom, he should ask God, who gives generously to all without finding fault, and it will be given to him. But when he asks, he must believe and not doubt, because he who doubts is like a wave of the sea, blown and tossed by the wind." James 1:5-6

In our role as moms, we may think we don't have what it takes, but we can take what God offers, not in small amounts but in generous portions. We take His direction, His counsel, His guidance and power.

And when we're frazzled in those hectic moments, thinking we don't have what it takes, Jesus says: "Take my yoke upon you and learn from me, for I am gentle and humble in heart, and you will find rest for your souls. For my yoke is easy and my burden is light" (Matthew 11:29-30).

When a wise mom learns from Jesus, receives His invitation, she finds rest. Her load becomes easier. Her thoughts are clearer and when most moms are struggling in the battlefield of emotions, she lives in victorious freedom.

Photo Credit: ©GettyImages/Kaan-Sezer

2. I Need to Make Sure My Kids Are Happy

Slide 2 of 4

My friend and I sat on the bleachers during a football game. She grabbed my arm and whispered with a giddy voice, "Amber is engaged."

"No way, she's not marrying him, is she?

OOPS, why did I let my honesty blur out in such an insensitive way?

"I know, I know," she said, "he's not the best guy, but all I want is for my daughter to be happy."

Those are the most well-meaning, mistaken and possibly destructive words a parent can say.

Amber was sort of happy for the first few months. But the unhealthy relationship revealed events that made the local headlines. A traumatic divorce followed.

If we believe the lie that our number one priority is to make our kids happy, sadness is about to visit. They will become adults whose high priority will be self-indulgence, selfish motives, narrow perspective and become champs at making harmful choices.

Yours truly battled with that dilemma. When my boys were 3-, 5- and 7-years old, I lost my sight completely. Night after night I agonized at the effects my blindness would have on them.

While all other kids had their moms sighted and healthy, my sons would be sadly deprived. I couldn't follow the world's pattern that dictates we must raise happy children so they can grow up to fulfill their dreams. How does a blind mom achieve that?

The answer came when God opened the eyes of my heart as He said: "Do not conform any longer to the pattern of this world, but be transformed by the renewing of your mind. Then you will be able to test and approve what God's will is--his good, pleasing and perfect will" (Romans 12:2).

His transformation did renew my mind and approach to my role as their mom. Although they would have been happy with no chores, no discipline or accountability, I taught my sons the lessons found when we sacrifice. The meaning of hard work. The importance of perseverance. The value in waiting. The treasure found in gratitude.

And most of all to find joy, not in circumstances but in obedience to God.

A healthy happiness happens when our kids know boundaries, experience discipline and learn from consequences.

Photo Credit: ©Getty Images/zergkind

3. My Flaws Will Mar My Kids

Slide 3 of 4

Flaws? We all have them. Failures? We all experience them. And even not-so-innocent manipulative tendencies rumble inside us.

They did with Rebekah, Isaac's wife. She had two sons, the older, Esau and the younger, Jacob. Genesis 27:5-15 details how, with no shame, she planned and coaxed Jacob to lie and pretend he was his older brother, Esau. Her plan worked.

Her husband, Isaac, nearly blind was fooled in thinking Jacob was Esau. And he proceeded to give Jacob the blessing as the firstborn (paraphrased).

Rebekah did wrong. But what she didn't do is hide in the closet of shame and refused to come out, chastising herself as a bad mom. Why? Maybe because through her flaws, God's faithfulness shined through.

She witnessed how God blessed Jacob, equipped him, protected and provided for him.

In spite of her deceiving approach, bad example and blatant manipulation, Jacob did well.

Today, we can trust the same results. We moms can influence our kids, but God is the one who infuses them with victory, success and triumph.

Certain of that truth, we leave the self-chastising aside and concentrate on loving God. If we do, In Romans 8:28 God says He will turn to good all in our lives as long as we love God and are called according to His purpose (paraphrased).

Let's celebrate knowing our failures are in the past, our weaknesses are in the workshop of His love and our Kid's future are in His hands.

Photo Credit: ©GettyImages/Tommaso79

4. My Prodigal Is My Fault

Slide 4 of 4

What if our grown kids don't end up like Jacob? We raise them with the highest quality of parenthood, yet they fly off the nest only to crash into the world's ways.

That happened to Ruth Graham's son. She and her husband Billy Graham, the greatest evangelists of all time raise their son Franklin with sound biblical precepts and set a stellar example for him.

But disappointment awaited them.

As noted in an interview with CBS 60 minutes:

"As a youngster, Franklin said, he was attracted not to the gospel, but to guns and motorcycles, cigarettes and alcohol. He says he tried marijuana (just once). He was thrown out of high school and college."

Through it all, his mother Ruth didn't give up. Didn't blame herself. Didn't become angry with God or released her son to the world.

Instead, she prayed earnestly for her son.

Today Franklin is president and CEO of the Billy Graham Evangelistic Association (BGEA) and of Samaritan's Purse, an international Christian relief organization.

Franklin said, "To follow in my father's footsteps, I had to go through my mother's knee prints.

Even in my rebellious years, I never doubted that Mama loved me unconditionally. I knew she prayed for me earnestly. She knew when to lecture me, when to punish me and when to hug me."

God will not hold us accountable for our kid's future, but for the present that we fill with prayers.

We're living in a different world, facing a new normal, and witnessing drastic changes. That's why for each lie the enemy whispers, God counteracts with His truth that guides, sets free, calms and brings peace to a mom's heart.

Photo Credit: ©GettyImages/fizkes