Engaging Your Children's Hearts: Campfire Joys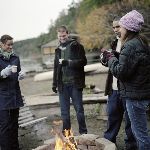 I love the cool Autumn evenings in the country. It is the time to bring out warm flannel shirts, hooded jackets, and fleece jerseys. Crisp air welcomes you to the outdoors and fills your mind with serenity. The scent of dried leaves reminds you that a new season of blessing has been delivered for your enjoyment. Owls and crickets give their best performances of the year in one last attempt to warm the chilling air. The big harvest moon illuminates the sky and casts webs of shadows on the world around you. This is a great time to be alive and share the joys of the season with your family.

Creating the Mood

Ever since the time my children were quite young we have found pleasure in our autumn, family campfires. We have a rock fire ring in a quaint setting of the back yard where we can observe the dancing flames in privacy and comfort. We'll sit on logs, chairs, wool blankets, or even the grass. Sometimes the children make S'mores or roast marshmallows or sometimes they just sit back and indulge in the ambience. It is relaxing just to sit and watch the sparks soar upward into the vast dark space and listen to the crackling flames.

The soft glow of  firelight in each other's faces has a way of making everyone appear softer, gentler. Regardless of how chaotic the day has been, there is something predictable about the way it will end up when we sit around those burning logs and glowing embers. Times like this God begins to stir the soul and open up doors of conversation that may have warped shut during the hectic course of the day.

Engaging the Heart

It never takes long for our fireside activities to set our minds at ease and we begin sharing our most serious dreams and laughing at our most absurd silliness. Little by little the dialogue builds  with one person after another spontaneously sharing their thoughts. At times, the conversation may become a plethora of opinions and advice or a concerted outburst of laughter.

It seems that the more heart-gripping revelations are always preceded with, "Dad, Mom, do you remember when…" and in that moment, an unexpected flood of memories and emotions instantly takes you back to another place and time. As the scene unfolds, you begin to realize that some of life's simplest acts of kindness (or times of deepest distress) have produced an indelible mark on your child's heart. Uninhibited, they reveal how the experiences of life produced hope, joy, wisdom, appreciation, or love. Campfires tend to bring things like that to the surface. It is God's way of synchronizing everyone's hearts and minds. 

Owning the Joy

Our family times around the campfire are never long enough. By listening to our children talk, we find out what they like. We learn what interests them  and what grieves them. The flickering lights seem to draw a little of everything out of  the reservoirs of their souls. Sometimes it is surprising what they are dealing with at their ages. Other times I am so blessed to hear their wisdom that the brilliance of the fire becomes blurry and my heart feels as if it could melt.

Pardon my use of an already overused cliché, but this is the kind of stuff that dreams are made of. Moments like these are why I wanted a family in the first place. I love the freedom and simple honesty that families can and should enjoy with each other and that campfires seem to instigate. It is one of the many simple gifts God gives -- a gift which has the power to reset the tempo of joy in one's life.

Not too long ago this thought occurred to me: when the Lord delivered His people, Israel, from their years of bondage, He lead them during the day with a pillar of cloud, but at night… ah…at night…everyone had the comfort of the Lord's presence in a pillar of fire. Could this be a form of campfire for God and His family? Why not. What precious times those must have been.  I can just hear the Children of Israel saying, "Father, I remember all those years of suffering… we prayed and cried to you and wondered if you would ever send a deliverer… thanks for being there…" Oh, I know they murmured and complained and sinned and quarreled during the day, but in the beauty of the fire's illumination, I'll bet the talk was sweet.

If you want to set the mood for an intimate time with your family, you might try gathering everyone around the old campfire. As you bask in the warmth of the crackling logs and study the beautiful faces of those you love the most, be ready for the Lord to show up. He may very well open up the channels of the heart and set your soul ablaze with joy.


Timothy Palla is the pastor of Fairview Baptist Church in southern Ohio. He and his lovely wife Jennifer have five children: Drew, Dane, Aidan, Ethan, and Meghan. You may contact him at tpalla@rocketmail.com.