10 Powerful Scripture Verses to Read to Your Grandchildren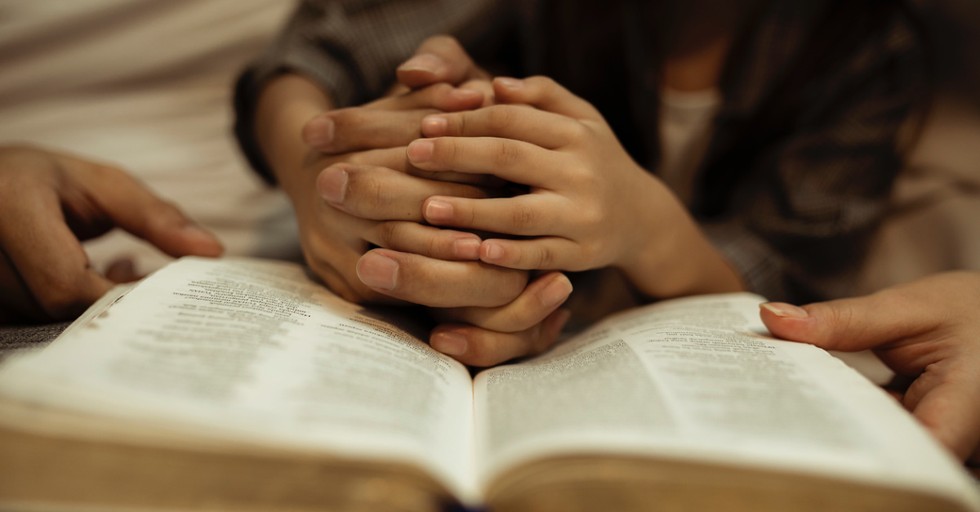 "Read it again, Grandma! Please."
"But, honey, we have read this same book three times."
"I know, just one more time, please?"
Children love to be read to and many have a favorite book they like to read over and over again. What a great way to instill a love of reading into children.
Reading is a great activity for grandparents and grandchildren to do together. You can do it while snuggling and the grandchildren will benefit from the physical touch. You can do it no matter what the weather. Grandparents don't have to exert a lot of energy and it is not physically taxing. Most of all, reading to your grandchildren helps them grow a love of reading, which will create joy for a lifetime.
When choosing something to read to your grandchildren, go to the best book of all, the Bible, to select your reading material. Reading is a good time to begin familiarizing grandchildren with biblical truth and planting seeds of God's love in their hearts. Here are some good lessons to start with and the verses that go with them.
Photo courtesy: ©Getty Images/Rudi Suardi
Verse 1: Love (1 John 4:16)

Slide 1 of 10

One of the first memory verses Sunday school teachers introduce to their students is "God is love." Even very young children can quote those three words that come from 1 John 4:16. "And so we know and rely on the love God has for us. God is love. Whoever lives in love lives in God, and God in them."

Not only can you read about love to your grandchildren, you can demonstrate love every day. Small acts of kindness to them will not go unnoticed. Teach them to show love by taking them with you when you visit a shut-in, take cookies to a neighbor, or deliver a meal to someone. You will model showing God's love to others.

Photo courtesy: ©Thinkstock/monkeybusinessimages

Verse 2: Contentment (Philippians 4:12)

Slide 2 of 10

Paul tells us he has learned how to be content no matter what his circumstances. He says, "I know what it is to be in need, and I know what it is to have plenty. I have learned the secret of being content in any and every situation, whether well fed or hungry, whether living in plenty or in want."

Reading this verse gives you the opportunity to discuss with your grandchildren different situations that sometimes are difficult to be content in. Likely there has been a situation that happened within the family in the last day or two in which someone had a difficult time with contentment. If it has not been resolved, this would be a good time to help your grandchildren see the difference in contentment and discontent.

For this verse, it might be valuable to role play a few situations to reinforce the concept of being content in whatever state you are in.

Photo courtesy: ©Thinkstock/monkeybusinessimages

Verse 3: Joy (Philippians 4:4)

Slide 3 of 10

"Rejoice in the Lord always. I will say it again: Rejoice!" Remind your grandchildren that the key word in this verse is always. Ask them if they can think of a time when it was really hard to rejoice. Then share with them a time that it was hard for you. Tell them how you brought yourself back to a place of joy in the midst of a situation when you really didn't feel joyful.

This verse is an easy one to remember so have your grandchildren say it with you several times. Better yet, if you are familiar with one of the several songs based on this verse, teach them to sing it with you.

Photo courtesy: ©Thinkstock/dobok

Verse 4: Wisdom (James 1:5)

Slide 4 of 10

Even young children make thousands of decisions every day—when to get up, how to brush their teeth, what to wear to school, what to eat for breakfast or if to eat breakfast, whether or not to obey their parents (that one comes up numerous times a day), which shoes to wear, and so on. Those are some of the easier ones. As grandchildren get older, they have increased pressure with social decisions, higher education choices, and the like. And even though "wisdom" often feels like a hefty, adult concept, children need to learn to seek wisdom as they grow. 

James give us pretty simple instructions as to how to get wisdom. "If any of you lacks wisdom, you should ask God, who gives generously to all without finding fault, and it will be given to you" (James 1:5). You don't have to meet any specific criteria to qualify for wisdom, you just ask. There is no age limit or requirements to meet.

Help your grandchildren to understand wise choices. Give them a few scenarios where there is a choice to be made and help them see where a bit of wisdom can make a huge difference.

Photo courtesy: ©GettyImages/bernardbodo

Verse 5: Peace (Isaiah 26:3)

Slide 5 of 10

There are many things in our world today that are not peaceful. Many distractions exist that are evil. You want to give your grandchildren the assurance that there is a way to be perfectly peaceful in this not-so-perfect world.

"You will keep in perfect peace those whose minds are steadfast, because they trust in you" (Isaiah 26:3). Another way of stating that verse is from the KJV. "You will keep him in perfect peace Whose mind is stayed on You, because he trusts in you." That may be a little easier for the grandchildren to understand. Bottom line, the secret to perfect peace is keeping your eyes on Jesus. Have you experienced that? Everything is fine until your eyes and mind begin to wander and then you are filled with the world's distraction. Encourage your grandchildren to keep their eyes on Jesus and give them some pointers as to how to do that.

Photo courtesy: Pexels.com

Verse 6: Kindness (Ephesians 4:32)

Slide 6 of 10

This is another verse your grandchildren probably learned at an early age. "Be kind and compassionate to one another, forgiving each other, just as in Christ God forgave you." The Sunday school version for young children is "Be kind one to another."

Kindness is an important concept. There is just not enough of it in our world today. After reading this verse, discuss how to be kind and where kindness comes from. Make a plan to show kindness to someone in the next week. If your grandchildren are older, discuss forgiveness as well, another important concept in our Christian walk.

Photo courtesy: ©Thinkstock/Ingram Publishing

Verse 7: Hope (Jeremiah 29:11)

Slide 7 of 10

"'For I know the plans I have for you,' declares the LORD, 'plans to prosper you and not to harm you, plans to give you hope and a future.'" This is one of the most familiar verses, especially quoted at special times like graduation, birthdays, and more.

Your grandchildren need to know that we have the ultimate hope in Jesus and that the plan for our lives is already in place. God has a plan for each one of them and we need to encourage them to keep their eyes on the course. Plans help you stay on the right path.

Photo courtesy: ©Thinkstock/Wavebreakmedia

Verse 8: Confidence (1 Timothy 4:12)

Slide 8 of 10

Sometimes people are tempted to discount the opinions of our grandchildren just because they are not adults yet. But God often gives them wisdom in certain areas because they are able to distill the problem down to a simple solution. Compliment your grandchildren for the times you have observed them display wisdom. It may be in very simple matters as in not arguing over a toy when the room is full of toys or choosing a friend whose values are similar to theirs. 

"Don't let anyone look down on you because you are young, but set an example for the believers in speech, in conduct, in love, in faith and in purity" (1 Timothy 4:12). Your grandchildren, no matter how young, can be an example to others. 

Photo courtesy: ©Thinkstock/gpointstudio

Verse 9: Gratitude (Psalm 136:1)

Slide 9 of 10

A life filled with gratitude is a happy life. It has nothing to do with how much you have but being thankful for the things you do have. From a very early age, grandchildren can learn to be thankful. Grandparents are the perfect ones to teach them. Spend time talking about the things you are thankful for in your life. Help grandchildren see things in their lives they can be thankful for. After reading this verse, have a thanks-fest together!

"Give thanks to the Lord, for he is good. His love endures forever" (Psalm 136:1). Indeed, above all, we can be thankful for God's never-changing goodness and enduring love. What a treasure!

Photo courtesy: ©Thinkstock/monkeybusinessimages

Verse 10: Salvation (John 3:16)

Slide 10 of 10

Your grandchildren may have learned this verse in church. But it's possible they have not grasped it and made it their own. After reading it the first time, read it again substituting your grandchildren's names in the place of "the world." Help them to personalize this verse so when God speaks to their hearts about becoming believers, they will be ready. God uses many different ways to bring us to salvation and grandparents are often strong influences for their grandchildren.

"For God so loved the world that he gave his one and only Son, that whoever believes in him shall not perish but have eternal life" (John 3:16). The desire of every believing grandparent's heart is for their grandchildren to know Christ. As you read this verse to your grandchildren and discuss it, pray that God will use your words to be part of your grandchildren's salvation journey.

Helping your grandchild enjoy reading brings lifelong pleasure. Instilling biblical truth into their lives bring eternal rewards. What a blessing to do both!

Linda Gilden is an award-winning writer, speaker, editor, certified writing and speaking coach, and personality consultant. The newest volume in the LINKED personality series is LINKED Quick Guide to Personalities for Parents and will release in March. As Director of the Carolina Christian Writers Conference, Linda helps many writers take the next step in reaching their writing goals. But as much as she loves to write, her passion is family, including the cutest grandchildren in the world. Linda's favorite activity is floating in a pool with a good book surrounded by splashing grandchildren—a great source of writing material! www.lindagilden.com

Photo courtesy: ©Thinkstock/Halfpoint