Are Your Expectations of Grandparents Way Too High?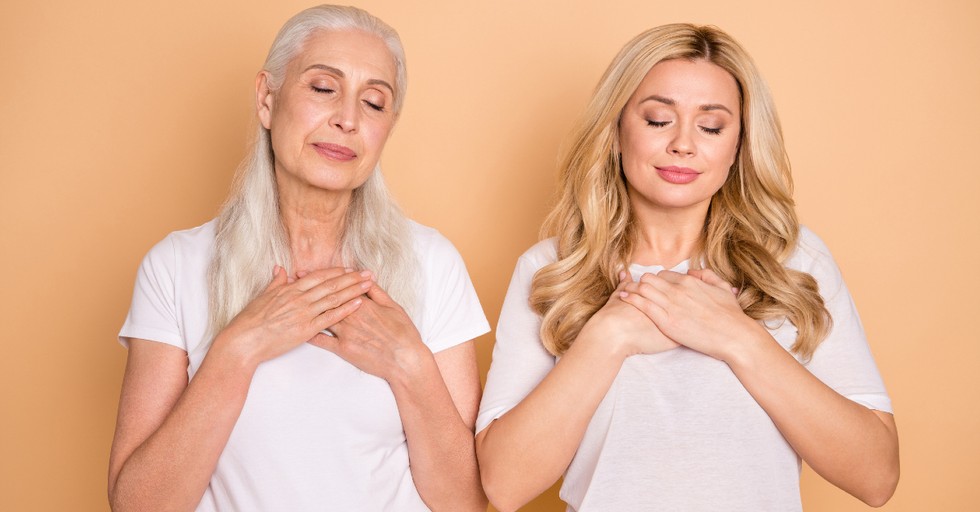 It has been just over a decade since the words that every mother hopes one day to hear, buzzed through the phone line from Colorado to California, "Mom, you are going to be a grandma!"
My eyes filled with tears, and in the best of ways, I was overcome with delight. My first grandchild, a true gift from God.
My daughter had been married just over a year, and was working full-time as her husband established himself as a youth pastor. It didn't take my mother; about to be grandmother brain, long to start to consider all of the concerns and contingencies that come packaged up in the cuteness and joy of a new little life. I knew my daughter would likely return to work.
Who would help with the baby?
Would she and my son-in-law need me there to help when the baby was born?
What might they expect of me, and to dig deeper, what expectations was I placing on myself?
Ten years later, I am now the proud grandmother of five grandchildren who range in age from 2 ½ to almost ten.
Each birth has required a recalibration of how my husband and I, as grandparents, can best interact with these little ones that Proverbs calls "the crown of the aged." Along the road we have found clear understandings that have helped us to say goodbye to unrealistic high expectations that have been placed on us, and that we have placed on ourselves.
Here are eight things every grandparent should consider when determining the why, when and how of saying goodbye to the high expectations often placed on them as a grandparent.
Photo Credit: ©GettyImages/Deagreez
1. Defining a Good Grandparent

Slide 1 of 4

The question of what makes a good grandparent can resound in the heart of both first-time grandparents, and those who are counting their generational offspring in the double-digits.

Having passed first through the rite of parenthood, we may find that we are painfully aware of our parental inadequacies and easily fall prey to unrealistic expectations as grandparents.

We quite simply want to do better and we may try to meet every perceived need with more; more giving, more time spent, more saying yes. This can be a delightful experience as grandchild number one enters the world, and an impossible standard that parents might expect to see repeated, as other little ones enlarge your grand-parenting crown.

A good grandparent can be defined in many ways, and are as diverse as each personality. It is important to focus on what God calls us to as grandparents. Godly grandparents carry these things in common:

First, they actively love God and others in their daily life, exhibiting this naturally to their children, and grandchildren.

Next, they understand the legacy of prayer that they can leave as they pray over their grandchildren.

Finally, they seek to teach their grandchildren about Jesus in the ways that are available to them.

2. The Pressure of Expectations

Just stating the call to biblical grandparenting, likely does nothing to lessen the expectations placed on us as we seek to be good grandparents.

Often, attempting to reflect our faith may find us juggling some picture of the ideal grandparent concocted by our children's ideals, dreams, or needs, our own desires to be a good grandparent, and a mistaken religious standard.

Our children, who are now navigating the rough (and rewarding) road of parenting, may remember their own doting grandparents of another generation, and are possibly looking to you to reflect the image in their minds.

As grandparents, we need to firmly place our expectations in God, and choose an intentional path of grandparenting that achieves our desired impact on our grandchildren that is based on our personal abilities, as well as our financial and time constraints.

Simply put, consider carefully what you want to do and what you can do, and then communicate these things in loving-kindness.

Photo Credit: ©GettyImages/Sam Edwards

3. Don't Be Intimidated by Social Media

Slide 2 of 4

The pressure of grandparenting in the time of social media adds an extra element of ridiculously high expectations for both parent and grandparent.

Unwittingly, as we seek to be a part of the lives of our little grand-ones, we may find that the outside voices of our friends, and the friends of our children now seem to also have a say on our capabilities and responsibilities as a grandparent.

Grandparents who work, live far from their grandchildren, or live on fixed budgets may find themselves unable to compete with the social media mindset portrayed in a picture-perfect slice of the lives of other grandparents. A good rule of thumb when you find yourself engaging in the alternate reality of social media as a grandparent is to remember your intentional path of grandparenting.

Our goal is to make memories not media posts.

4. Be the Unique Grandparent God Designed

Grandparenting, like all other endeavors in life, must flow from the well of who God has designed each of us to be.

This truth carries with it the beauty and freedom of the knowledge that as individuals made in the image of God; we do not have to grandparent in the manner that our parents or grandparents before us might have undertaken the journey.

It also frees us from competition with your grandchild's other set of grandparents, as well as from expectations and comparison within the world of all those who bear the honorable title of grandparent.

For my oldest two grandchildren, I am the grandma who loves to buy them books and jump in their beds to read to them. Their fraternal grandmother is great at playing, and loves gift giving. It's truly a situation where all come out as winning. Only you can be the grandparent God designed uniquely for your grandchildren.

Photo Credit: ©GettyImages/Maurian Soares Salvador

5. Communicate Clearly and Consistently with Your Adult Children

Slide 3 of 4

Seasons will change for grandparents and parents alike.

More grandchildren will be added, along with more years on the birthday cake. Along the way, make mid-course corrections as needed by asking questions, listening well, recalibrating as needed and expressing your hopes, goals and obstacles.

James 1:19 instructs us to "be quick to listen" and "slow to speak…" This is an excellent model for building healthy communication between grandparents, and their adult children. Be careful to note that the scripture does not guide us to not speak, but rather how to speak, after listening, and with care and consideration.

Allow for imperfections in the process, and don't give way to misunderstandings that inhibit discussion. Dump criticism, and be specific about what you can do, as well as what you might hope to do. The words "How can I help?" can be lifeblood to parents, and if the request is not within your capability, a response that indicates clearly what you can do, is helpful and thoughtful.

6. Avoid Resentment by Discussing Boundaries in Advance

Perhaps one of the most difficult and yet, effective tools in saying goodbye to the high expectations that might be placed on you as a grandparent comes in the form of setting boundaries.

Simple and straightforward conversations on topics such as babysitting, sharing your faith, gift-giving, your availability to help, or when it is appropriate to visit can be engaged with honesty and humanity.

James 1:19 further notes that we should be "slow to become angry, because human anger does not produce the righteousness that God desires." Avoid resentment by discussing boundaries in advance, helping your adult children to know what your lifestyle currently looks like from health, to work and availability.

In return, respect their boundaries, and don't let unmet expectations on either side ruin simple pleasures. Always speak up if a request is made that is simply more than you can do.

Photo Credit: ©GettyImages/Image Source

7. Good Gifts Are Affordable, Enjoyable, and Parent-Approved

Slide 4 of 4

The area of gift-giving can prove to be perhaps one of the most difficult to manage for the grand-parenting set.

"Am I spending too little?" "Is this gift too expensive?" "Am I spoiling my grandchildren?" "I want to be able to spoil them a bit." "Can I afford this big birthday party, new toy, Disneyland trip?"

These thoughts have all run endlessly through the minds of most grandparents, and are high expectations that should be given the boot early on.

Giving good gifts starts by being intentional with your own personal budget, and then flows from the loving desire to bless your grandchild. Be in rhythm with your adult children so that you are giving gifts that they prefer their children to have, but also set honest and realistic budgets of your personal spending limits.

8. Leave a Legacy for Your Grandchildren Based on Godly Expectations

Ultimately, grandparenting is a ministry that carries within it a rich legacy laced with celebration, loving-kindness and exhibiting our love for God through our love of our grandchildren.

We have the opportunity, as written in Psalm 103:17, to see God's love and righteousness be expressed to our "children's children" as we interact with them in ways that bless them, as well as us.

As followers of Christ, we can and should say goodbye to high expectations that pressure us to do more than God is asking us to do. We can be faithful to pray, listen, be present, and be honest about our availability and capabilities.

Most of all we can love Jesus, and in the uniqueness of our personality let this love flow over our children and grandchildren.

Photo Credit: ©GettyImages/AnnaStills