12 Ways Grandparents Can Make Easter an Unforgettable Time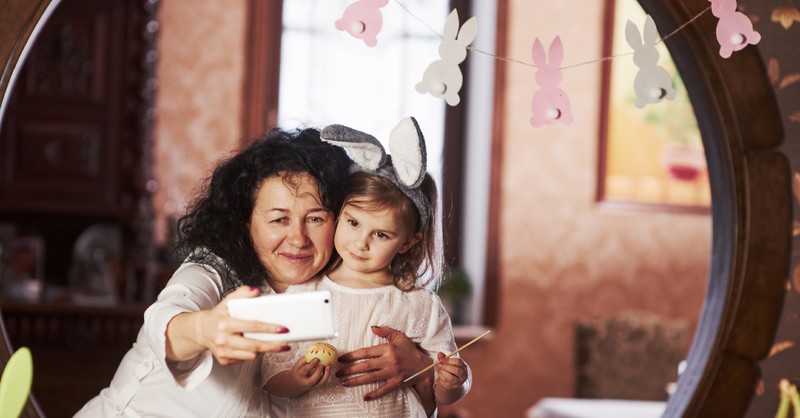 Easter is perhaps the greatest Christian celebration. Sadly, as is true with most other Christian holidays, it has been overrun by commercial interests and imposters imitating the real thing.
We're all too familiar with the Easter Bunny, and decorating trends now even include Easter trees. Toy manufacturers and retailers are beginning to push gift-giving as if it were Christmas all over again.
Celebrating the new growth of flora and fauna in springtime—and the hope it symbolizes—is not necessarily a bad thing, but where does Jesus fit into all the fuss?
Children love Easter baskets, egg hunts, candy, and stuffed bunnies, but we know there's more to the story. Because we hold a special spot in our grandkids' lives, we can help them enjoy the season while also still appreciating its significance.
There is a vast difference between what we can tell preschoolers and what tweens and teens will be able to understand. So it stands to reason that the activities we do with them will vary a great deal. However, no matter how old the child, some Bible truth is important to teach at this special time of year.
Hopefully, the parents of your grandchildren will initiate conversations about Jesus and what He did for us, and also choose activities to reinforce these truths. But even if they don't, you still can.
Only you know how much or how little to say in each family situation, but what you do, and the gifts you give, can say volumes more. So give some serious thought to strategies for celebrating Easter in fresh, meaningful ways that will live in your grandkids' memories for years to come.
You'll find some ideas here that will help you springboard to more of your own.
Easter Ideas for Preschoolers
Because little children's minds are not able to grasp abstract ideas, we must remain concrete when we talk to them about Easter.
The concept of Jesus dying on the cross for our sins is far beyond their comprehension level—never mind his rising from the dead. So what should we tell them?
This is the age at which it is appropriate to focus on how much Jesus loves us, specifically children. If we include an animal in our celebrations, it might be a lamb, since the Bible talks about Jesus as the Lamb who takes away our sins.
How might you incorporate these lessons into fun, engaging activities?
1. Gift a colorful book about Jesus and read it to them.
2. Craft a lamb using a poster board cut-out of a head and body onto which the child glues cotton balls. Let an adult draw large dots for the eyes with a black marker. Legs can be fashioned from two pinch-type clothespins colored black with permanent marker. Help the child attach one in the front and one at the back of the body form.
3. Let several children act out the Bible story of Jesus feeding the crowd with five loaves and two fishes. Raid your closets for bathrobes and towels, ropes and baskets to use as costumes and props. Perform the skit for adoring family and/or friends. Emphasize how this miracle demonstrated Jesus's love for the people.
4. Learn a new song about Jesus and teach it to your grandchild. Use two chopsticks as rhythm sticks, and find some Christmas jingle bells to stitch onto a strip of elastic as a bracelet "tambourine." Sing along with the recording, or acapella. They will be delighted either way.
5. Bake bread together and talk about how Jesus helped people by giving them bread. Wrap your fresh loaves in pastel cellophane bags and deliver them to neighbors during the week before Easter—being sure to bring your grandchild along.
6. Help your grandchild plant a quick-growing seed in a small terra cotta pot a few weeks before Easter. Together, tend it and keep watch as it sprouts and grows. Discuss how Jesus makes the plants to grow.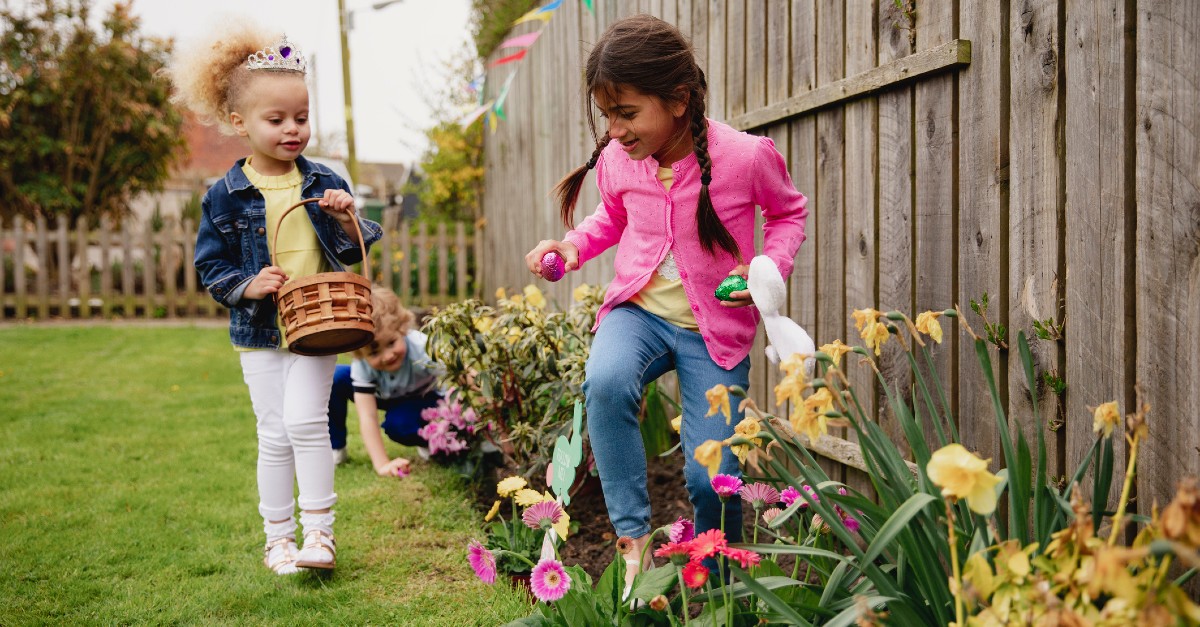 Photo Credit: ©GettyImages/DGLimages
Easter Ideas for Elementary-Age Children
These are the years when cognitive ability begins to mature enough to begin the conversation about Jesus' death, burial, and resurrection.
At some point before middle school, children realize the Easter bunny is the same as Santa Claus and some of the artificial magic wears off.
Gifts can still be appropriate, but they should reflect the solemnity of the occasion. These might include a cross necklace (appropriate ones are designed for both boys and girls), or a new Bible.
Activities to enjoy with your grandchildren also need to be conversation starters so you can share not just what Jesus did, but also your own testimony.
Listening to you tell your personal encounter with Jesus, including how you knew you needed to accept Him, the actual moment it happened, and how your life has been different since then—in age-appropriate terms—will impact the child in ways you might not anticipate.
It certainly can be a conversation they will never forget. (One note—be sure to keep your story to under five minutes so you don't lose their attention). Here are some other activity ideas.
7. Craft a "salvation" bracelet with colored beads or threads representing lostness, the blood of Jesus, baptism, eternal life, and heaven. Teach the child how to use it to share the gospel with friends. You can find kits for these in Christian bookstores or online. You just might discover as you work together and talk that your grandchild is ready to make her own decision for Christ—and you can be the one to lead her.
8. Create a wall-hanging of a cross using burned match sticks. Cut out a cross shape from foam core or poster board and use craft glue to place the match sticks in overlapping rows, moving from the outsides toward the center. The burned ends should lay on top of the previous row. Images and directions can be found by Googling "burnt matchstick cross."
9. Research to find out if there is a local farm that raises sheep and allows visitors. Take your grandchild on a field trip to the farm and ask the owner to talk about the characteristics of sheep and the care they need. Afterward, go for lunch or ice cream and talk about the Biblical tradition of sacrificing a lamb for sin. Also discuss Jesus as the sacrificed "Lamb" for us.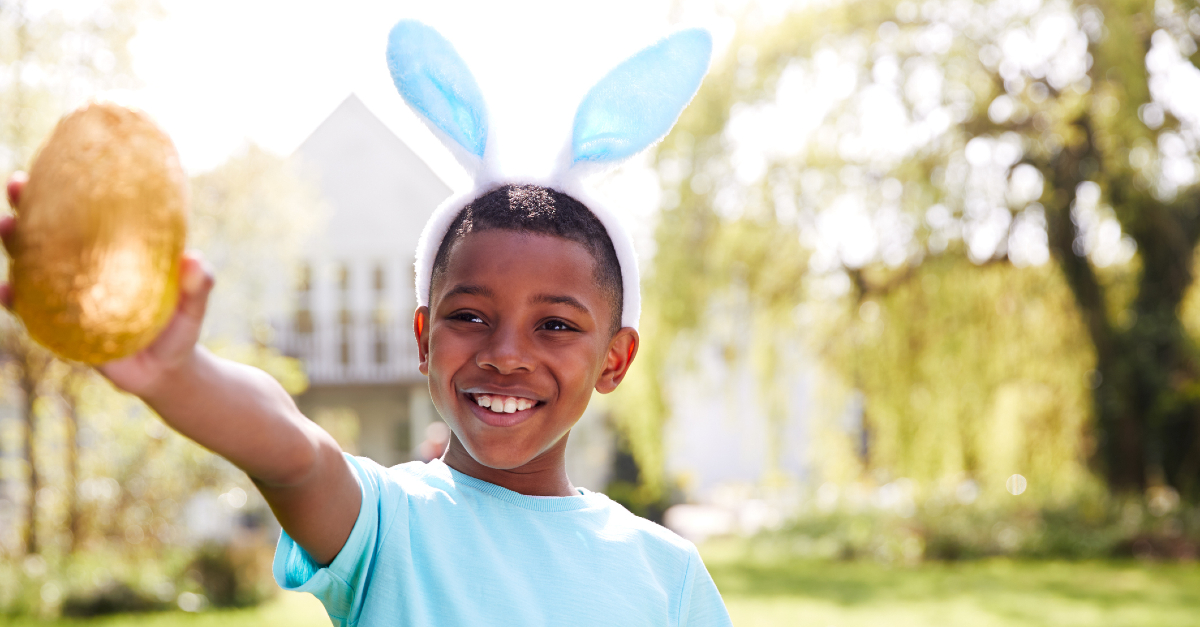 Photo Credit: ©GettyImages/monkeybusinessimages
Easter Ideas for Middle and High School Kids
Once a child passes the age of twelve, he is better able to think in abstract terms and draw conclusions and lessons from experiences that will apply to his own life.
10. This is the perfect age to take your grandchild to a Messianic Jewish Passover observance. The celebration is one that will live in his memory for years to come.
11. If your church holds services that are different from those in the church your grandkids attend, invite them to come with you to a Maundy Thursday or other special event.
12. Plan ahead for Lent with your grandchild. Discuss the reason some people give up things for Lent and agree together to make a specific personal sacrifice. Hold weekly conversations to keep each other accountable. Make sure you are honest about your own struggles in these talks.
Kids want to be viewed as adults. This type of mutual sacrifice and open discussion about it will help your grandchild grow, not only spiritually, but emotionally as well. In addition, a bond will grow between you that will reap rewards which only increase as the years go by.
Make this the year you begin moving beyond the usual egg hunts and candy to a tradition of celebrating Easter with your grandchildren in meaningful ways. Being intentional in our choice of activities creates new memories and deepens our already special relationships.
Photo Credit: ©GettyImages/standret
Kathryn Graves, author of Woven: Discovering Your Beautiful Tapestry of Confidence, Rest, and Focus, and Fashioned by God, holds a BA in Psychology, is a pastor's wife and Bible teacher, and spent 15 years in the fashion industry. Kathryn is Mimi to five grandsons, and loves to play with color—including interior design, clothing, and painting with pastels. In addition to her website, find her on Facebook, Instagram, and Twitter.