How to Assign Age-Appropriate Chores for a Happy Home
Meg Gemelli

Crosswalk.com Contributing Writer

2022

31 Jan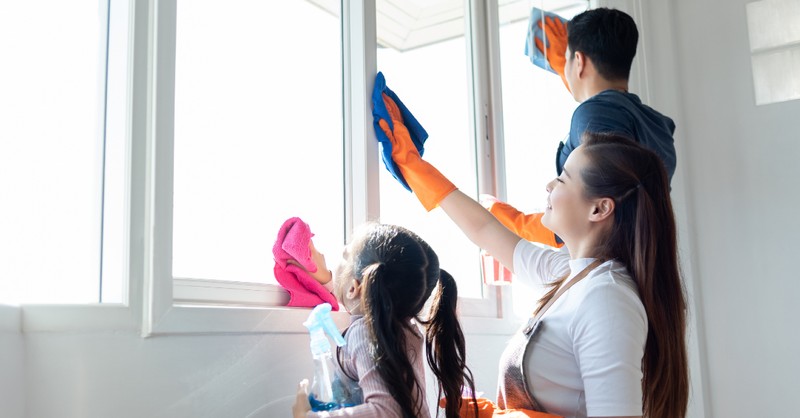 "When a child is given a little leeway, he will at once shout, 'I want to do it!' But... in an environment adapted to children's needs, they say, 'Help me to do it alone.'" — Maria Montessori
When the kids were small, my housekeeping style felt similar to that of a crazed person, attempting to collect and organize one leaf at a time in a hurricane. I found Legos in my makeup bag once. Then there was the time I took a picture off the wall, only to discover a teabag dried and stuck to the paint behind it.
What a relief it was when the littles were eventually able to tidy up after themselves! That being said, it didn't happen overnight. At the beginning, there was an incredible amount of teaching that went into my husband's and my new found freedom. There still is today, though our boys have mastered a number of the basics.
Maybe you've been struggling to figure out which tasks your kids "should" be able to do at their age. In this case, the "should" is somewhat of a gray area. Just as each family is different, so is every child within it. Master educator Maria Montessori paid tribute to this truth when she said,
"Never help a child with a task at which he feels he can succeed."
Chores and personal responsibilities are most successfully introduced when parents consider each child's unique ability. Implementing new routines at home is a work in progress—trial and error. If you're looking for new ways for your kids to pitch in around the house, here are some tips on how to assign age-appropriate chores for a happy home.
Age-Appropriate Chore Chart for Toddlers and Preschoolers
I can do it! Mine! No.
From the mouths of babes, who hasn't heard those words time and time again? Toddlers are adorable, such a mess, and they have a tenacious, if not unpredictable, spirit. Terrible twos anyone? And preschoolers are not much different, although most have developed communication skills that decrease the number of outbursts on any given day.
Children this age are working to become independent. They have ideas and preferences, but they're not yet in control of their circumstances and language hasn't fully developed either. How frustrating that can be to our little ones! They experience quite the mix of emotional and physical growth in a short amount of time.
Some of the best types of chores for toddlers and preschoolers involve parts of their routines that are repetitive and already understood, including:
Self-care practices
Food preparation, eating together, and tidying up the kitchen
Playing with and returning toys
Dressing themselves
Caring for family pets
At this age, habits and routines are being introduced. Dressing for the weather outside, remembering that a snack is a good idea for the park, and keeping shoes in the same place are valuable, time-saving lessons. Foundational.
The best combination of chores and self-mastery are the ones that allow children to make small decisions for themselves, while also teaching social norms. A great example is getting dressed in the morning. What a fantastic opportunity for parents to provide guided decision-making.
When two or three choices of tops, bottoms, and socks are presented, and a child gets to put together his or her outfit for the day, they feel a sense of freedom and accomplishment. Parents ultimately provide a number of "appropriate choices," but the child owns the task. Age-appropriate choices help parents and kids to avoid going "head to head" over daily tasks that could be drama-free.
Other chore ideas include:
Feeding the dog
Putting dirty laundry in the basket
Arranging food on his or her plate at mealtimes
Putting napkins on the table
Brushing teeth and combing hair
Placing toys back in bins at the end of the day
Choosing a bedtime story
Carrying plates to the sink
Making the bed
Small, repetitive responsibilities that are reinforced over time, result in children who carry out self-care and household rituals rather effortlessly, because they're so ingrained in daily routine. And if you've never used one, chore charts are especially fun at the preschool age. Kids experience the joy of crossing a chore off the list, receiving praise, and learning the concept of "pride in a job well done."
Is there anything you would add to the list?
"Direct your children onto the right path, and when they are older, they will not leave it." Proverbs 22:6
Age-Appropriate Chore Chart for Elementary Students
I've heard it said more than once, school-aged kids are amazing to be around, and I completely agree. They live in the sweet in-between of an impressionable, cuddly childhood, and a drive to be "grown up" like the older kids. They're like little sponges, hungry to soak up the next uncharted experience.
Whether it's the excitement of being deemed line-leader or getting to participate in their first school fundraiser, these kids are ready for action! They also need to be kept busy, which I've learned first-hand from my boys.
Between the ages of kindergarten and middle-school, children develop ideas about their natural strengths and weaknesses. They try, fail, and begin to understand how they can contribute to their communities. And because most are eager to try new things, the sky's the limit when it comes to taking on unfamiliar chores.
Here are just a few chores that could be a good fit for your elementary-aged child:
Meal prep, setting the table, loading the dishwasher, washing dishes in the sink
Cleaning up after pets
Vacuuming/mopping
Changing sheets/Making beds
Calling and checking in with grandparents, extended family, etc.
Choosing outfits, dressing appropriately for the weather
Packing lunches and bookbags
Completing school work and keeping track of assignments in a planner
Packing sports equipment and making sure that uniforms are ready
Helping with younger siblings
Cleaning restrooms
Pulling weeds
Washing windows
Organizing tupperware, books, toys, etc.
Folding clothes
When it comes to parenting five to twelve-year-olds, there's a lesson waiting to be learned with every new responsibility. It isn't difficult to make it feel like fun with this age group either!
"I will teach all your children, and they will enjoy great peace." Isaiah 54:13
Age-Appropriate Chore Chart for Middle Schoolers
Enter those 'Lil Miss and Mr. Independents! For the most part, middle schoolers already know what they're supposed to be doing—the question is whether or not they'll stall long enough to make you remind them. As a natural progression in human development, tweens begin to rely on both themselves, and friendships, for more direction and support than ever before. They also begin to contemplate who God is to them, instead of riding the coattails of their parents' faith.
Chores and new family roles are a fantastic way for tweens to experience more freedom and responsibility!
You want to go to Kaitlyn's this afternoon? Sure thing! Since you're asking, I assume you've already showered, dressed, and that your room, etc. is tidied up. So here's your "must-do" list before you leave.
You need money for those (in my opinion too expensive) shoes you've been pining over? Ok, I'll pitch in a little, but propose some ways to earn the rest of the funds and we'll come to an agreement.
As children mature, communication changes from "because I said so," to a collaborative discussion. And while some parents struggle against the change, most middle schoolers will exhibit defiance, a sullen/defeated attitude, or become secretive without the opportunity to exercise this newfound desire for independence.
God wires all of humanity with the drive to "put our hands to the plough," and tweens are on a journey to understand their identity and gifting. Here are some age-appropriate chores for middle-schoolers that will benefit your family, and help them to become young men and women of purpose:
Wash and wax vehicles
Mow the lawn
Do laundry and fold clothes
Prepare meals and cook with guidance
Volunteer work in the neighborhood, church, & community
Routinely walk, exercise, bathe animals
Care for younger siblings
Make phone calls to schedule appointments, find information, order food, etc.
Make gift-giving decisions for family, friends, coaches, teachers, etc.
Take responsibility for meeting and practice times, pick-up locations, extracurricular details, etc.
And the list goes on…
Middle schoolers are capable of carrying out most of the basic tasks that help to keep a household functioning, but without the psychological and emotional maturity to live on their own. As they enter into their high school years, most will continue to develop these skills, along with the ability to take initiative without the constant oversight of parents. Maturity is both knowing how to do chores, and having the sense to understand why they're so important.
"I could have no greater joy than to hear that my children are following the truth." 3 John 1:4
When all is said and done, parenting isn't a perfect science when it comes to preparing our kids to be in the world, but not of the world. Just this week I made my own grand admission to my eleven-year-old, after a tough talk on kindness and responsibility.
"I understand that you've never done this before, and you know, I've never been a mom to a fifth grader either. We're gonna to have to figure this out together."
And as he allowed this information to sink in, his shoulders relaxed and he leaned over for a big hug. He didn't need my rules and orders at that moment, just comfort. It would seem that parenting has everything to do with presence, and so very little to do with perfection.
It's a give and a take—the push and pull between complete dependency and interdependence. There's no one right way to prepare our kids for adulthood, other than to guide them courageously from a place of love and obedience. In case you haven't heard it lately moms and dads, keep up the great work...you're doing just fine.
Father, guide us. Soothe us in times of trial, and correct us when we're leading our kids down the wrong path. Bless us with creativity as we teach our little ones age-appropriate responsibility, and most of all, help us to lead by example. It's in Jesus' name we pray. Amen.
Photo Credit: ©GettyImages/eggeeggjiew
Meg Gemelli is a Licensed Marriage and Family Therapist, and the founder of theMakingofaMarriage.com. Along with polishing her Crossfit participation trophies, she can be found Pinterest-failing in the kitchen, glamping with the fam, or reading a great book oceanside. However flawed, she practices faith over fear every single day.