How to Deal with Teenage Depression in a Biblical Way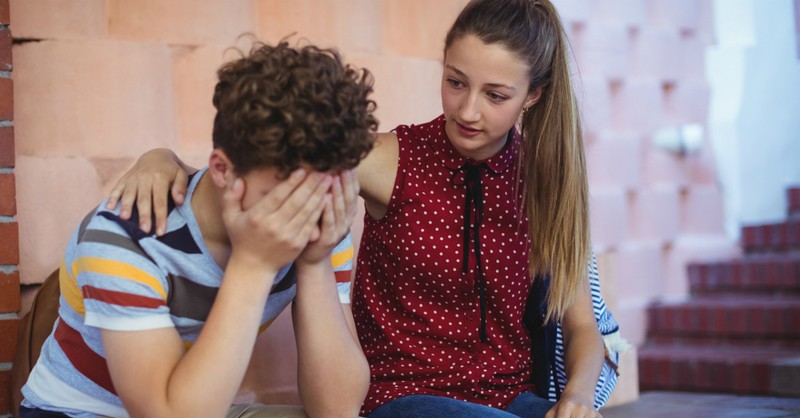 As we sat in the waiting room, I could not believe my teen had searched for a counselor and made an appointment without my help. At the same time, it was believable because classmates were being picked off one by one from the vehicle of suicide. Teenage depression was running rampant in the halls of the high school; there were four suicides in less than two years and that number didn't include all the suicide attempts or the crisis our community was facing.
Teenage depression is no joke. It's brutal. It's tough and as parents, we feel like we're treading water in the ocean with no land in sight. As a parent, I was blessed with my teen's decision to get help, but some parents have to fight for the mental health of their teens.
The most recent statistics reveal we have a crisis on our hands. 1.9 children in the U.S. have been diagnosed with depression and 4.4 million children have been diagnosed with anxiety. In 2019, research from the Blue Cross Blue Shield Association found a 63% rise in depression diagnoses amongst adolescents and teens (ages 12–17) since 2013. Teen depression tends to peak around 16-years-old.
The number of teens suffering from anxiety and depression has likely increased due to COVID-19 and how our world has changed. With depression on the rise, what is a parent to do?
Normalizing Depression and Anxiety
"Depression has been called "'the common cold of the mind.'" Experiencing depression does not make anyone less of a Christian. Mighty men of the Bible like Moses and Elijah were so grieved in their hearts they asked God to let them die rather than go on living. Even Jesus was called a "man of many sorrows." So, if you have struggled with depression to the point of wishing your life away, you are actually in pretty good company.
A parent's best strategy is to promote mental health awareness and prompt our teens to seek help for mental health issues. There is no shame in talking to someone other than their parents. In fact, it's healthy for our teens to have someone to talk to, whether it's a youth pastor, a teacher, and definitely a counselor.
A lot of parents assume teens don't need to talk to someone else. I had a conversation with a parent while waiting to pick up our teens from school. I had mentioned I was taking my child to counseling. She surprised me when she said, "My daughter doesn't need a counselor. She has me to talk to."
Although that may be true in some cases, considering the above statistics, it's best not to assume that your teen considers that support sufficient without asking them first. As parents, the way we think, treat, and talk about depression is significant in how our children will approach depression.
It's important to talk about it, be open about your own experience, and to talk about treating depression comparatively to one have diabetes or another illness in order to get help and recover. Clear up the myths about depression. It's not taboo to talk about it, nor is it worse than a physical injury. Jesus himself was well acquainted with mental anguish when he spoke the words in Matthew 11:28, "Come to me, all of you who are weary and carry heavy burdens, and I will give you rest."
What Does the Bible Say about Depression?
Though the word "depression" isn't mentioned in the Bible, it's often referenced by other words like troubled, downcast, despairing, or brokenhearted. Throughout the Word, there are stories about men and women of faith who battled through dark times of depression. People like David, Elijah, Job, and Jeremiah suffered through dark times. The Bible is a place of comfort because it teaches us that we are not alone, and God does understand how we feel. For example:
"Why are you downcast, O my soul? Why so disturbed within me? Put your hope in God for I will yet praise him, my Savior and my God" Ps. 42:11.
"I loathe my very life, therefore I will give free rein to my complaint and speak out in the bitterness of my soul." Job 10:1
"Terrors overwhelm me…my life ebbs away, days of suffering grip me. Night pierces my bones, my gnawing pains never rest" Job 30:15-17.
"Cursed be the day I was born…why did I ever come out of the womb to see trouble and sorrow and to end my days in shame?" Jeremiah 20:14,18.
The Bible Also Offers Hope for Depression
"The LORD is close to the brokenhearted and saves those who are crushed in spirit" Ps. 34:18.
"Come to me, all who labor and are heavy laden, and I will give you rest" Matthew 11:28.
"For I know the plans I have for you, declares the Lord, plans for welfare and not for evil, to give you a future and a hope" Jeremiah 29:11.
"Even though I walk through the valley of the shadow of death, I will fear no evil, for you are with me; your rod and your staff, they comfort me" Psalm 23:4.
Depression Is Not What You Are
When talking to your teen about depression, it's important to explain that depression is not who they are. It's something they are having to journey through and God, friends, and family care about them deeply. Otherwise, when we just say their brains are imbalanced and that depression is a disease that just shows up, our words will have the opposite effect in helping them.
It's crucial for teens to know that the exact cause of depression is unknown. In most cases, depression is caused by a combination of things – some associated with the chemicals in the brain and some that have to do with the environment and life events. Additionally, some cases of depression emerge as a result of certain medical conditions or chronic health issues or due to school pressure, or even because of COVID.
Some factors include genetics, family struggles, low self-esteem, and even loneliness due to isolation.
What Are the Signs of Depression in a Teenager?
If you think your teen may be suffering from depression, there are certain signs or indicators to be aware of. For teens this includes:
Low self-esteem that is expressed as shame and failure.
Substance use. Teens who are depressed often turn to drugs and alcohol as a way to self-medicate.
Text messages. Teens sometimes say things like wanting to die or they are thinking about suicide.
Highly sensitive to criticism. Teens with depression feel feelings of worthlessness which makes them sensitive to rejection, failure, and especially criticism.
Aches and pains (such as headaches or stomachaches), with no identifiable medical explanation.
Difficulty at school. Problems with concentration and having low energy can lead to attendance problems, a drop in grades, and/or frustration with schoolwork. This includes the inability to concentrate.
Excessive time on the Internet, computer, or gaming.
Irritability. Depression tends to cause irritability rather than sadness. Teens may be grumpy, hostile, and easily frustrated.
Withdrawal from relationships. Teens with depression may withdraw from some, but not all, of their relationships. While depressed adults commonly pull away from relationships in general, teens tend to be more selective. They might pull away from some and sustain others, start mixing with a different peer group, or just pull away from parents.
Engaging in risky behavior. This may show up in a variety of ways—recklessness, drinking, unsafe sex.
How Can You Help a Teenager Who Has Depression?
Prayer: Pray as the Lord leads. Pray prayers of guidance, prayers for healing, prayers for hope. Ask God to be present in the midst of the sadness. Turn Scripture into weapons in prayer.
Talk: Talk about their day, how they feel, what they're annoyed about, what they're looking forward to. Don't just talk about their depression, it's important to be present and to really listen to them.
Exercise: Go for a walk as a family, play soccer, swim, anything that gets your body moving and outside. The blessing of moving our bodies is the chemical serotonin in the brain. Serotonin is the happy chemical that helps our minds and thoughts.
Awareness: Pay attention to how your family handles mistakes and failures.
Counseling: Cognitive and talk therapy are amazing action steps parents can take to help their teen. Have your teen help make the choice of finding a Biblically-based counselor.
Medication: If your teen is willing to try medication, be sure to give it time. It often takes about six weeks for it to begin working. However, it may take trying a few medications as some may make your teen more suicidal.
If you are worried that you or someone you know – whether a child, another family member, or a friend – is at risk for suicide, please call 911, contact a mental health professional or call and talk to someone at the Suicide Prevention Hotline at 1-800-273-TALK (8255).
©GettyImages/Wavebreakmedia
---

Heather Riggleman is a believer, wife, mom, author, social media consultant, and full-time writer. She lives in Minden, Nebraska with her kids, high school sweetheart, and three cats who are her entourage around the homestead. She is a former award-winning journalist with over 2,000 articles published. She is full of grace and grit, raw honesty, and truly believes tacos can solve just about any situation. You can find her on GodUpdates, iBelieve, Crosswalk, Hello Darling, Focus On The Family, and in Brio Magazine. Connect with her at www.HeatherRiggleman.com or on Facebook.