How to Establish Healthy Boundaries with Your Adult Children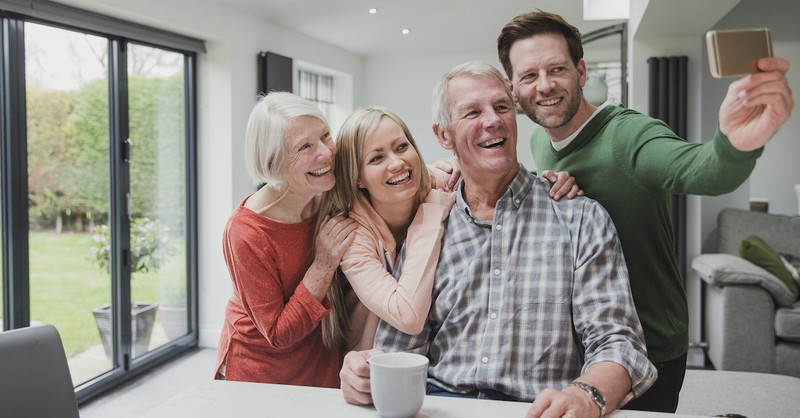 "The boundary lines have fallen for me in pleasant places; surely I have a delightful inheritance" (Psalm 16:6, NIV).
Setting boundaries for our children is one of the hardest jobs for parents. When they are little, the smallest boundary of not sticking their finger in an outlet is challenged. Let alone the common warning of being careful when crossing a street. But the task of providing healthy boundaries for our adult children is even harder. The boundary lines are blurred, and parents don't often know how to provide those boundaries or even define acceptable and healthy boundaries.
There are two primary means of boundaries with our adult children. There are healthy boundaries we hope that our children will adopt in their lives and then there are the healthy boundaries for us of not overstepping in our desire for them to live godly lives.
Healthy parenting boundaries are not just for small children. The task of parenting changes as do the boundaries we have for our children as they grow into adults, but the significance of healthy boundaries is just as important as the impact if our adult children do not have healthy boundaries in their own lives.
When our children are little, we would be negligent to not have boundaries for our children, but as they become adult children, those boundaries are no longer enforced. They are offered in the context of a healthy relationship. We've all heard the shaming of helicopter moms—you know the ones that supposedly overstep their roles as moms and limit their children's freedom? But perhaps there are healthy boundaries that parents can have that if we did not have in place, our adult children would suffer.
The Bible speaks into this area of parenting adult children. In the end, if parents don't guard their children and warn them of the dangers of sin, they are held accountable by God. But there is a difference between warning our adult children and making them follow our will.
There are several examples in Scripture of parents who did not safeguard their adult children with healthy boundaries and the children perished. Healthy boundaries don't just keep people hemmed in—they keep dangers out.
Failure to Restrain
Eli the priest's sons, Phinehas and Hophni, were priests who committed evil deeds. What did they do? Their sins were greed and immorality. We read about the judgment of Eli for not being a better watchman for his sons in 1 Samuel 3:13, "For I told him that I would judge his family forever because of the sin he knew about; his sons blasphemed God, and he failed to restrain them."
So, Eli knew about the sins of his adult sons and failed to restrain them. What does restraining look like for adult children? Certainly, for Eli, his sons served as priests under him. This provided a context for accountability. Working with family members can pose a challenge on its own and requires the parent to be diligent to lay down the expectations and communicate them clearly.
Restraining our adult children is not the same as when they were children. This is obvious. They are likely living on their own, so setting healthy boundaries is something they must choose to accept, but laying the foundation for those healthy boundaries begins when they are young. When we demonstrate that we are trustworthy and have their best interests in mind, and when we continue to be an influence in their lives without becoming intrusive, our children will want to have us speak into their lives and might even ask for advice. This is the best space to provide healthy boundaries as our children are asking us for them.
I have 5 adult children now, ages 18-28 and 4 of them live successfully on their own while the youngest is entering college. We have had our "rubs" where I had to learn to alter how and when I speak into their lives. If I am not there for them as a young adult when they need help, then it is not likely that they will reach out for help in establishing boundaries in their lives. This requires sacrifice and being flexible. It might mean they need to talk late at night, or they need help when they are moving. But there is a difference between being present in their lives and enablement.
When my children step outside of healthy boundaries, I think of the example of Eli and remember that I need to be faithful to speak into my children's lives, but I cannot make them follow my counsel. This is one of the hardest positions for parents to be in. We must be faithful to offer counsel when they are in danger or disobedient to God, but we need to keep our love on when they choose to continue in their behavior. Unconditional love opens the door to helping them to establish healthy boundaries.
Failure to Correct
Aaron's sons, Nadab and Abihu, also died because of their disrespect and disobedience to God. Leviticus 10:1-2 says, "Aaron's sons Nadab and Abihu took their censers, put fire in them and added incense; and they offered unauthorized fire before the LORD, contrary to his command. So fire came out from the presence of the LORD and consumed them, and they died before the LORD."
We made our mistakes, and our adult children will, too. When we live a life that is not hypocritical and we humble ourselves when we make mistakes, we create a family culture that opens that possibility for our adult children to do the same.
Correcting sin in our adult children is different than correcting convictions. Sometimes there are boundary lines we set for ourselves that don't fit our adult children. Healthy boundaries are biblical, not personal.
Failure to Be the Parent
Then there is King David and his son Adonijah. 1 Kings 1:6 says, "David did not displease his son by asking him, 'Why do you do thus and so?'" Adonijah was ultimately put to death by Solomon for his insurrection.
Parents want to be liked by their children. We gave birth to them, raised them, and love them so much. But if we are not willing to speak the truth to them when they have strayed, we contribute to their suffering.
As my children have become young adults, I consider them to be friends, even though the role looks different than it did when they were young. Nonetheless, as Christian parents, we have to care enough to speak the truth in love.
Healthy boundaries are formed when we respect the boundaries of our children even if they are different than ours.
Healthy boundaries are maintained when we don't use toxic means to force our way.
Healthy boundaries are the foundation of flourishing relationships and are possible in Christ.
As you seek to cultivate healthy boundaries in your relationship with your adult children, asking questions rather than flatly telling them your opinion is a way to get them to think about the boundaries they have in their lives. After all, one of the chief goals as parents is to get our children to think for themselves. By providing a biblical worldview for them, we impact their ability to think well for themselves and to set boundaries in their lives that are pleasing to God.
Photo Credit: ©GettyImages/DGLimages
Related podcast:
The views and opinions expressed in this podcast are those of the speakers and do not necessarily reflect the views or positions of Salem Web Network and Salem Media Group.
Related video:
You can read Rhonda's full article here!