How to Explain Easter to Your Kids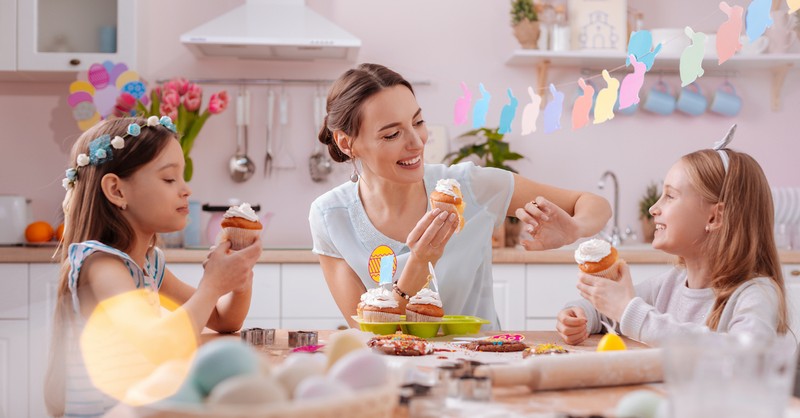 Jealousy, anger, lies. Betrayal, accusations, bloodshed. Torture, physical torment. Unimaginable emotional agony, public execution.
Easter is filled with many scenes that adults find difficult to bear. (Think The Passion of the Christ with Mel Gibson.) Should parents shield their children from the truth of Easter? Should we stick to the story of a happy Easter bunny delivering baskets of candy? Maybe throw in a chocolate cross to spiritualize it?
Please understand that I'm not condemning the traditions of egg hunts, Easter bunnies, and baskets. I will discuss how you can use these secular traditions in a moment. But I want to encourage you to explain the real meaning of Easter to you children of all ages. Use the following principles, as well as my practical ideas and resources, to guide your efforts.
Principles to Teach Children about Easter
1. Focus on the authority and compassion of Jesus.
In the book of Matthew, many people longed to touch Jesus. They recognized His power to heal their sicknesses. Parents brought their children to Jesus, hoping for His touch to bless them. Shouldn't we do the same?
Jesus is God's Son. God affirmed the authority of Jesus when He was baptized by John the Baptist. "And a voice from heaven said, 'This is my dearly loved Son, who brings me great joy" (Matthew 3:17 NLT). Without this basis for Jesus' authority, Easter is meaningless. If Jesus were not fully God, the Third Person of the Trinity, then He would not have the authority over Satan. His death would not have the power to release us from the bondage of sin.
Along with the authority of Jesus, Matthew describes the compassion of Jesus seven times. Compassion is sympathy that moves a person to action. On one such occasion, Jesus was walking from Jericho to Jerusalem. Along the way, two blind beggars cried out from their humiliating place in the dust at the roadside. "Lord, have mercy on us, Son of David" (Matthew 20:21 NASB)! Jesus probably had a lot on His mind that day. With His crucifixion about a week away, I wonder if He was preoccupied with thoughts of the upcoming events and what He wanted to communicate to His disciples. But Matthew says Jesus stopped. "Moved with compassion, Jesus touched their eyes; and immediately they regained their sight and followed Him" (Matthew 20:34 NASB1995).
This Easter, bring your children to God's compassionate Son for His touch. Remind them that Jesus knows how badly sin hurts them and feels so sad about it. His compassion caused Him to stop what He was doing in heaven and come to earth to bear the punishment we all deserve.
2. Allow God's Word to speak directly to your child's heart.
Have you ever watched a cement truck deposit its contents? The thick wet goo slides from the churning bowl on the truck down a chute aimed at the foundation being laid. In the same way, parents dispense God's Word to their children. Our goal is to create a firm foundation of truth in their hearts so they can understand and receive the salvation and abundant life that Jesus promises.
All Scripture is inspired by God and is useful to teach us what is true and to make us realize what is wrong in our lives. It corrects us when we are wrong and teaches us to do what is right. God uses it to prepare and equip his people to do every good work (2 Timothy 3:16-17 NLT).
Apostle Paul writes these words to young Timothy as a reminder about the power of God's written Word. The Bible has the same power for your children. Open it as often as you can and allow it to speak directly to them. In the weeks leading up to Easter, read the account of what happened right out of Scripture.
Each of the four gospels tells of the events—Matthew 26-28, Mark 14-16, Luke 22-24, and John 18-20. You can choose one and divide the chapters over the number of days you want to read. Or you could choose one of the many Bible reading plans available for Easter on the internet (resources listed at bottom). For very young children, you may read the account of Easter found in a children's Bible or storybook. After you read, ask your children to restate the content in their own words so you can correct any errors in understanding.
3. Encourage age-appropriate discussion of concepts.
During your reading, foster conversation about the events of Easter. Your children may need you to explain more about certain characters. You may need to provide definitions for new vocabulary such as sin, betrayal, and resurrection. Let them know Easter is not just a fanciful story. It is actual history that is corroborated in other texts written during the same period.
For very young children, God's love and compassion will be the focus of the Easter story. As children reach middle elementary years, they can hear more about the terrible punishment inflicted upon Jesus before and during His crucifixion. Of course, each child is different. You, as a parent, must gauge their readiness for the details.
4. Take time to listen to and answer questions.
Asking and answering questions is usually a natural part of the conversation, but some children may hesitate to ask questions that appear to doubt God's Word. Permit your children to ask anything. You may not know all the answers. It's okay; none of us do. When I'm confused, I honestly tell my children I'll research it and get back to them.
5. Help children apply the message of Easter to their own lives.
Talk about the motivations of different characters in the Easter message. Use the text to find clues. Talk about what it shows about God and Jesus. Discuss what you might have said or done if you were there.
Help your children identify with the characters who betrayed, scorned, and hurt Jesus. We all need to understand that we are no different than those sinners. If we had been there, we would have done the same. Recognizing the grievous nature of our sin juxtaposed with Jesus' compassion and love can lead to repentance.
Don't you see how wonderfully kind, tolerant, and patient God is with you? Does this mean nothing to you? Can't you see that his kindness is intended to turn you from your sin (Romans 2:4 NLT)?
As a family, talk about what God might want each of you to do with your new understanding of His Word. Some children might benefit from writing their thoughts in a journal or drawing a picture to reflect their commitment to obedience.
6. Share the gospel with your children.
The good news, demonstrated through the life, death, and resurrection of Jesus, transforms lives. Parents are charged with faithfully teaching children the truth of Easter over and over throughout their childhood. God will use your faithfulness to this mission to move the hearts of your children toward repentance and surrender to Him.
Children need repetition to understand. Your words spoken to a five-year-old will take on new meaning when filtered through a more mature twelve-year-old's ears. Be creative in your presentation, trying to engage your children's senses and learning styles. For example, you could watch videos of the life cycle of a butterfly to talk about the concept of new life in Christ found in 2 Corinthians 5:17.
This means that anyone who belongs to Christ has become a new person. The old life is gone; a new life has begun (2 Corinthians 5:17 NLT)!
Ask your children about their thoughts and emotions as you study the Easter message together. They may feel anger or sadness over the treatment of Jesus. Often God's Word produces sorrow over sin. Seize these opportunities to talk about forgiveness through Jesus. Others may not be quite ready for that step. Wait for God's timing and pray for wisdom as you listen to their hearts.
Secular Symbols of Easter—Good or Bad?
There is debate among Christians regarding the symbols traditionally associated with Easter. Should Christian parents give their children Easter baskets? Aren't rabbits and chicks throwbacks to pagan holidays?
These are valid concerns, and each family must continually pray to seek God's wisdom. While you may legitimately choose not to indulge in these secular traditions, your children will certainly encounter them. Be prepared to help them understand your family values and convictions.
Ideas for Reinforcing the Easter Message
Attend Easter programs or dramas at church. Often there will be special music and dance to convey the message.
Churches often hold Easter egg hunts that include a gospel presentation to children.
Read the account of the Passover in Exodus and connect it to Jesus as the Lamb of God.
Attend a Maundy Thursday service or Easter sunrise service at your church.
Use Resurrection Eggs—a carton of twelve eggs containing symbols for each part of the Easter message and pertinent Bible verses—for children who learn best by touching objects.
Read Easter stories to your children that agree with the biblical account, including Benjamin's Box—A Resurrection Story, by Melody Carlson and Jack Stockman, that corresponds to the Resurrections Eggs.
If you give your children Easter baskets, include items that connect to the Easter message of Jesus.
Find a way to serve together in your community in Jesus' name.
Search online for recipes for resurrection cookies or resurrection rolls. Each ingredient and step in the process explains a part of the Easter message. The result is a tasty hollowed-out cookie or roll that reminds children of the empty tomb after Jesus' resurrection.
Celebrate Easter
In the Old Testament, God instituted specific times of celebration to remember His faithfulness and deliverance. Parents can follow this example by creating traditions to explain and celebrate Easter. Yes, there are some hard truths we need to face as we teach our children about Easter. But these truths are central to salvation. Why not use the opportunity of Easter to plant and water seeds of truth and salvation in the hearts of your children?
Resources:
7 Creative Ways to Teach Kids the Meaning of Easter
How Do You Explain the Easter Story to Young Kids?
Holy Week Devotional Guide with Scripture & Prayer
Easter - Its Meaning, History & Holiday Symbols Explained
Photo credit: ©GettyImages/yacobchuk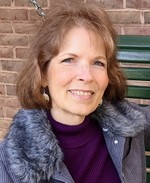 Annie Yorty writes and speaks to encourage others to perceive God's person, presence, provision, and purpose in the unexpected twists and turns of life. Married to her high school sweetheart and living in Pennsylvania, she mothers a teen, two adult children (one with intellectual disabilities), and a furry beast labradoodle. She has written From Ignorance to Bliss: God's Heart Revealed through Down Syndrome. Please connect with her at http://annieyorty.com/, Facebook, and Instagram.