3 Ways to Have a Grumble-Free Quarantine
Tricia Goyer

Author

2020

14 Apr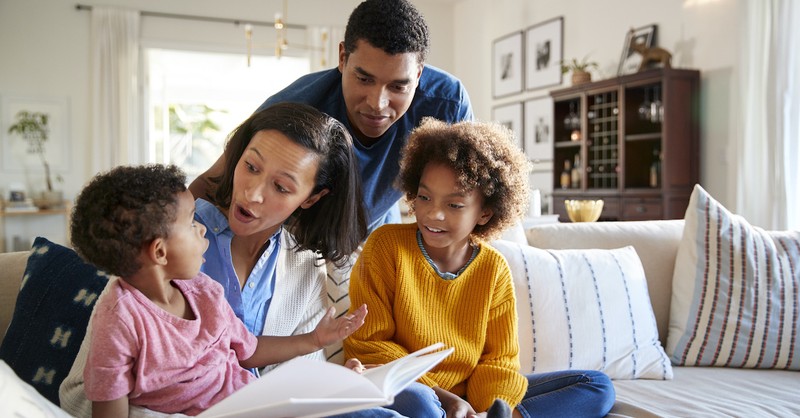 When my big family attempted to go a year without grumbling in 2017, I assumed it would help us have a more grateful year. I had no idea in 2020 we'd be quarantined in our home, like the rest of the world. Or that the grumble-free habits we developed would be put to the ultimate test. It's hard enough choosing gratitude over grumbling in "normal" life, but with no church, no sports, no Bible studies, and no friends to spend time with, our normal is gone. No one would blame us for falling into old, complaint-filled habits. But the "why" behind our initial decision is the same, and it fuels us today. We want to do more than just survive as a family. We want to thrive. Yes, even amid a quarantine.
Why We Started, What We Learned
My husband and I first proposed a Grumble-Free Challenge to our eight kids at home and my 87-year-old grandmother because we'd had enough of all the bad attitudes. With eleven people in one house, there were a lot of mumbles and grumbles, whines and moans. But, when it came down to it, we had to deal with much more than just the words coming out of our mouths. We had to deal with our hearts and the discontent rooted deep inside.
In The Grumble Free Year, I chronicled how our family changed, including how I had to look at my heart—my grumbling—first. We learned that most grumblings came from unrealistic expectations. (I mean, should I really have expected a house with eleven people to stay clean or the laundry to say caught up?) We learned to communicate with both respect and grace. We discovered how our attitudes can change for the better when we thank God for what we've been given, instead of just focusing on what we don't have. We also learned we can hardwire ourselves to praise instead of complaints. Change came when we looked to God's Word for advice and asked for His help to do things differently. We're not perfect, by a long shot, but we are better. The change was worth the effort.
And now that nine family members (ages 9-90) are sheltering in place, we still have the same decision to make each day (each hour!). We can either approach this time with grumbling or with gratitude. You have the same choice, too. If you choose the latter (which I hope you do), here are some tips to help.
1. Voice Your Worries … and Take Them to God in Prayer
During our Grumble Free Year, our family read a lot about the Israelites who were rescued by God (through Moses) and found themselves isolated in a desert. Gone was everything they'd known before—their homes, their fields, their leeks, and garlic. In the desert, the Israelites didn't have the same schedules or the same work they'd had in Egypt. They'd left behind their normal. They faced new challenges. New worries plagued them. They'd stepped out of their comfort zone—and even if Egypt hadn't been comfortable, it had been known. Sometimes it's the unknown ahead that's the scariest.
These Israelites had big needs, but that wasn't the problem. Instead of lifting their requests in prayer, and looking to God in faith, they grumbled. They wished for the good stuff they'd left behind, forgetting to focus on their newfound freedom. They whined about what they missed, and instead of being thankful for what God had already done for them. God's very presence now went before them, but their hearts kept looking back to their captivity with longing. And God, who'd had just freed them and who had already prepared a Promised Land for them, took it as a personal offense. He listened to them worrying about what was to come, and basically said, "So be it."
Numbers 14:26-29 says, "The Lord said to Moses and Aaron: 'How long will this wicked community grumble against me? I have heard the complaints of these grumbling Israelites. So tell them, 'As surely as I live, declares the Lord, I will do to you the very thing I heard you say: In this wilderness your bodies will fall—every one of you twenty years old or more who was counted in the census and who has grumbled against me."'
God took grumbling seriously back then. He wanted to give them something better. Yet He settled by giving them what they feared. Their voiced worries became their reality, proving that our words—and attitudes—do matter. God takes our grumbling just as seriously. Yet, He also understands that we need help. He just wants us to turn to him, instead of turning up the volume on our complaints.
Psalm 18:6 says, "In my distress I called to the LORD; I cried to my God for help. From his temple he heard my voice; my cry came before him, into his ears."
God hears both our grumbles and our prayers. He's on alert when we turn to him for help. Later in Psalm 18, two verses especially stand out to me:
Psalm 18:6 says, "He reached down from on high and took hold of me; he drew me out of deep waters." And Psalm 18:19 adds, "He brought me out into a spacious place; he rescued me because he delighted in me."
God wants to be our rescuer. He wants to take us to spacious places. He wants to show us His love, His delight. And He's just waiting for us to call out to Him, right in the middle of our present-day deserts. He hears our cries. He knows our fears. We can only hold in our worries for so long before they come out as grumbles. Instead, we can take those very worries and turn them into prayers. In fact, that's what God wants us to do. Giving voice to our worries as prayers—turning them over to God—not only helps us. It helps our kids too.
Our kids have the same emotions, and when their worries are stirred up inside they often come out as grumbles, too. But when we talk about our concerns, and we turn to God in prayer with our kids, we get to experience God's answers together. Sometimes the answers are outwardly tangible, but always they can bring an inward peace. God wants to rescue us. The rescue might look different than we expect, but we can count on Him. Seeing him show up, again and again, helps us to look to Him for help more often, instead of just grumbling about what's going wrong.
2. Choose Gratitude Daily
Gratitude doesn't just happen once and we're done. It's daily laying down the right to ourselves and choosing not to grumble. Yes, this means our gratitude to God, but it also can involve how we show gratitude to each other. Instead of pointing out each other's faults, it's important to praise family members when we see someone getting it right. It makes a positive difference when I thank my husband for standing in a long line for toilet paper or when I thank my kids for being extra-good for an hour so I can finish a work project or record a podcast interview. When I choose to be grateful, instead of grumbling, the ripple effect moves through my family as everyone is more prone to do the same.
This daily habit can change our home environment. And since we're all quarantined, having a home filled with gratitude is a wonderful way to spend the hours.
3. Role-Play Getting it Right
All of us have more together-time now, which means extra opportunities to work with our kids. We can role-play how to act right (and not grumble), instead of just expecting it. We can practice better communication and right responses together. I've done this often. In a non-conflict time, I talk to my kids about how to respond to a request. And then we act it out. The more I practice with my kids, the better they know how to act obey and respond without grumbles. They especially love it when we pretend that the roles are reversed, and I'm the kid who has to pretend to listen and obey, instead of grumbling.
Practicing right responses can works for adult grumbling habits, too. If we find ourselves grumbling about the same things over and over, we can pause and think about how we can do things differently. Then we can make a point of doing it right. Each of us has a choice to roll up our sleeves and make a change of habit. Like always, the right way works best when it starts with parents first. Three years later, our family is still working on not-grumbling. We'll never get perfect, but this is another opportunity to work at getting it right. The Grumble Free Quarantine … well, we're trying. And the final lesson is this: we don't have to try alone. Any time, of any day, we can pray and ask God for help. No matter what's happening in our world, having God to turn to is truly something to be grateful for.
Photo credit: ©GettyImages/monkeybusinessimages
Tricia Goyer is a USA Today bestselling author. She has published seventy-five books and is a two-time Carol Award winner. She is part of the blogging team at TheBetterMom.com and currently leads a Teen MOPS Group. She lives with her husband John in Arkansas, where she is a busy mom of ten and a doting grandma. Here is the link to Amazon for The Grumbles.