5 Ideas for Friday Family Fun Night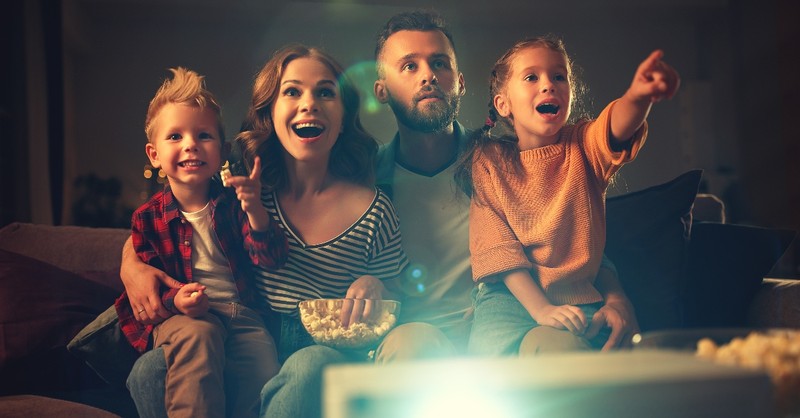 Friday Family Fun Night? Do you do this with your family? Let me highly recommend it. The kids will come to look forward to it if you start it early enough in their childhood, and soon, the entire week will be one big lead-up to FFFN!
We started FFFN a few years ago to be purposeful in creating a time for our family to just be together without an agenda. The kids know this isn't the night we're going to tackle tough subjects, address behaviors, or even traverse the deep fathoms of the biblical realm. It truly is a night to kick back, have some fun, laugh, be silly, snuggle, run, play, and enjoy the unity of being a family.
The family is so much stronger when they play. The old adage says, "the family that prays together stays together." We venture to duplicate that and swap out "play" with "pray." Both are critically important, but sometimes, we allow seriousness to crowd out play in our quest to be responsible and influential parents. And for children especially, play is crucial for their development. Both mentally and emotionally, but also in building their perspective on what a family is.
So what can you do for Friday Family Fun Night that doesn't become old, boring, overdone, and uninspired? We've collected some ideas, and I'm sure at least one of them will be intriguing for you and yours. Let's take a peek:
1. Movie/Pizza Night
Okay. It's a no-brainer, right? Turn a movie on, and you've got it made. But let's think about this for a moment. Have you ever had an interactive movie experience? This means taking movie watching to an entirely different level. You could nestle back into your couches with blankets and pizza. That's fine. Really. We do that often. But, if you want to up it into something even more memorable, incorporate these "rules" in watching the movie:
• When a song with lyrics is played, everyone must get up and dance to the tune. (Super funny if it's a heartbreaking, slow song)
• When characters kiss, everyone has to cover their eyes and scream.
• If a scene is scary, everyone must pile on a parent's lap (preferably Dad so we don't break Mom, but if you're single-parenting it, Mom's, be ready!)
• If a scene is ultra funny, exaggerated laughter is encouraged.
2. Game Night
Again, this isn't rocket science. Not really. Games are often a key for bringing people together who otherwise might not bother with playing. However, you can make game night more fun by choosing one of the following criteria as an accompanying part of the game. Are you ready for this? Probably not.
• Everyone must play the entire game with one hand behind their back.
• Games must be played in teams of two. Working together and debating the next move is half the fun!
• Mom and/or Dad have to be blindfolded.
• You are not allowed to laugh at any point in the game.
3. Treasure Hunt
This is a bit like a scavenger hunt, but it doesn't require a lot of preparation. You can do it a few ways too. You can split up into vehicles, stay home, play as individuals, or play as teams.
The gist of the game is fairly simple. Choose a family-friendly website. We like to pick a zoo or museum site. Once you have it, the family is given a preset amount of time to find as many things that rhyme with items on the website's page.
For example, if you're staying home and you choose a zoo's website, you might find a "carafe" in the kitchen that rhymes with "giraffe" and a "pear" in the fruit basket that rhymes with "bear."
The person/team with the most items that properly rhyme at the end of the game wins! It inspires creativity, teamwork, and most of all winds up with some pretty funny laughs as desperation to find articles that rhyme sets in.
4. Campfire Stories
We're big on campfires at our house. One of the things we like to do—after s'mores, of course—is tell campfire stories. This can be done in various ways, and trust me, we've tried them all with success.
• Tell a scary story you heard as a kid when you were at camp or around a campfire.
• Build-a-story – start the story out with a setting and character, go to the next person who adds the next scene, then to the next person who builds on the last scene, and so on. Take the story as far as you want to go and listen to it evolve!
• Pull out a pile of the kids' old picture books and read them around the fire. Sometimes it's heartwarming, and other times, you'll find yourself erupting into laughter at how goofy those once-popular kid's books used to be. (Especially ones on potty training)
5. Slumber Parties
Warning: this may stretch on for days if you have multiple children and they want to do this with BOTH parents separately.
The kids love slumber parties! Since we have two children, it works well, but you could always double up if you have multiple. The general idea is just that—a slumber party. But it gets better because this is when you break alllllllll the bedtime rules. Some of the best memories are made when you:
• Eat ice cream in bed while watching a movie on TV/tablet.
• Play games in bed.
• Depending on your child's age, invite all their stuffed animals and have a sleeping bag picnic.
• Tell stories under the covers with flashlights.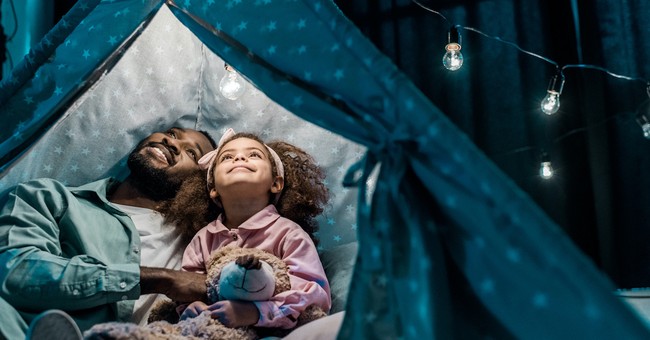 Photo credit: ©GettyImages/LightFieldStudios
Here's the long and the short of it: Friday Family Fun Nights are often recreations of everyday activities that we do as a family. The difference is, when we spice it up with zest and ignore the conventions of rules and appropriateness (as it falls within moral, ethical, and clean limits), they become memory-makers. My daughter's favorite memory of Disney World isn't when we met the princesses, rode the log ride, or watched a stage reenactment of her favorite fairytale. Her favorite memory is when we were back at the hotel, just her and I, with Oreo cookies and milk, while we watched shows on TV and stayed up until way past our bedtime.
Funny, isn't it? How the simplest things become the biggest memories? Those moments are ones to cherish. They're ones your children will remember with lead-ins like "remember when Mom did . . ." or "what about that time that Dad . . ." You can fabricate memories like these in perfectly molded vacations or pre-planned and detailed out Friday evenings, but the spontaneity and impulse are what bring these moments to entirely new levels of awesomeness!
When it's all said and done, Friday Family Fun Nights are going to be a tradition in our house for years to come. Oh, I know, my kids will become teenagers, I'll become less cool, and a boyfriend/girlfriend will come into the equation. But I hope, even then, that deep down, they still want to make time for Friday Family Fun Night. Because, after all, we're family. Families should have fun. Plan it! Do it! Be flexible! Be sure to laugh! These days, we all need our families—more than ever.
Photo credit: © Getty Images/evgenyatamanenko
Jaime Jo Wright is the winner of the Carol, Daphne du Maurier, and INSPY Awards. She's also the Publishers Weekly and ECPA bestselling author of three novellas. The Christy Award-Winning author of "The House on Foster Hill", Jaime Jo Wright resides in the hills of Wisconsin writing suspenseful mysteries stained with history's secrets. Jaime lives in dreamland, exists in reality, and invites you to join her adventures at jaimewrightbooks.com!