10 Things to Say to Your Adult Child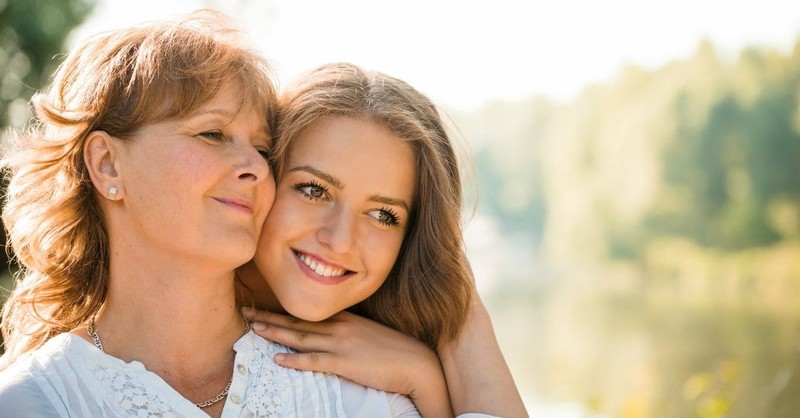 We yearn to have children and commit to parenting them to become more than just good kids. We invest our time to help them become contributing adults who love their Lord Jesus and others.
So what do our millennial (or even older!) children need to hear?
Does it really matter?
Will it make a difference?
Yes, our words matter to them. Start with a powerful truth…
1. You matter.
We know, brothers and sisters loved by God, that he has chosen you. 1 Thessalonians 1:4
Remind them they are chosen and loved by God. God sings over them, Zephaniah 3:17, has plans for them, will listen to them and be found by them when they pray. Jeremiah 29:11-13. See Psalms 20:4; 40:5; 119:26; 138:8; Proverbs 16:3.
"You have been created in order that you might make a difference. You have within you the power to change the world." Andy Andrews
The concept of making a difference is understandable – yet do our children need to hear us tell them they can change the world? Yes. They matter, their life matters, what they do matters – to God, to you, and for all time.
2. I love you.
But anyone who does not love does not know God, because God is love…1 John 4:8
Do you see – if you know love, you know God? Sometimes we don't see the love of the Lord in our children, yet when we choose to praise God for the good work He has begun in them, He will complete it. See Phil 1:6
God so loved the world, that He gave…John 3:16
God gave His only Son to redeem us to Himself. That is love - exquisite, powerful, all-encompassing, enduring, forever love. We crave affection, connectedness, community and need love. We can thank God He was, is and will be the loving Father of our children, regardless of our parenting skills. May we love our children like God loves us - and tell them.
3. I believe in you.
I can do all things through Christ who strengthens me. Philippians 4:13
This strength is not a feeling. It is a gift from God. Our spirits leap when someone tells us they believe in us. And what we believe inwardly affects us outwardly.
And Abram believed the Lord, and the Lord counted him as righteous because of his faith. <>Genesis 15:6
And (insert your child's name) believed the Lord, and the Lord counted him(her) as righteous because of his(her) faith. When we speak scripture about our children, we speak life into them.
4. Remember who – and Whose – you are.
But to all who have received him – those who believe in his name – he has given the right to become God's children. John 1:12
They are God's children. Family trees are researched and DNA test performed. How much more meaningful for our children to know they are a child of The One True God?
And if children, then heirs (namely, heirs of God and also fellow heirs with Christ) – if indeed we suffer with him so we may also be glorified with him. Romans 8:17
Our children are co-heirs with Jesus. May the peace of God that passes all understanding settle them, even as they deal with unsettling circumstances. Plant knowledge of their Heavenly heritageinto your kids because the Bloodline of Jesus is the most meaningful ancestry.
5. I thank God for you.
I thank my God every time I think of you.  Philippians 1:3 CEB
Tell your children you think of them often and are thankful for them.
I was given such a great gift. It's a miracle that never stops amazing me and reminding me to give thanks, every day. Having a wife and daughter gives me a lot more purpose. I was much more selfish before, but now I think about what kind of role model I'll be. I just want to be a better man. Jake Owen
Imagine how your children feel when you tell them you thank God for them. I was given such a great gift…YOU.
6. I remember…
When Christ (who is your life) appears, then you too will be revealed in glory with him.  Colossians 3:4
Help them recall the glorious times in their lives.
Do you love to hear about special moments, filled with fun, love and life? So do our children. They long to know they are still special to you. Ask them to recall their favorite memory – and share their pictures too.
7. May I share a lesson I've learned?
Listen to your father who gave you life, and don't despise your mother when she is old. <>Proverbs 23:22
May your adult children listen respectfully as you offer wise, godly counsel.
'You shall rise up before the grayheaded and honor the aged, and you shall revere your God; I am the LORD.  Leviticus 19:32
Wisdom truly comes from experience.
8. May I pray for you today?
Teach your children to pray like Jesus taught us:
…Our Father in heaven…
They are invited into the Throne Room of Grace

12 and forgive us our sins,
    as we have forgiven those who sin against us.
13 And don't let us yield to temptation,
    but rescue us from the evil one.
>Matthew 6:9-13
Forgive them as they forgive. Rescue them from the evil one. They need You Lord.
9. I forgive you. Would you please forgive me too?
Forgiveness translated from Greek means "to let go." Forgiveness is NOT to let someone off the hook. Forgiveness is God's plan that allows us to be free of carrying a burden. See Luke 11:4; Matthew 18:23-35; 1 Corinthians 13:4-5; Psalm 37:21; Proverbs 14:15; 22:3; Isaiah 65:17; Revelation 21:4
"Let go of anger and abandon rage." Psalm 37:8
Do not be consumed by rage as unforgiveness hurts only you. So "let it go" and let God deal with the issue. His plan is best for everyone involved. Trust God. Be a role model for your children. Teach them the lesson of forgiveness.
10. Bless you.
 'May the Lord bless you
    and protect you.
25 May the Lord smile on you
    and be gracious to you.
26 May the Lord show you his favor
    and give you his peace.'
>Numbers 6:24-26
Not just the bless you following a sneeze or as we leave. Bless you from the depths of who God is as their parent. Insert your child's name as you speak this blessing.
And God is able to bless you abundantly, so that in all things at all times, having all that you need, you will abound in every good work. 2 Corinthians 9:8
Choose to bless your children with words straight from the Bible. Abundantly…
A master storyteller and award winning, best selling author, Susan B Mead has been described as a solid, comforting voice in a messy world. Connect on Susan's website, on Facebook and Twitter, or on Amazon where her award-winning book, Dance With Jesus: From Grief to Grace, is available. Are you looking for a free mini-course to deepen your faith? Text DanceWithJesus (one word) to 444-999, reply with your email to receive six days of Biblical encouragement.
Image courtesy: ©Thinkstock/Martinan
Publication date: June 21, 2017