5 Ways to Encourage Your Kids When Grandpa Has Alzheimer's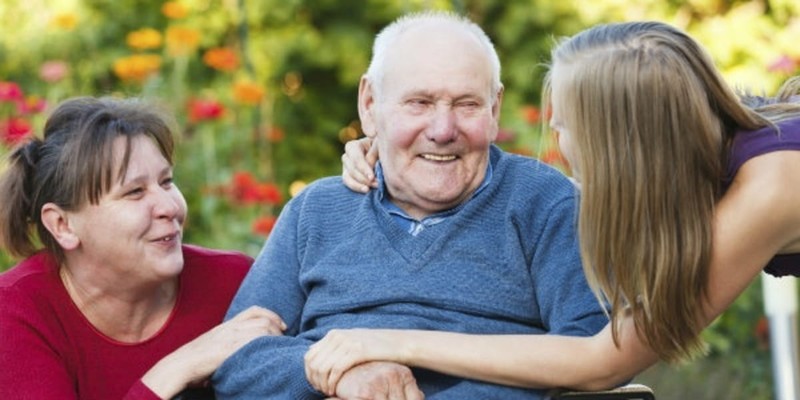 When your father doesn't remember who exactly you are, it can be hard to stay connected—and to keep your children attached to their grandparent. My father has Alzheimer's, and I've moved from being a daughter named Sarah to "that girl with the kids."
But despite the fading memory, Poppa lights up when we visit. Each time we walk in the door of my parents' house, I encourage my children—ages 6, 7, 10 and 11—to spend a few minutes talking with their grandfather, giving him a hug, and acknowledging his presence. Those little things have meant a lot as my father acts more like a stranger in the home he's lived in for more than 40 years.
With more parents today having elderly mothers and fathers with various health problems, it's important to find ways to encourage our children—whatever their ages—to stay connected with a grandparent who's ill mentally or physically. Here are some ways to keep the relationship between grandparents and grandchildren alive and thriving despite the incapacities of old age.
1. Tell the kids about what's going on—up to a point. How much you share about a grandparent's illness depends on the child's age and personality, but don't keep kids entirely in the dark about Grandmother's health. "Answer the questions asked as simply as possible," said Janet Chester Bly, co-author of The Power of a Godly Grandparent. "Also, you should give the necessary details to explain restrictions or changes in the relationship."
"My seven-year-old granddaughter would want to know every detail, but my six-year-old granddaughter would struggle with the information because she's got such a tender heart," added Janice Hanna Thompson, author of Ain't It Grand! (A Devotional for Grandparents). "However, knowing the truth about their grandparent's illness would make their time together even more precious."
2. Visit often. This is something we've tried to do in order to help my father's memory of us and because we don't know how much time we have left with him. We all have busy schedules packed with worthy events, but making the time to see their grandparents, especially those in failing health, show our children that people are an important priority.
Keep in mind that the visits don't have to be in-person. With technology making it easier than ever to stay in touch, grandchildren can Skype or Facetime with their grandparents. Other means to relate to one another includes creating videos for the grandparents to watch, writing letters or emails, drawing pictures, talking on the phone or texting—the ways to connect is vast, but we as parents need to provide the gentle nudge so that our children will frequently follow through.
"Children need to see their grandparents, and grandparents thrive on seeing their grandbabies," said Thompson. "I love it when I get sweet notes from my grandchildren, especially ones with artwork attached."
3. Talk about them in your own home. One route to keep grandparents from becoming strangers is to mention them often when we're in our house. "Display a photo in a prominent place in the home and talk about the grandparents when appropriate," advised Bly.
Update the children as to their condition in age-appropriate language. Talk respectfully about our parents, even when they vex us (and, let's be honest, our mothers and fathers still have the ability to drive us crazy even as adults!). Encourage our children to ask questions about an ill grandparent and to suggest ways we can help them. I often ask my kids to pray for Poppa and Nanny (my mother).
4. Give kids connection suggestions. Sometimes, it's hard for a child to come up with appropriate things they can do with a grandparent who can't read any longer or one who's confined to a wheelchair. For my dad, I'll propose having the kids watch a baseball game together and chatting about the teams, which is something he can still enjoy.
"When my grandchildren come over, they often crawl into my elderly mother's lap to play games on her iPad," said Thompson. "My grandchildren also love to make up stories, which is a great way to communicate with a memory-impaired person. Coloring is another activity that people can enjoy at every stage of their life, no matter their health."
5. Remember you reap what you sow. We're doing more than teaching our children how to stay connected with an ailing grandparent—we're showing them the right way to treat us when we're the grandparents. By putting family first, making a concentrated effort to keep in touch, and respecting them, we're demonstrating by example how to care for our parents—and how we'd like to be treated one day by our grown children.
Above all, we should remember why we're making the extra effort to assist our children in staying connected with a grandparent who's sick or has Alzheimer's. "It's for the sake of the health and well-being of the grandparent, as well as to provide empathy and understanding for the child in dealing with these kinds of situations, now and for their future," said Bly.
"We're all part of the same family," added Thompson. "Whether times are easy or tough, we need to have 'togetherness' times because those visits build up the child and the ailing person. There's nothing like a grandchild to put a smile on a grandparent's face, especially when they're sick. And it's important for the child to have some understanding (albeit limited, if the child is young) of what the grandparent is going through."
Sarah Hamaker is a certified Leadership Parenting Coach™ through the Rosemond Leadership Parenting Coach Institute. She's also a freelance writer and editor, and her book, Ending Sibling Rivalry: Moving Your Kids From War to Peace, will be out October 2014. Sarah lives in Fairfax, Va., with her husband and four children. Visit her at www.parentcoachnova.com.
Publication date: September 5, 2014