This Is Why I Pray for My Children Every Day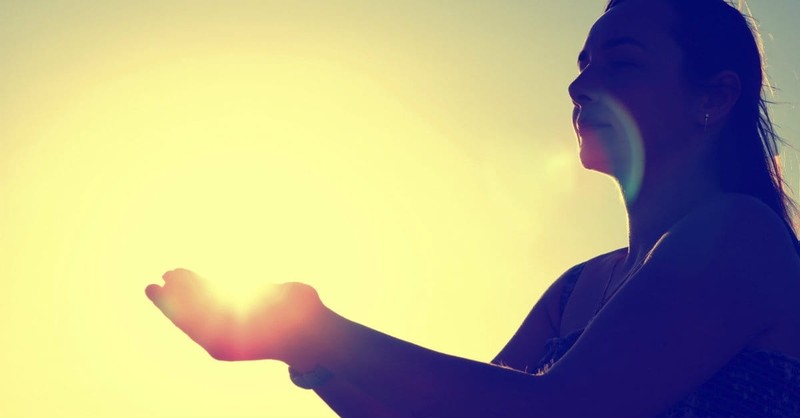 My teenagers have smart phones.
As hard as I try, it's often difficult to ensure their safety and purity in a world where all kinds of smut is only a click away. I do everything that I can to monitor their activity, but, honestly, they are smarter than I am when it comes to technology.
I recently noticed that a new app had been downloaded to one of the phones on my account. I was not familiar with the social media app, and I began to dive into it. I signed up for my own account so I could check in on my thirteen year old son.
I was shocked!
My son was on an app called InstaPray where the members can share prayer requests, encouraging quotes, and scriptures. As I dug a little deeper, I found that he was in a private group with some of his buddies from school. There, in that private group, they were praying for one another, encouraging one another, seeking to grow in Christ together.
I have since learned even more about this precious group of boys. They have prayed together at school. They share encouraging scriptures with one another before their races at the track meets. They have been to the altar together at church to pray over painful situations they are experiencing.
What mom would not be moved to tears to see her child engaging in such activities?
Several years ago, I heard God clearly tell me to focus on the spiritual growth of my children. I began to explore different avenues of helping them grow. We tried family devotions. We tried creating a family mission and vision statement. We tried rewards for memorizing scriptures. In the midst of our crazy lives, very little seemed to stick.
And then I happened upon an idea of insane proportions: prayer. I pray with each child individually every morning. I pray with each child every evening before we go to bed. I began to set alarms on my phone for various times throughout my day, alarms that remind me to lift my children before the Lord. On the first evening I began this experiment, my son looked at me quizzically and asked why I had so many alarms going off.
"Each alarm," I began, "is a reminder to stop and pray for you three kids."
The look on his face clearly told me that he felt loved and secure in that moment, blessed that his mom would take a few moments out of every hour to stop and pray for him.
And God has shown my kids the power of prayer.
My oldest is a basketball fanatic. He purchased a new basketball goal last summer, and he and his friend were trying to put it together. They had spent nearly an hour trying to get two pieces together. I somewhat jokingly suggested that we anoint it with oil and pray over it. I decided that the oil might truly be a good idea, and I began greasing the pipes. They tried for another ten minutes before my son reminded me that I had anointed it with oil but hadn't prayed over it.
With great pomp and circumstance, I walked over to the pipes and laid hands on them.
"Lord Jesus," I said, "you tell us that if we have faith we can move mountains. We have faith; all we ask is that you move these pipes!"
The boys made one more attempt to align the poles after my prayer…and the two pieces slid perfectly into place with almost no effort!
Isn't that just like God? He knew that an immediate response in an area of importance to these kids would make a huge impact! I truly believe he blessed us with a little object lesson in those moments, and it's a lesson my son has never forgotten. (We actually repeated the scenario the next night with two different pieces with the same outcome! Go, God!)
Since I began truly interceding for my children, I have seen such a hunger and thirst in my children for things of God. I have seen conviction of sin. My kids have learned to hear God's voice and walk in obedience. They have prayed and fasted. They have taken very difficult steps of confrontation, trusting God to take care of the results. They have led friends to Christ.
We can never underestimate the value of truly interceding for our children.
So what do I pray for my children?
I pray for the things that concern them. I pray for their obedience. I pray that when they sin, they will get caught. I pray for protection from those who would hurt them. I pray for a heart that longs to know God and make him known. I pray that they would know their purpose in this life, that they would have a passion that leads them to do mighty things in the kingdom of God. I pray that they would be delivered from any sin that might take them into bondage. I pray for their relationships, current and future. I pray for a spirit of love and forgiveness to grow in their hearts. I pray that they would see all others through God's eyes, with a heart of compassion. And, I pray that they would be able to boldly stand upon their faith, a faith that is tested and tried and comes through purified and real.
Many of you are probably thinking, "That's just great. I've prayed for my kids, too, and they are not walking in God's way."
There are no guarantees in this life. I know godly men and women who have done everything right, and yet their children have chosen to walk in rebellion. I know men and women who have never opened a Bible and yet their kids somehow have become amazing, godly adults.
We must remember that all humans have free will. They will exert their free will. But I truly believe that not a single prayer is wasted. It may be years, even decades, before those prayers see the full and intended effect. But God hears them all and holds them close.
It may sound strange, but in some ways I hope my children go through a rebellious period. I pray that at some point they step off the narrow road for some experimentation. I have seen too many people reach their forties and suddenly decide that maybe they missed something, that maybe there's more to this life than the mundane existence they are experiencing. They begin to doubt everything they've ever known. They decide to sow their seeds of rebellion when they are married and have children, a time when the consequences are far greater.
Even King Solomon, the wisest man who ever lived, reached a place in his life where he began to question his choices to remain on the straight and narrow. Eventually, he came back to God realizing that everything else is meaningless, a chasing after the wind.
And, I have learned that it is through the trials of this life that we truly meet our Savior. It is when we are faced with the true condition of our hearts that we realize our need for Christ's sacrifice. It is when our God lovingly and passionately pursues us while we selfishly pursue our own desires that we recognize how much he loves us.
Despite spending my entire life pursuing God, it was the short period of rebellion that thrust me into a new stage of my walk with God. It was his rescue from my rebellion that showed me how prideful and ugly I was. It was his tender loving care, his relentless pursuit of me, that challenged me to live fully and completely for him. It was his faithfulness in my faithlessness that changed me forever.
I can only pray and trust that my children will experience the same faithful love and mercy that my Savior has bestowed on me. I can only pray that my children will love God and walk in faith all the days of their lives.
I could have no greater joy than to hear that my children are following the truth (3 John 1:4).
Dena Johnson is a busy single mom of three kids who loves God passionately. She delights in taking the everyday events of life, finding God in them, and impressing them on her children as they sit at home or walk along the way (Deuteronomy 6:7). Her greatest desire is to be a channel of God's comfort and encouragement. You can read more of Dena's experiences with her Great I AM on her blog Dena's Devos.
Publication date: May 13, 2015