Why Parenting Strategies Don't Work (And What You Should Do Instead)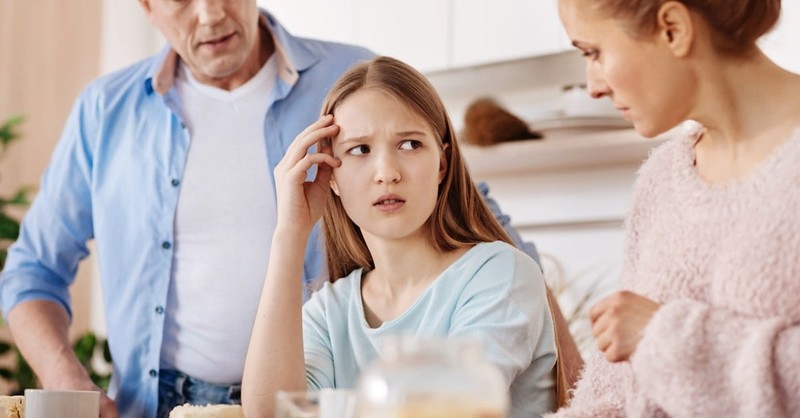 Before my kids were born, I read every parenting book I could get my hands on, but they left me totally unprepared. What I read on paper never seemed to match my real life situation. For example, I read all about how you could train your baby to sleep through the night by leaving him to cry himself to sleep. The book didn't prepare me for the fact that my baby would cry all night. Eight hours. 
The book said he'd cry less the following night, and he did—only six hours. However, by night four we were all wrecked and sleepless. I couldn't take it anymore, so I went with my gut instinct to give the little fellow a break, pick him up, and rock him to sleep. 
Later on when my kids were teens, another parenting strategy said I should simply turn around and walk out of the room if my kids treated me with disrespect. As much as I sometimes felt like leaving the room, it didn't line up with who I was as a mom. I found staying quietly present was a better way to handle teen angst.
While parenting methods gave me some ideas to try out, God's Word gave me the strength, wisdom, and encouragement I needed to survive as a parent. It gave me hope for the baby days, and it challenged me to control my temper during the teen years. Scripture reminded me I was called to love and serve my children.
Parenting strategies don't always work because each child is different. I struggled to get my baby son to sleep, yet when my daughter was born, I battled to wake her up for feedings. The child literally snoozed through baths and diaper changes. While my toddler son responded quickly and tearfully to the slightest attempt at discipline, my daughter would climb up to stand on the table and taunt me to come punish her. For her, the thrill of disobedience was totally worth it.
Parenting strategies fall short because each parent has a different personality. I was too much of a wimp to withstand a child crying for hours on end, yet other parents I know effortlessly trained their babies to sleep through the night. When my children were small, I used a quick swat to the behind to get them to stop disobeying. They'd respond quickly, and it saved us from the tension that builds up over continued disobedience. Yet another mom I know preferred time outs and reasoning, even with small kids. Today, all of our kids are successful, maturing young adults.
Parenting strategies fall short, but God's Word provides timeless wisdom. While parenting strategies provide helpful tips, insights, and solutions to problems that may or may not work, God's Word offers timeless wisdom. Parenting strategies focus on managing your kids, yet God's Word focuses on loving your kids and leading them well. The only problem with Scripture is that it doesn't give parents "1, 2, 3" formulas or specific dos and don'ts like they are used to getting from parenting books and articles. 
Scripture-Based Life Principles for Parents 
1. Love and serve your kids.
We discipline and train our kids not only to make our lives easier, but because we love them and want the best for them. When our kids push our buttons, we need the Holy Spirit's power to discipline out of love rather than anger. Responding with firm, loving discipline rather than a tongue lashing when a child throws a tantrum at Target requires every ounce of self-discipline we can hang on to. Paul must have known the negative impact harsh words can have on kids when he wrote, "Fathers, do not provoke your children, lest they become discouraged" (Colossians 3:21). 
We can reflect God's unconditional love to our kids when we love them no matter what. Even when they act downright unlovable and drive us crazy, God calls us to love and serve them. Ephesians 5:1, 2 reminds us: "Follow God's example, therefore, as dearly loved children and walk in the way of love, just as Christ loved us and gave himself up for us as a fragrant offering and sacrifice to God." 
2. Teach them to love God.
Of course we want to train our kids to obey and become responsible adults, but it's easy to lose sight of the fact that ultimately our biggest goal is to teach our children to love God first. We can model love for God by seeking to live out His Word ourselves. Taking our kids to church, reading Scripture, praying together, and discussing faith issues build a family culture of loving Him.
Deuteronomy 6:5-7 describes this kind of lifestyle: "You shall love the Lord your God with all your heart and with all your soul and with all your might. And these words that I command you today shall be on your heart. You shall teach them diligently to your children, and shall talk of them when you sit in your house, and when you walk by the way, and when you lie down, and when you rise."
3. Lead by example.
In my years of parenting, I've noticed that often when I have a problem with my kids, I am at least part of that problem. On a bad day, my own irritability can provoke them to respond in anger or defiance. When I'm in a hurry, my stress creates tension for the whole family.
If I want to teach self-control, loving behavior, and respect for others, I have to model them so my kids can learn them too. If I want to show my kids what it means to love God, I need to live that out myself with behavior, attitudes and words that honor Him. 
"Show yourself in all respects to be a model of good works, and in your teaching show integrity, dignity" (Titus 2:7).
4. Train them diligently.
To learn how to act like a civilized, considerate, and responsible human being, every child needs consistent limits, and consequences for misbehavior. Some children learn more easily than others, but God's Word reminds us that diligence plays a key role: 
"He who loves [his son] is diligent to discipline him" (Proverbs 13:24).
Again, I saw that sometimes I was part of the problem when my kids misbehaved. Honestly, I'd get tired of enforcing the rules. Some evenings after a long day, it would be easier to ignore misbehavior or just let them do what they wanted. My inconsistency made it more difficult for them to learn boundaries, but whenever I'd return to enforcing the rules, I'd see better behavior. 
5. Pray for them.
Perhaps the most effective parenting strategy the books don't mention is to pray for our children. Parenting isn't a formula where you put in certain variables and get sure outcomes. We depend on God to show His grace and intervene in our kids' lives, so we need to pray for them.
We need to pray for ourselves too, because we aren't and never will be perfect parents. We make mistakes, but as we surrender our children to God in prayer, we can trust He will work in our families.
Parenting strategies may not work, but God's Word offers wisdom and life principles for families. Scripture offers the encouragement, hope and strength we need for the daily challenges of raising kids. How about making a commitment to read the Bible, the best parenting manual ever, for a few minutes each day?
Will you pray with me? 
Lord, I need You. Give me grace each day to love my children and see them with your eyes. Help me to find in Your Word the wisdom I need to lead my kids well and to train them diligently. In Jesus' name, Amen.
Betsy de Cruz writes to encourage women to stick close to God and His Word, even when life gets bumpy and crazy. Her free guide, 10 Days to More, shows readers 10 ways to do devotional Bible study. It's available at Betsy's blog, Faithspillingover.com, where you'll find Bible study and prayer tips, as well as encouragement for family life and everyday faith. You can also find Betsy on Facebook, Pinterest, and Instagram.
Photo credit: ©Thinkstock/yacobchuk