Busy Mom, Don't Fall into the Multitasking Trap!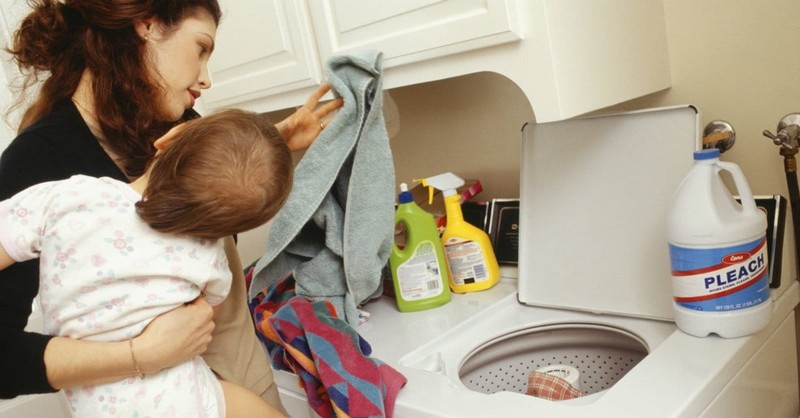 "Whoa, dear friend," I said with mouth wide open. "You had 19 kids at your house living at once?"
"Actually we adopted 22 in total," she said, "but 19 of them lived at one time in our home for several years."
Guilt surged in me. She had 19 children to care for and we only had three. Blushing a bit, I confess that some days my household was the war zone where battles were lost and stress always won.
Not only stress, but confusion too. I thought I was diligent in tackling the kids' needs, the household chores and my husband's wishes too. But days still seemed to end with tasks that nagged to get done.
And those days had to change. With curiosity bursting in me, I wanted to learn from my friend Sue Badeau who is, in addition to being a mom, an author, speaker, and child welfare consultant.
I asked her, "How do you deal with the meals, laundry and activities with that many little people under one roof?"
"We were very organized," Sue said, "We had charts for everything. One of my sons helped me make a menu plan with 13 weeks' worth of menus and a shopping list that went with each week's menu plan.
"Admirable," I said, "I sometimes get lost under the pile of laundry with only five of us at home. How did you face the laundry for, ahem, 19 kids?"
"We had color-coded laundry charts defining whose day was to wash their clothes," she said. "We had them doing their own laundry from the age of 10 and older."
"And how about the other million things that need to get done?"
"We had a rotating chart for other chores, "she said, "but we weren't "religious" about following the charts. For example, if a child needed one-on-one attention, we were willing to live with a little disorder and chaos."
A little chaos? I breathed relief. Now she was talking my language. But our mess was clearly not in the number of kids we had at home. The frenzy of action in our home was because I allowed too many soccer practices and games, commitments for Boy Scouts, women's gatherings at church, birthday parties, and Karate classes to jam our schedule.
And to make sure I didn't waste any time, I'd check my messages even in the car, or while online at the cashier in the grocery store. And at home, my cell phone was always by my side, checking the latest on social media and texting while leftovers heated up in the microwave.
But in the process, my exhaustion heated even faster. Not a surprise because I had let organization and order fall in the garbage disposal of life.
That life had to change. Since I had become the slave of multitasking, I had multiplied the stress. And subtly, I was fueling the chaotic household. In the process, I had diminished my quality time to nearly zero.
Freedom came when I did the math: multitasking plus no order equaled one exhausted, limp-like-a-wet-rag mom. My mothering approach desperately needed correcting.
And the correction can begin for all of us with these seven steps. Each will put peace back into our home, calmness among our kids, and richness back into our marriage.
1. Prepare the day. We can tweak our morning routine. Instead of sliding our feet into our slippers in the morning and rush to the kitchen, bending over, picking up toys and shoes off the floor, we head in a different direction. We settle in a quiet place before the family is up. And there is where we prepare our heart, mind and soul with God's Word. Read it, ponder upon it and ask for enough grace to face the day and enough wisdom to deal with all the day will bring.
"…I will sing of your strength, in the morning I will sing of your love; for you are my fortress, my refuge in times of trouble." Psalm 59:16
2. Put priorities in the right order. Should dust accumulate or dishes pile up in the sink, no worries as long as we pile up quality time with our kids. It's far more important to spend time listening to them, helping them with a project, or joining them in a game.
"There is a time for everything, and a season for every activity under heaven." Ecclesiastes 3:1
3. Putting humor into our day. No more fretting when spaghetti noodles end up in the cup of milk. We just scoop them out with a fork and tell the kids that's now a glass of Italian milk. "Try it, we might have something great here."
"A cheerful heart is good medicine, but a crushed spirit dries up the bones." Proverbs 17:22
4. Placing quality time for hubby in our agenda. If we don't carve out time to make it happen, it won't. Strengthening our marriage is the best gift we can give our kids.
"Let him kiss me with the kisses of his mouth-for your love is more delightful than wine." Song of Songs 1:2
5. Planning a fun activity where the whole family is involved. During the week we can head in all directions to different activities. But on weekends, we spend time training them to value the importance of enjoying life as a family by playing games together.
"Train up a child in the way he should go; even when he is old he will not depart from it." Proverbs 22:6
6. Postpone social connections. This one hurts because cell phone in hand can mean connection with the world. But sadly, it also means disconnection with our kids. Love covers a multitude of sins, but gets lost in an over-committed, multitasking Mom.
"Sons are a heritage from the LORD , children a reward from him." Psalm 127:3
7. Postpone chores to cherish special moments. When reading to our kids, the cell phone is off. When listening to their stories, joys and fears, the cooking can wait. When they need correcting, the laundry can be put aside. When they need fun moments with us, the mail can be put off. And that's when "Her children arise and call her blessed…" Proverbs 31:27
A 21st century Mom will be remembered not for what she puts into her days, but how much nurturing she poured into her kids. Not how many things were done, but how many times her kids were reminded they were loved. She'll be remembered not by the clean house, but how she cleaned her heart of self-imposed stress, guilt and worry.
Janet Perez Eckles is an author and speaker. Her keynote messages and the writings in her four books, including, Simply Salsa are helping thousands to celebrate life by turning trials to triumphant and joy-filled lives.
Publication date: March 7, 2016