Why "You'll Miss This" Is Not Really Helpful Advice for New Moms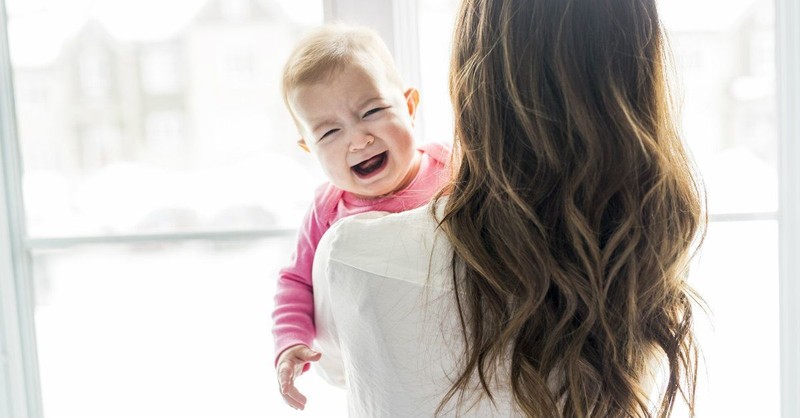 The day I found out I was expecting our firstborn, my husband had just started his post-graduate education and I was the lone breadwinner. We were living in the most expensive city in the world, eating a lot of cheap spaghetti, and scrambling to make it all work. 
One rainy afternoon after a return from the bargain grocery store, I double-parked our car in front of our apartment building, hoisted my 8-months-pregnant body around to get the groceries out of the back of the van, made sure the toddler was safely strapped in, and began trucking the bags to the bottom of three flights of stairs where they would wait until I could safely park and walk the toddler into the building with me.
That's just how life rolled in the big city, unless you were lucky enough to be able to afford a parking garage or the prices at the gourmet market within walking distance. I was used to it.
That day, however, sticks in my memory because suddenly, seemingly out of nowhere (but really, from the hospital's phlebotomy lab across the street from our apartment), flew a spunky, curly-haired woman in scrubs. "Honey, can I help you?" Stunned by her kindness, I accepted her offer and together we carried those groceries up all three flights, right to the door of my apartment. The toddler was safe and warm.  
That day also remains etched in my memory bank because as we went on to have six more children, the number of times someone said, "Enjoy the chaos! You'll miss this when they're all grown up!" outweighed the number of times anyone offered to actually help by at least 100 to 1. 
What if that kind woman had merely yelled at me from across the street, or out her office window? "You'll miss this!" would have felt more like an indictment than a fellow human coming alongside me in my hardship.
The reason "You'll miss this!" is not really helpful advice is that it doesn't actually help. To a mom juggling small and unpredictable children, household management, and perhaps a job outside the home or a homeschooling schedule, a quip like that just feels dismissive and patronizing. 
A smug pronouncement of "You'll miss this!" doesn't offer anything useful to anyone. Sure, it's good to be content in every season; in fact, this is what the Apostle Paul modeled for us in Philippians chapter 4: 
"Not that I am speaking of being in need, for I have learned in whatever situation I am to be content. I know how to be brought low, and I know how to abound. In any and every circumstance, I have learned the secret of facing plenty and hunger, abundance and need." (Philippians 4:11-12, ESV)
We need those reminders. But in the moment when we see a parent weathering an epic meltdown in the post office (I've had one of those), a number of small children in the checkout line (I've had plenty of those), an exhausted cryer in the waiting room of a doctor's office (yep, a handful of those, too), schooling someone on how they should feel about their current plight over the din of a cranky child actually communicates a lack of empathy, not solidarity. And what parents need most in our largely disconnected culture is solidarity. We need friends and mentors who will stand shoulder to shoulder in a world that increasingly makes parenting more difficult. 
Twenty-five years later, I still get teary when I think of that kind woman who helped me that rainy day, even though I will never know her name or anything else about her. She impacted my life in a practical, loving way. She lived encouragement. 
Here I now stand as a mom of four adults. We are so enjoying this stage and watching them forge their own paths. But the fact that I'm still doing the day-to-day parenting of four more children brings me to my final point:
When we say something trite like "You'll miss this!", we're assuming we know the whole story. We're framing someone else's experience within our own. 
I love all eight of our children, but I can tell you without pause that there are many, many things I will not miss. I changed diapers for 19 years. I don't miss that. I continue to alter my own goals for the sake of my children's needs, including bowing out of other responsibilities because our youngest has special needs and will have seizures for the rest of his life. I don't miss colic, diaper blow-outs in public, cranky toddlers, skipped naps, or vomiting for the first 18 weeks of every pregnancy. Pre-menstrual teenage daughters aren't super fun to be around, either.
My story is that we decided to have a huge family, and when all is said and done, we will have parented for a total of 33 years, with one who will likely never move out of our home. We planted our flag in the big family camp and made our choices, and we are determined to carry out what God has asked us to faithfully finish. 
My experience as a homeschooling mom with a coterminous writing career is very, very different than that of my friend with two kids in school and a full-time career outside the home. To presume that she and I have the same thoughts toward our parenting roles or the same experiences in carrying out our responsibilities would be a relational flaw with real relationship consequences. 
But there are similarities that can help us understand one another on a universal parenting level, and remembering the hardest moments of our own parenting journey serves us in a way that goes far, far beyond banal, commonplace quips like "Someday you'll miss this!" Recalling the hardships as well as the sweet moments we'll most certainly miss helps us to be that loving friend who reaches out with a hand of support and solidarity.
If your intent is to encourage moms and dads in the trenches, there are some practical and helpful ways to do so. Some have been modeled to me and others were ways I had wished someone would have come alongside me in the hardest moments. Maybe you'll find a few that are practical for you as you seek to be an encouragement to a new mom you know.
1. Write a note.
In my experience, handwritten notes are so appreciated, even (and maybe especially) by the youngest moms in my circle of influence. Taking the time to write a word of sweet encouragement to a struggling parent shows real care, a willingness to put aside other duties for the sake of reaching out in empathy, and communicates, "I see you." Many moms feel invisible and under-appreciated as they raise their children. 
As you read over your note before putting it in an envelope and sending it off, ask yourself if it is actually encouraging, or is it an attempt to school the younger parent in a way you think they need to hear? There may be a place and time for that (when they ask for it), but a note of hope shouldn't include correction. 
2. See the need and act accordingly. 
Looking up and seeing a practical need as the woman who helped me on that rainy San Francisco morning did, then jumping in to help will feel like a relief to a mom trying to juggle it all, especially when "it all" includes babies and toddlers. What do the parents in your immediate view need? 
3. Use encouraging words. 
I can tell you firsthand that hearing someone say, "You're doing a great job!" while juggling children in public trumps "You'll miss this!" a hundredfold. A statement of support puts winds in the sails. It's life-giving fuel for yet another long day of raising kids.
4. Lift moms up in prayer.
Pray for the people in your life who are still raising children, and then make sure you let them know that you are doing so. At the worst moment of the day, a text from a friend that simply tells me that they are thinking of me, praying for me, and hoping my day is full of grace can be the fuel I need to carry me to bedtime. Pray for your spouse as they co-parent alongside of you. It's a tough gig that needs to be deeply dunked in prayer. 
If you're the reader who has tossed an off-handed comment of, "You'll miss this!" to a younger parent, don't fret. We often make little quips like that in an attempt to simply connect. You're on the right path. You have a beautiful opportunity to make a measurable difference in the life of another parent today, if only by remembering how hard the day-to-day can be and coming alongside as someone who has finished the parenting race and lived to tell the tale!
Kendra Fletcher is a mother of 8, speaker, author, and podcaster. She is the author of Lost and Found: Losing Religion, Finding Grace, and Leaving Legalism, and she regularly writes for Key Life Ministries. The Fletchers reside in California, where they play in the Pacific Ocean as often as possible. Find her here: www.kendrafletcher.com
Photo courtesy: ©Thinkstock/LSOphoto