Praying for Your Children from Scripture
Quin Sherrer

Contributor. The Grandmother's Bible

2022

24 Jan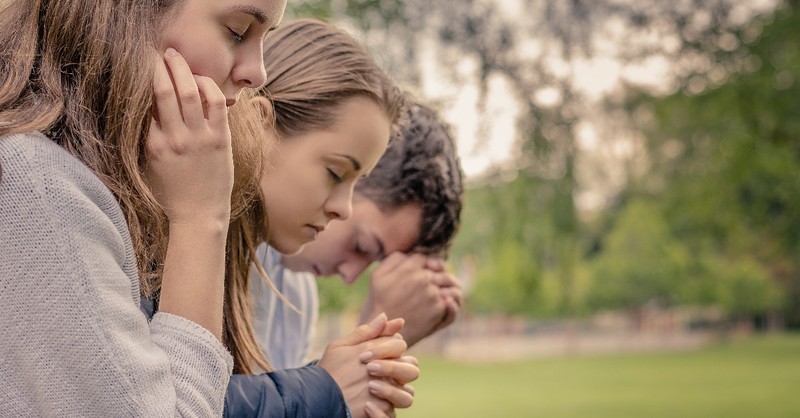 Grandmas are noted for giving gifts to their grandchildren, but the greatest and most lasting gift you can give is faithful prayer. But if you don't know where to begin, you might like to try praying Bible verses.
I learned to pray aloud when my friend Lib and I started praying together on the phone for just five minutes each morning at 8:00. We had a total of seven children, and they were our prayer focus. As young moms, we didn't know much about prayer. So I suggested we paraphrase Scripture by inserting the names of our children and praying verses for them that covered every aspect of their lives.
We prayed together faithfully each weekday for 17 years. We knew the Word was written by the Holy Spirit's inspiration and is full of power and hope. We also knew God said his Word would not return empty (see Isaiah 55:11). So our prayers were based on a solid foundation.
Today I pray for my six grandchildren, again paraphrasing Scriptures or inserting their names in certain verses, just as Lib and I prayed for our children.
For instance, in praying Isaiah 11:2, I ask that my grandchildren will have
the Spirit of the Lord rest on them—
the Spirit of wisdom and of understanding,
the Spirit of counsel and of power,
the Spirit of knowledge and of [reverential] fear of the Lord
Here are some other topics to pray for:
A Prayer for Salvation
Thank you, heavenly Father, that you are not willing that any of my grandchildren should be lost. I trust that each one will become a believer in you. I thank you in advance that they will become believers in you. I pray that they will be taught by you and that great will be their peace (see Matthew 18:14; 2 Peter 3:9; Isaiah 54:13).
A Prayer for Learning
May my grandchildren show an aptitude for every kind of learning, be well informed, and be quick to understand. May they have wisdom, very great insight, and a breadth of understanding as measureless as the sand on the seashore (see Daniel 1:4; 1 Kings 4:29).
A Prayer for Maturity
May my grandchildren, like Jesus, grow in wisdom (mental) and stature (physical), and in favor with God (spiritual) and men (social). May they live lives worthy of you, Lord, and may they please you in every way: bearing fruit in every good work, growing in the knowledge of you (see Luke 2:52; Colossians 1:10).
Thank you, Lord, that you will command your angels concerning my grandchildren and guard them in all their ways (see Psalm 91:11).
A Prayer Against Evil Influences
I pray, Lord, that you will deliver my grandchildren from wicked and evil people. May you strengthen and protect them from the evil one (see 2 Thessalonians 3:2–3).
A Prayer for Favor
May your favor, O Lord God, rest upon my grandchildren; establish the work of their hands for them (see Psalm 90:17).
A Prayer for A Good Future
Lord, I thank you that you know the plans you have for my grandchildren—to prosper them and not to harm them, to give them hope and a future. I pray that my grandchildren will not walk in the counsel of the wicked or stand in the way of sinners or sit in the seat of mockers. But may their delight be in your law, and may they meditate on it day and night (see Jeremiah 29:11; Psalm 1:1–2).
Since the Word of God is "living and active" (Hebrews 4:12), when we form our prayers from it, we are speaking God's own words, aligned with his will. Our grandchildren need our persistent Bible-based prayers. Will we make a commitment to pray for them all their lives? It is the best gift we can give them.
Excerpted with permission from The Grandmother's Bible (Zondervan, 2008). With a year's worth of devotions by women such as Ruth Graham, Elisa Morgan, and Elizabeth George, special Saturday and Sunday devotions, and a wealth of articles, prayers, and other features, The Grandmother's Bible gives guidance and encouragement for today's active grandmother to instill a legacy of love, acceptance, faith, and character in her grandchildren. To order, click here.
---
Quin Sherrer, an award-winning author, has written or coauthored 27 books, including Grandma, I Need Your Prayers and Lord, I Need to Pray With Power. In addition to speaking at conferences, she has appeared on more than 300 radio and television programs. Quin earned her journalism degree from Florida State University. She is the happy grandmother of six.
Photo Credit: © Getty Images/Simon Lehmann
Related podcast:
The views and opinions expressed in this podcast are those of the speakers and do not necessarily reflect the views or positions of Salem Web Network and Salem Media Group.
Related video:
Are you in the trenches with your toddlers or teens? Read Rhonda's full article here!