6 Reasons Following Through with Discipline Is Worth It
Are you in the trenches with your toddlers or teens? Does it feel like you're a broken record asking your kids to pick up this, don't talk like that? When they're obedient you catch glimpses of the wonderful people they'll grow up to be. And when they're not, do you wonder when, or if, all of your hard work will ever pay off?
Amidst the every-day-ness of motherhood it's easy to lose sight of the long term benefits of your hard work. It's hard to imagine your littles will ever leave your home as confident independent adults. So, for encouragement let's visit a few long term benefits of discipline, even if you don't see immediate results.
1. Your Children Will Become Likable People
In more than 30 years of ministry, my husband and I have had the privilege of watching countless children grow up in Christian homes––and otherwise. What we have discovered is that the children whose parents consistently train them to be obedient usually end up being pretty likable kids.
A child whose parent has learned to "train up a child in the way he should go" (Proverbs 22:6) will learn to study the bent of their child so you can help them grow into a person that others will trust and enjoy spending time with. And I'll let you in on a little secret, likable people raise likable people. So, consider how your child observing you making an effort to be a kind and trustworthy friend to others will impact their own likability.
Do your child a favor and help them realize how their offensive actions might repel others. For example, telling your child, "Don't hit your sister" may get them to stop. But if you take the time to explain how hurting another person (whether physically or with words) can cause them to feel betrayed which will undermine their relationship with that person. Help your child see the value of treating others with kindness. This realization will help them become a likable person who God can use to draw others to Christ.
2. Your Child Will Learn to Honor Authority
Even the children who are extremely active, or less than compliant, are a pleasure to be around when they are trained to respond to godly correction. Just because a parent is consistent with discipline doesn't mean their children won't disobey or become too rambunctious. That's not the point. Kids will be kids. And God uses some of the most tenacious children for His Kingdom and glory when they surrender their hearts to Christ.
Proverbs 29:17 says, "Discipline your son and he will give you rest; he will give delight to your heart." When you patiently draw your children back toward obedience, you will help him become a delight to your heart. Discipline coupled with genuine love is a powerful combination, because it can help your child learn to respond to authority in a positive way. If your child is confident in your love for him, when you kindly explain the consequences for his disobedience, he will likely feel secure and grow to respect you more––even if he doesn't like paying the price for his actions.
Psalm 94:12 says, "Blessed is the man whom You discipline, O Lord, and whom you teach out of your law." Even though godly discipline may feel painful for a season, the Bible says, "The Lord disciplines the one He loves." (Hebrews 12:6). As a parent take your queue from God's example and let love be the overarching motivation for discipline.
Remember, consequences for disobedience are not to punish or shame your child, but rather to mold their character, train them to obey God's commands and respect your God-given authority. The life long result will be your child will likely grow up learning to honor you, others in authority.
3. Your Children Will Be More Likely to Obey God
When your child learns to respect your authority out of love and respect for you––rather than fear, you will help them cultivate a propensity to respond well to God's authority too. Kids often perceive their idea of God's character through the way they have been raised by their parents. That is kind of a big responsibility, huh?
I meet women all the time whose idea of God's character is influenced by how their father treated them. For some, this means they think God is a big sugar-daddy in the sky who is always ready to give them whatever they wish for, if they would just obey His commands. For others who have had a harsh, distant, or controlling father, their view of God is skewed and laden with fear and resentment.
If you want to grow your child's understanding of God's true character you will need to grow in your own walk with Christ so that His love will be reflected in how you discipline with love. To help you learn how to be better at godly discipline, take the time to read Christian parenting books, listen to helpful Christian radio or podcasts, and seek out godly mentors in your church. (And if you are a single mom find community and help in a local Bible teaching church.)
Make time to pray. I know you're busy––I get it, we all are. But as a parent, you are too busy not to pray. Prayer is more powerful than anything else you can do to guide your kids in godly discipline. And the benefits of your disciplined prayer life will be more far reaching than you can imagine. Pray specifically. Ask God to reflect through you Christ's self-less love to your kids. Plead with the Lord to grant you His wisdom to know how to balance godly grace and and discipline as you parent your children. And ask God to help you make the best use of the short years your children will be in your home.
Lovingly training your children to obey will help sow seeds of life-long obedience to God. Help your child to see the far-reaching consequences for discipline is not to punish or shame her, but rather to mold her character and prepare her to be one through whom God can accomplish extraordinary feats.
When you teach your children to consider their actions in light of God's commandments they'll be more inclined to obey Him when they are away from your watchful eye. The long term benefit of partnering with God in the discipline of your children is they will grow less dependent on you and more dependent upon God as they mature into adulthood.
4. Your Child Will Learn to Practice Self-Discipline
Over the years children have been given more and more freedom to indulge in entertainment. For many adults their addiction to pornography began when they were very young. And sadly, Christian children have been just as susceptible to addiction to video games or pornography.
As a parent, your child may be the only one of his friends who doesn't get to have a computer in his room or have his own smart phone. But, if you are careful to help your children practice self-discipline on the internet they will be more equipped to discipline themselves against the schemes of Satan––who comes to steal, kill, and destroy all the good that God wants to do in and through their lives (see: Ephesians 6:11 John 10:10).
For some children their lack of self-discipline is not so obvious. An attitude of entitlement can be woven so deep into a child's fiber that they see no reason to do chores, find a job, or do their homework. The basis of these issues is that children have not been trained to discipline themselves. I know, sometimes it is less stressful to do the chore yourself, rather than having to nag your kids to do the work. But in the long run you and your child will benefit from their contribution to the family.
In the moment, it may be easier to let your teen play video games, or binge watch their favorite shows for hours on end––because "at least he's not fighting with his sister." But, in the long run, indulging in virtual entertainment can steal from your child the motivation to do anything else.
When you guide your kid toward self-discipline they will grow up to be a better employee, spouse, and parent. Any employer will tell you that the best employees are those who are self-motivated. And the best marriage partners and parents have learned the valuable practice of self-discipline too. Training your children the art of self-discipline is a quality that will guide them toward a lifetime of accomplishment and success.
5. Your Kids Will Develop Better Relationships
When you invest the time to guide your children in godly discipline you help mold their character. As you help your child think of others over themselves, they will be a better friend now, and have a better chance of one day becoming a caring husband and parent.
Disciplining your son not to pee on the floor in front of the toilet may seem like a simple thing. But it may feel easier to just wipe up the stinky overspray, rather than making your son clean up the mess himself. But consider how disciplining your son to care about keeping the bathroom clean will influence the type of man he becomes.
For example, training your son to become a husband who pitches in to keep the bathroom clean will be helpful to his wife. Some may think little things like this will have a way of working themselves out. But truly, as biblical marriage mentors. my husband and I have come to realize how it's the little things that contribute to the wellbeing, or undermining, of a marriage. Helping your child develop better relationships will bless them now and in one day in their marriages.
6. Your Children Will Become Some of Your Favorite People
It is so worth it. Believe the word of this grandmother of eleven grandchildren. I remember the seemingly thankless effort of learning to lovingly, and consistently discipline my own children. But now, years later, watching our adult children parent well, and enjoy happy marriages, is an incredible blessing with far reaching benefits.
Today, our adult children and their families are the people we most enjoy spending time with. Seriously, if you're in the trenches of raising your children, it's hard to imagine the gift you are giving yourself. Doing the hard work of molding your children's character and biblical world view will reap indescribable rewards. Take it from me––totally worth it!
---
Rhonda Stoppe helps women build No Regrets Lives.
Rhonda is a speaker and the author of 6 books. Follow Rhonda on Instagram @RhondaStoppe
With over 30 years experience of helping women build a life with no regrets as a pastor's wife, mentor, speaker, author, mom & grandmother. Rhonda helps women to:
Break free from regrets that hold them back
Grow in wholehearted devotion to Christ
Find victory over people-pleasing
Have the marriage others only dream about
Build a godly legacy to become more influential than they ever dreamed possible
Rhonda is an evangelist and teaches women to build their lives upon the sound doctrine of scripture. Rhonda's messages are biblically engaging, real and captivating.
The Stoppe's have been married 38 years, and are still crazy about teach other. They help others find the secret to a marriage without regrets. Steve & Rhonda are obsessed with their 11 grandchildren. For more about Rhonda visit: NoRegretsWoman.com
Invite Rhonda to speak at your women's event, or to book the Stoppe's No Regrets Marriage Conference. Rhonda Stoppe Speaking: Promo Video
Photo Credit: ©GettyImages/Jacob Wackerhausen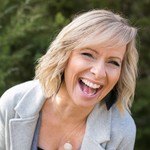 Rhonda Stoppe is the NO REGRETS WOMAN. With more than 30 years experience of helping women build no-regrets lives. I could have listened to Rhonda talk all night, is what women say about Rhonda's enthusiastic, humorous, transparent teaching and zeal as an evangelist. She's committed to fulfilling the Titus 2:4 commission by mentoring, teaching, and writing books that are inspiring, grounded in Scripture, and easy to read––like you're visiting with a friend over coffee.
Rhonda is the author of 6 books and appears on numerous radio programs, including Focus on the Family, Family Life Today and Dr. James Dobson's FamilyTalk, & hosts The No Regrets Hour. Her new podcast, Old Ladies Know Stuff, just launched. She's an evangelist and speaker at women's events, College Women's Chapel, Pastor's Wives Conferences, MOPs and Homeschool Conventions. Sharing the gospel at her NoRegretsWoman Conference is her sweet spot. Rhonda is a regular contributor for Crosswalk and many other magazines. Rhonda ministers alongside her husband Steve, who for 20 years has pastored First Baptist Church of Patterson, California. They live out their own Real Life Romance writing books and speaking at their No Regrets Marriage Conferences, but their favorite ministry is their family. They have four grown children and ten grandchildren. To learn more about Rhonda's speaking topics, watch her teaching, and book Rhonda for your next event, visit: NoRegretsWoman.com.
Instagram: @RhondaStoppe Twitter: @RhondaStoppe FB Page: Rhonda Stoppe No Regrets Woman YouTube: Rhonda Stoppe No Regrets Woman
Bonus: Watch & Share this video of Rhonda Stoppe sharing the gospel message