10 Screen-Free Activities to Add to Your Family Summer Routine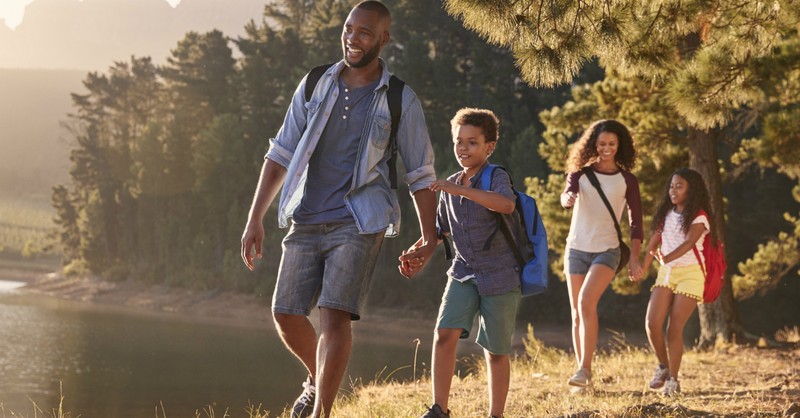 Summer break is here and if you are like me, you are compiling lists of ways to occupy the kids during these structureless months of the year. Without a plan, everyone is more likely to spend their days in front of a screen than out exploring their world. Especially when the heat hits us with its full force and sending them outside becomes less appealing.
Everyone in our house loves the chance to be a little more free with how we spend our time but learning how to be creative without screens can be a challenge for our children. Setting boundaries and finding ways to keep everyone inspired can help curb some of the complaints about boredom that tend to arise this time of year. I know I need some go-to's and goals for our home to keep sane while we enjoy the freedom of summer.
Here are some fun screen-free ideas for your summer routine:
1. Designate "Screen-Free" Days of the Week
For my kids, if they know screens are going to be a part of our daily routine, they spend the whole day asking when it's time to bust out the switch and veg out in front of the TV. The best way to avoid the constant question of "when is screen time today," is to just decide that some days are screen-free. We choose 2 to 3 days in the week that are fully analog days. My kids know from the start of the day that they will need to fill their time with play, friends, fun, and creativity apart from a screen.
2. Create a Standing Summer Meet Up with Friends
Choose a day of the week that you plan to meet up with others in your community and create a standing hangout time for that group. For us, we have set aside Mondays to meet with others from our co-op. The community has created a list at the start of the summer of when and where to meet to hang out every Monday and those that are free that week join the group. This is an easy way to fill at least one morning a week with time with friends and a new experience with your kids.
3. Plan a Camping Trip
My favorite way to unplug during the summer is through a weekend-long camping trip! There is nothing better than being out in nature all weekend long. It's a forced chance to enjoy the sunshine and outdoors as a family. State Parks offer many amenities and lots of affordable camping options. Make memories by a campfire, try your hand at fishing, swim in a lake, take long hikes, or bring bikes to explore. These are all great ways to unplug as a family over summer break.
4. Sign Up for Vacation Bible School
Give your kids the chance to get out of the house and learn about the Bible for one week this summer through Vacation Bible School. These events give you guys a break from the long days together and give your kids a chance to learn from other people of faith in your community. Most VBS programs are free! The low cost makes it an accessible resource for many families in the community.
5. Learn a New Skill
Summer is a great time to learn something new as a family! One of my favorite parts about closing up our books and allowing free time to fill up the space of my children's days is that it gives them space to try their hand at something that doesn't exist in the pages of our curriculum.
My oldest is learning new songs on the piano, my daughter has time to paint and create art projects that we haven't got around to completing, and my middle son is working on creating forts in our backyard. As a family, we are learning how to play the board game Catan. While the free time that summer offers can be challenging it also is an opportunity to expand what learning looks like in your home.
6. Make a Family Reading Goal
Homework, weeknight activities, and full days can make reading together hard to fit into your school year schedule. Summer is a great time to set some reading goals for your little tribe. For our family, we have begun reading chapter books together at night and sometimes during our afternoon lulls.
Some favorites we have discovered recently include: The Wingfeather Saga by Andrew Peterson which has captured the imaginations of our whole family, The Phantom Tollbooth by Norton Juster kept my kids asking for more, and The Chronicles of Narnia by C.S. Lewis are beautiful classics that can be read again and again! These are just a few great ideas to inspire you on your read-aloud journey.
Setting up rest time for your kids to read independently or sit down and listen to an audiobook on their own is a great way to incorporate some restful screen-free time into your daily routine.
7. Incorporate a Daily Chore List into Your Routine
Believe me, having everyone home all day every day leads to a messy home! There are toys strewn about from the one-year-old, art supplies across the table left by my daughter, and Legos left all around by my boys. Not to mention the extra dishes, snack plates, laundry, wet clothes from the pool, tracked-in dirt from the outdoors, and so on!
This extra mess should not all be left for the adults to take care of. With the whole crew spending their days at home, start the summer off by setting up a chore list. You can rotate who is in charge of unloading the dishwasher, bringing down the laundry, vacuuming, and more. For our family, we have things we all take care of on a daily basis but we designate one day of the week as our "clean up day." We each pitch in to clean the whole house together on Fridays so we can start the weekend with a fresh, clean home. Find a rhythm that works well for you and get everyone involved in taking care of the house.
8. Join a Local Pool
Swimming is a great way to keep kids active over the hot Summer months. If joining a pool is in the budget it is a wonderful chance to wear those kiddos out. Many pools offer a chance to meet others in your community, swim lessons, swim teams, and more! Get outside together, meet some neighbors, and beat the heat at your local pool.
9. Set a Hiking Goal
Family hikes give you the opportunity to explore God's amazing creation together. Local parks, State Parks, or neighborhood trails all offer a chance to get your steps in together while investigating the outdoors. Set a goal of how many hikes you guys want to check off your list for the Summer and enjoy making progress towards your total together.
10. Puzzles, Games, Crafts, and More
Collect free or cheap items to engage in as a family during those long free afternoons. Set up a stash of 'things to do when you are bored' for your kids to work through. For little kids, this could look like Play-Doh, coloring supplies, and stickers. For older kids this could be puzzling, crafting kits, STEAM projects, games, and more. Every time they come to you complaining that they are bored and ask to watch TV or play video games you can direct them to this stash and tell them it's time for them to get creative!
Parents I know the work of being a parent is a relentlessly hard job at times. The years are quick but the days can be so very long. Just a reminder to us all that we get 18 or so of these Summers together under the same roof with each of your children. Do what you can to savor the moment and make memories, but also don't feel bad to ask for some space when you need it, too.
Photo Credit: ©GettyImages/monkeybusinessimages
---

Amanda Idleman is a writer whose passion is to encourage others to live joyfully. She writes devotions for My Daily Bible Verse Devotional and Podcast, Crosswalk Couples Devotional, the Daily Devotional App, she has work published with Her View from Home, on the MOPS Blog, and is a regular contributor for Crosswalk.com. She has most recently published a devotional, Comfort: A 30 Day Devotional Exploring God's Heart of Love for Mommas. You can find out more about Amanda on her Facebook Page or follow her on Instagram.
Parents: Need Help Navigating Our Crazy Culture with Your Kids? Listen to Our FREE Parenting Podcast!
Christian Parent/Crazy World with Catherine Segars is available wherever you listen to podcasts. Listen to our episode on battling for your kids in prayer by clicking the play button below:
The views and opinions expressed in this podcast are those of the speakers and do not necessarily reflect the views or positions of Salem Web Network and Salem Media Group.
Related video:
Are you in the trenches with your toddlers or teens? Read Rhonda's full article here!