3 Biblical Reasons You Should be Praying for Bullies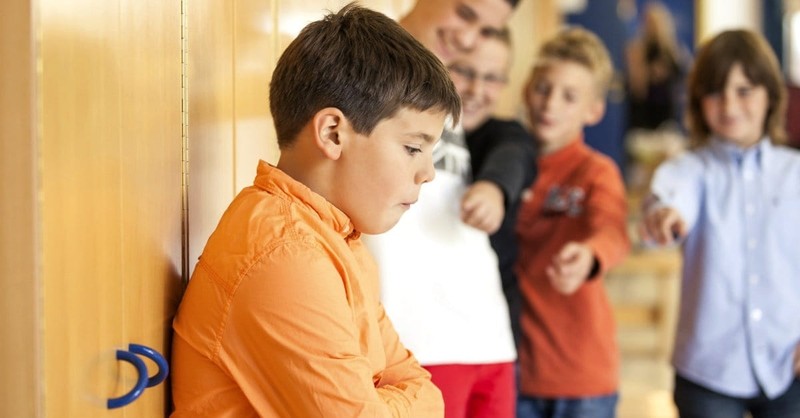 When our oldest son was in the first grade, he came home from school complaining about every kid (and parent's) nightmare…a bully.
Apparently this boy was not only harassing classmates during class, in the hallway lineup, and at the lunch table, but he was preying on kids smaller than himself and pinning them down in a choke-hold on the playground.
We gave our son some practical advice on dealing with bullies, but then we armed him with his best defense: prayer.
I explained to our son that people hurt for different reasons. We sometimes hurt on the outside, like when we get cuts and bruises. But sometimes we hurt on the inside, like when we get our feelings hurt or when we're afraid. My guess was that this boy was hurting on the inside because unfortunately, hurting people hurt people.
I asked my son, "What do we do when we know someone who is hurting?"
"We pray for them," he answered.
So, we decided to pray for this boy (who we will lovingly call "Johnny") every day. We weren't sure why Johnny was hurting, but it didn't matter, because God knew why.
The next day, I walked my son to class and asked to speak with his teacher. I told her what was going on and how I feared there might be something going on with Johnny at home. My son's teacher confirmed what I thought to be true. Johnny's parents had just gone through a nasty divorce and his mom now had a live-in boyfriend. Johnny was being yanked between two unhappy parents and he was taking his anger and frustration out on his classmates.
We prayed for Johnny that entire school year and throughout the summer. The first day of second grade my son came barreling out of the school, gave me a hug and said, "Mom, Johnny is in my class again this year and guess what? He was really nice to me. Our prayers worked!"
Another chat with a teacher revealed that both of Johnny's parents had remarried and things had calmed down. While he was still being torn between two homes, he was now spending time with two happy parents, rather than two angry parents. So Johnny's attitude had completely changed. My son smiled from ear to ear on the drive home that day; he couldn't wait for his daddy to get home from work to tell him about how God had answered his prayers!
Why was it important for my son to pray for Johnny?
1. Matthew 5:44 tells us, "Love your enemies and pray for those who persecute you."
As an adult, my enemies look different than those of my son's as a first grader. And I'm hesitant to call being bullied on the playground "persecution." Yet, we need to teach our children at an early age that not everyone is going to be nice to them, that they will encounter bullies, and we are told to pray for them.
My hope was that, as my son grew older and the bullies got bigger and stronger, his faith in God and his reliance on prayer would be his strength and shield (Psalm 28:7). Our children shouldn't learn this lesson on their own in the depths of despair. We, as parents, should teach this to our children at the earliest opportunity.
2. I want my son to see firsthand that he can rely on God.
God doesn't always answer our prayers in our time and in the way we want. So it's important to teach our children that God's thoughts and ways are higher than ours (Isaiah 55:9) and that while we might not always understand how he works, we must always trust him to work.
When we invite our children to pray for the people around us and for their specific needs, our children get to see God in action! Had Johnny's situation not changed, we would have continued to pray for him. Had his situation and attitude never changed, we would have had an opportunity to teach our son a different lesson. But, in this situation, prayers were answered in a very specific way, and our son not only recognized that God answered our prayers, but he learned the value of prayer and that he can rely on God.
3. I follow Jesus' example, because my son will follow my example.
Jesus gave us the ultimate example in Luke 23:43 when he prayed for the ones who were crucifying him. Jesus said, "Father, forgive them, for they do not know what they are doing."
I think it's fair to say in this situation that Johnny didn't know what he was doing. I doubt Johnny thought about or recognized that he was acting out in response to the pain and anger he had in his heart. While that doesn't make Johnny's behavior acceptable, knowing that he was acting out in response to pain turned my anger to compassion.
As a Christ follower, it was my responsibility to follow Jesus' example and pray for Johnny. As a mother, it was my responsibility to be an example to my son.
It would have been easier to just tell my son to stay away from Johnny. It would have been easier to go to the principal and make sure Johnny was punished for his actions. But the right thing is not always the easier thing.
It took discipline to remember to pray for Johnny every night. It took self-control to not call Johnny's mom and tell her to constrain her kid! But God instructs me to be disciplined and self-controlled. Two attributes I want my son to learn; two attributes that he will learn from watching me.
As parents, we need to remember that as Christians, we will have enemies (Matthew 10:22) and we will face persecution (2 Timothy 3:12). When we teach our children to pray for the class bully, we are looking ahead and equipping them with their best defense for life.
"Do not be anxious about anything, but in every situation, by prayer and petition, with thanksgiving, present your requests to God" (Philippians 4:6).
Beth Ann Baus is a wife and homeschooling mom of two boys. She is a writer and blogger who pulls from her own experiences of abuse, anxiety, depression and Tourettic OCD. Beth is an advocate for women struggling with sexual sin and strives to encourage young wives and mothers by pointing them to the grace offered only by our Lord and Savior, Jesus Christ. You can read more about her www.bethannbaus.com
Publication date: May 19, 2015