5 Things Your Teen Has Questions about but Is Too Afraid to Ask You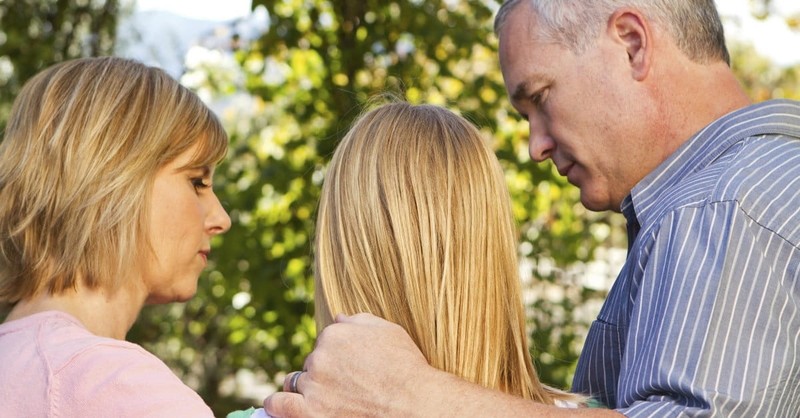 It was 10:30 p.m. on a Wednesday night, and honestly, talking to our 14-year-old son about sex was the last thing that my husband and I wanted to do. 
But our teen had some great questions (Why is sex outside of marriage wrong? Did you guys have sex before marriage? What is a sexually transmitted disease?) that we knew needed solid answers. 
The conversation was not easy (we talked about everything from dating to porn), but as my husband and I shared transparently and listened genuinely to our teenager's questions, I was overwhelmed with one thought: God, thank you that he is coming to us for the truth on these issues. 
Through the years, my husband and I have done our best to be upfront, real, and open about these tough-to-discuss topics with our kids. However, even though we proactively address issues like sexuality and dating, we've seen repeatedly that our two teen boys (and even our tween girl) have questions that we never would have anticipated. 
And if you're a parent of a teen, I'm guessing your son or daughter is filled with questions too. 
What are the typical questions that teens ask? And, as parents, how can we do our best to encourage open dialogue with our children about these topics? 
5 Topics Your Teen Has Big Questions About
It may surprise you—and even frighten you—to know what today's teens are asking about! It's true that these are sensitive, controversial issues that are difficult to discuss. 
Parents, we can't choose to either hide our heads in the sand or simply attempt to reinforce our teens' "Christian bubble" in order to "keep them immune" from these questions!
We must be aware of what our teens are asking and be willing to address their questions in a loving, truth-filled manner that invites discussion and Bible searching. 
That's why I've gathered a list of topics and questions that many teens ask. I've also included a few helpful resources after each topic so that we parents can be prepared and help our teens answer these difficult issues for themselves.  
Author's Note: The topics presented below are based on information I've gleaned from youth pastors and from my own experience as a mom of teens. This is not an exhaustive list of questions for each issue, and since every teen is unique, your teen may have different questions. Also, this list of questions is based around teens who have grown up in the church or who have had some sort of exposure to biblical concepts. Teens outside the church may have different questions.
1. Sex
This comes as no surprise, right? Teens are curious about sex and have a plethora of questions around this controversial topic, including:
What is same sex-marriage, and why does God think it's not okay?
Why do some boys want to be girls, and some girls want to be boys? Does God sometimes make mistakes in assigning people their gender? 
Why is sex before marriage wrong, especially if two people are in love?
Is it wrong to live together before marriage (even if those two people are engaged)?
What about masterbation? Does the Bible say this is okay? Or is it wrong (and if so, why)?
What constitutes "sex" according to the Bible? Does oral sex or other forms of physical pleasure (that don't involve intercourse) count? Where is the line?
Why is pornography wrong? What's the big deal?
Resources: 
The Whys and Hows of Talking to Kids About Sex
Help! My Child Is Looking at Porn
Sex Is Not the Problem (Lust Is): Sexual Purity in a Lust-Saturated World by Joshua Harris
2.  Dating
Whether teens are dating or not, so many of them are filled with all sorts of questions about relationships, such as:
What if the person I'm dating wants to have sex (and I don't want to)? I really like him/her and I don't want to lose the relationship.
Is it alright for my boyfriend/girlfriend to treat me in (blank) manner?
How do I know if this guy/girl is "the one"? 
How do I handle it when I'm pressured to do things physically with my boyfriend/girlfriend that I really don't want to do? 
What if I've already had sex or gone further physically with my boyfriend/girlfriend than God would want me to?
I think I may be in love with someone of the same gender. How do I handle these feelings?
Is it okay to take sexy pictures of myself and send them to my boyfriend/girlfriend (if the pictures just stay with him/her)?
What if I like someone who is a really nice and good person but they don't go to church?
My boyfriend/girlfriend just broke up with me. I really loved him/her. How can I go on without him/her? How do I heal my broken heart?
Resources:
I Kissed Dating Goodbye by Joshua Harris
When God Writes Your Love Story by Eric and Leslie Ludy
Lady in Waiting: Becoming God's Best While Waiting for Mr. Right by Jackie Kendall
The Sacred Search: What If It's Not About Who You Marry, But Why? by Gary Thomas
3. Alcohol and Marijuana
Drinking and drug use are controversial topics for most Christians. Throw the confusion of peer pressure into the mix and you've got a potentially volatile brew for teens. Some questions teens ask include:
Is underage drinking really that bad? 
Is it alright to use marijuana? It's legal in some states now. What's the big deal?
What if my friends are drinking or using drugs? They're not alcoholics or anything. What's wrong with joining them if it's just part of relaxing and having fun? 
My parents drink occasionally. Isn't it hypocritical for them to tell me not to drink?
Resources:
Is Recreational Marijuana Use a Sin?
10 Things Christians Should Know About Marijuana
Talking With Your Kids About Drugs and Alcohol
4. Faith
The teenage years are when kids must decide if they want to adopt the principles of the faith they've been raised with. This leads to all kinds of questions, such as:
How do I know that God is real?
How do we know that the Bible is true? 
What if I have doubts about my faith? What should I do?
Why did God allow this (blank difficult situation) to happen to me (or to my friend)?
How can a God who supposedly loves us allow for so much suffering in the world?
If God loves me then why isn't he answering my prayers?
What about my friends who don't go to church but who are nice people? Does going to church really make a difference, and shouldn't I still be friends with them?
I am struggling with (blank situation, temptation or doubt). Does God still want to have a relationship with me?
Resources: 
TrueU Bible Resources from Focus on the Family
The Case for a Christ Student Edition and The Case for a Creator Student Edition by Lee Strobel
Evidence That Demands a Verdict by Josh McDowell
5. Self Worth
Teens may or may not outwardly express these questions about self-worth, but so many of them are struggling with these issues! 
What is my purpose? Why am I here?
Am I worthy of love, even when I mess up?
What if I don't like who I am? How do I learn to love myself?
I hate this (blank characteristic about my body). Did God make a mistake when he made this part of me?
Resources:
The Search for Significance: Seeing Your True Worth Through God's Eyes by Robert McGee
Friends, these are huge, controversial issues! But God is able to equip us to guide our teens through these tricky issues to a deeper understanding of what it means to walk with him. 
Let's commit to be open, honest and prayerful in how to answer these types of questions with our teens!
Alicia Michelle, author, speaker and blogger at YourVibrantFamily.com, is passionate about helping women discover their beautifully imperfect journey through parenting,marriage, homeschooling, faith and homemaking. She's also happily married homeschool mom of four curious and amazing kids who keep her on her toes!
Alicia is the author of the books Plan to Be Flexible and the Back to School Survival Manual. She also teaches the online video courses "7 Days to a Less Angry Mom," and "bloom: A Journey to Joy (and Sanity) for Homeschool Moms".
You can find Alicia at YourVibrantFamily.com, as well as on Facebook, Twitter,Pinterest, and Instagram.
Photo credit: ©Thinkstock/digitalskillet