Comfort for Hurting Parents in a Broken World
Dena Yohe

hopeforhurtingparents.com

2016

4 Aug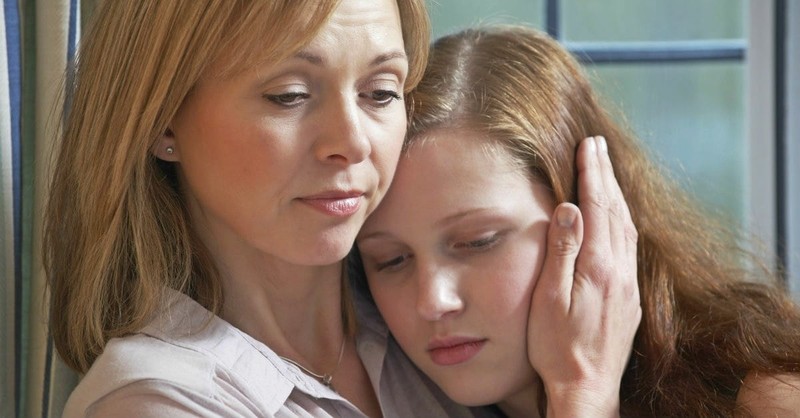 I live in Orlando. Not long ago my peaceful Sunday morning was interrupted by the tragic news of a mass shooting the night before at the Pulse night club. Only the day before I had learned of the murder of Christina Grimmie—Christian pop singer from The Voice—also killed in O-town. Not long after hearing of these events my thoughts were drawn to the bereaved parents of the victims.
What were they be feeling? Shock, numbness, denial, unbelief, anger and rage. And sadness—tremendous sorrow and a sense of overwhelming loss. They would bargain and question, "Why? Why my child? I'll do anything to get them back, to see them one more time."
Since then the tragedies have been mounting daily: Texas, Louisiana, France, Turkey, and on and on. We hear them announced to us through all forms of social media. Violence and more violence. Hate and more hate. Grief upon grief. "The wicked will continue to be wicked (Daniel 12:10)." It's so true.
Being a mom, I can't imagine the pain of these mothers and fathers, not to mention their extended families. How incomprehensible.
It's difficult to describe how it feels to have this kind of violence happen in your city. If you live in Dallas, or one of the other places where there's been a recent incident, you understand. We tend to think we're immune to violence. Those things only happen in others places, not here, not in our town.
Why am I writing about this today? Because I see a similarity to another group of hurting parents—those whose sons and daughters are still alive, but are deeply troubled. They abuse alcohol and drugs. They self-harm in a variety of ways: cutting, burning and eating disorders are a few. They struggle with mental illness—major depression, PTSD, bipolar, anxiety, obsessive compulsive disorder or schizophrenia. Some are incarcerated and reside in the local jail or state prison. Many live on the edge, often suicidal. Their parents carry unimaginable amounts of pain and sadness, too.
I'm one of them.
My daughter has struggled with addiction, self-harm, mental health issues, suicidal thoughts and more for over ten years. I can tell you from personal experience that our children's struggles and choices have a huge impact their family. We feel the sameshock, denial, bargaining, questioning, anger, and loss that the other parents I mentioned do.
Because our children battle with oppressive, relentless demons of darkness every day—so do we. Yet, no one understands, unless they've traveled this path themselves. Embarrassment and shame stop us from letting anyone know what we're going through. We suffer in silence to protect our reputation—and our child's—especially if we're involved in ministry, hold a leadership position or are in the public eye. Heaven forbid if someone discovered we're not perfect. Why do we persist in believing the lie that we're immune from trouble in our families?
Why is it that in the church, where we should be the most authentic, we pretend everything's fine. "How are you today?" "Fine." When the truth is we're dying on the inside.
Our thoughts convince us, "There couldn't be a problem. Not my child. Not our family. It couldn't happen to us. We raised them right. We're good parents."
"My son doesn't have a drinking problem." "My daughter can't be an addict." I don't think she would hurt herself." "They're just a little depressed, but they'll be okay in a few days, nothing's really wrong." "I'm sure he wouldn't seriously consider ending his life."
When the truth finally comes to light, our hearts are broken. We feel as though our child died or they're dying a slow death we're powerless to do anything about. We've tried—oh, how we've tried—but we can't save them. We can't prevent the death angel from coming. Neither can the best-trained rescue squad or S.W.A.T. team.
And so we grieve.
We grieve the loss of the beautiful hopes and dreams we had. The shattered, jagged pieces lay scattered at our feet. Our lives have been profoundly affected. Nothing we've been through makes any sense. Our why questions didn't bring us any satisfying answers. We'll never be the same.
What can I say? I'd like to offer six comforting thoughts that have helped me:
1. As long as your child is still breathing, there's still hope. Never give up. Anything is possible with God.
2. God is in control, even when things look bad. He's always at work.
3. There's help for you and your child. Reach out and let a few trustworthy people into your pain—a caring friend, counselor, clergy, or a support group. Great resources and the community of faith can make all the difference.
4. Real comfort can be found in the Bible. One of my favorite verses is Isaiah 41:10, NIV: "Fear not for I am with you; be not dismayed for I am your God; I will help you, I will strengthen you I will uphold you with my victorious right hand."
5. Cry out to God in prayer. "Arise, cry out in the night, as the watches of the night begin; pour out your heart like water in the presence of the Lord. Lift up your hands to him for the lives of your children . . . (Lamentations 2:19)". When your faith is weak, ask others to pray. Their prayers will be your lifeline. There are call centers, too, with trained volunteers who will listen and pray with you around the clock, even on holidays. One can be found here: hopefortheheart.org 
6. Be gentle with yourself. Stop wondering if it's your fault, asking what you did wrong.  No one is perfect. You did your best. Learn to refuse guilt and not hide in shame. Whatever your part was, accept it, ask forgiveness, then move on in freedom.
In my experience, we're not so good at offering comfort to those who are in shock or are grieving a significant loss. But I believe we can learn to do better. We can improve.
As followers of Christ, it's important we try. How else can we fulfill one of the most important commandments to love our neighbor as ourselves (Mark 12:31) or to bear one another's burdens (Galatians 6:2)?
It matters, because you matter.
We need each other. We really do.
The comfort, understanding, grace and listening ear we can offer to another person is gold.
A caring hug, a gentle touch on the shoulder, an empathetic smile, a shared tear, an email, text, phone call, or card expressing empathy and concern are invaluable gifts.  
Above all we need God, the ultimate Healer. His Son, Jesus, was wounded for our wholeness. "But he was pierced for our transgressions, he was crushed for our iniquities; the punishment that brought us peace was on him, and by his wounds we are healed (Isaiah 53:5, NIV)."
Jesus gave himself so that we could survive the earthshaking, shocking experiences of our lives.
Bring Him all that's broken. He understands. He cares. He'll comfort you.
When you're in shock, remember—You Are Not Alone.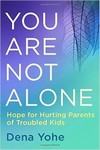 DENA YOHE (pronounced YOY) has been a social worker, pastor's wife, and Cru staff member. She is the mother of a formerly troubled daughter, Reneé Yohe. Reneé was the suicidal, addicted, depressed, self-harming girl whose situation led friends to start the well-known nonprofit To Write Love on Her Arms. Reneé's life was also portrayed in the 2015 Sony Pictures release by the same name. Dena is an avid blogger. She and her husband, Tom, have three grown children and love being grandparents. They live in sunny Orlando, Florida.
For more information please visit hopeforhurtingparents.com and check out Dena Yohe's new book You Are Not Alone: Hope for Hurting Parents of Troubled Kids.
Publication date: August 4, 2016