How to Help Your Teens Be Rooted in Christ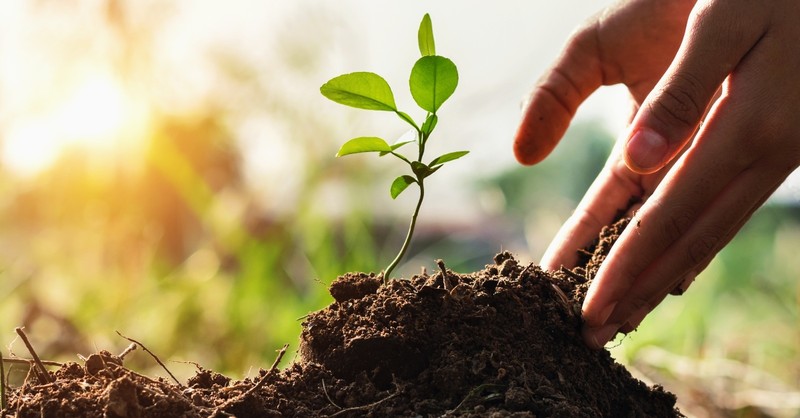 Every generation bemoans the younger generation and how easy they have it, yet how messed up they are. I remember my mom shaking her head at the Dr. Marten boots, distressed jeans, chokers, black nail polish, and heavy eyeliner phase I underwent in the 90s. I equally remember my grandmother laughing at my mom's reaction because she remembered having the same disdain for my mom's hippie days in the late 60s.
And now, I shake my head at the fidgets, the phones, the belly shirts (for good reason), the Tiktok dances (again—for good reason), the tennis shoes with formal dresses, and the mullets.
But this generation has encountered a shift during crucial developmental years that no generation before them has weathered. And that is having the worldwide web in their pocket. This has so many effects that the resource list of materials on proper and lethal phone usage grows daily. But I want to handle just one negative effect and a solution. The negative impact is this: Because of the ubiquity and accessibility of the internet and its applications, this generation of young people is quickly losing a sense of belonging—they lack roots.
The Rise of Individuality
I am not aiming to make broad strokes. And I am also not sitting on the sidelines casting judgments at today's youth. I have worked with teenagers for eighteen years, from camp counselor/coordinator to English and Bible teacher, and now as a youth leader. After my husband and daughters, these students are my primary ministry. So—none of this is said with fussy judgments but rather observations of our culture and how we can navigate it in the most holy way.
And honestly, I'm singling out teenagers when in reality, many adults would probably fit into these criteria as well. Teens have simply grown up knowing nothing else, while adults can attest to the shift in a lack of forming roots. I mean this: In modern America, we live and glory in individuality and originality. Our students see it every day—there is a huge draw to show the world something it has never seen before. It is because of this that there is a discomfort or even a fear of being mediocre at a task or hobby. One chief way we can belong to this culture is to stand out in some way, and if that does not seem like it is in the stars for us, then let me return to my phone so that I can watch others be awesome at it.
Students, as well as the rest of us, see the best parts of others' lives online. They see what the profile owner wants them to see, and our youth are already at a developmentally shaky place. If our children are not grounded, they will indeed wander aimlessly.
Two truths to root your kids in:
1. Jesus
Goodness, if our youth are not rooted in who they are in Jesus because of what He did for them, then all of this is for not. And I know identity is a big, perhaps overdone, and often mishandled topic at this point. All of modernity is seemingly in a crisis of who they are and what their purpose is. But if we can look our teens in the eyes and tell them on repeat that because of Jesus's life, death, and resurrection, they are counted righteous, they are justified, they are surely redeemed, and no one can touch that—then yes, amen. That will absolutely impact the next time they are tempted to compare themselves to an internet sensation and find themselves lacking.
If our daughters truly believed that they were indeed "fearfully and wonderfully made" (Psalm 139:14)—then yes, they would think twice about shaming their faces and bodies when they looked in a mirror.
If all the young gentlemen rested in 2 Corinthians 5:17, "Therefore, if anyone is in Christ, he is a new creation. The old has passed away; behold, the new has come"—then yes, they would know the difference between real manhood vs. something artificial.
And then for the final punchline, we encourage adamantly, with a gentle but firm voice, to drown out the rest of the noise they are inundated with:
"For this reason I bow my knees before the Father, from whom every family in heaven and on earth is named, that according to the riches of his glory he may grant you to be strengthened with power through his Spirit in your inner being, so that Christ may dwell in your hearts through faith—that you, being rooted and grounded in love, may have strength to comprehend with all the saints what is the breadth and length and height and depth, and to know the love of Christ that surpasses knowledge, that you may be filled with all the fullness of God" (Ephesians 3:14–19 ESV).
No greater roots exist than those in Christ.
2. A People Eternal
Because the Lord knows our limitations, He gives us good gifts. No matter if you are an introvert or an extrovert—God gives us people, and those people are to help root us as well.
We want our next generation to know that people matter more than stuff. You cannot be rooted in stuff because it will all fade away rather quickly. A people, however, can be mobile and taught. It is extremely true that people are messier than possessions, but they obtain much more value and worth and payoff than new shoes—even if those shoes are Dr. Marten boots.
As people in Christ, we have two groups to be grounded in: a great cloud of witnesses and the Church. Hebrews 11 is the chapter that teaches us about faith, and it does so by listing off the heroes of the Christian faith. Likewise, we have most of their stories with great detail in the Old Testament so that we can see the cost of being a follower of Christ, and we can see the reward as well.
It is crucial to know brothers and sisters who have gone before us. The Bible certainly does not leave out their sin issues, of which we must teach these to our next generation. God demands perfection, yet He repeatedly gives mercy and grace to His children. We can see this with Abraham, Moses, Rahab, David, King Hezekiah, Peter, Thomas, and the list continues.
Also, in Hebrews, we see a call to the Church with several plural charges and admonishments: "Let us hold fast our confession" (4:14), "Let us draw near" (10:22), "Let us hold fast our confession of hope without wavering" (10:23), "Let us also lay aside every weight, and sin which clings so closely" (12:1), and finally "Let us be grateful for receiving a kingdom that cannot be shaken" (12:28).
That plurality here is the Church! If our children can be rooted in a local body of believers who "have all things in common" (Acts 4:32) that submits to Christ, the Head, then they surely belong to that unshakeable kingdom.
It's not an abstract concept—these are things that point toward eternity. And this is a part of teaching our kids how to root themselves in Christ and in His people (past and present) that is crucial. It is simply in the catalog of maturity of a teenager to not know how to anticipate danger and, therefore, think they will live forever. Remind them (and yourself) to perpetually have eyes for the eternal, making the small things in life stay small. So, buy her a pop-it, and maybe a longer shirt. Let him cut his hair into a mullet and wear unnecessarily oversized visor sunglasses. Those things are temporary—much like my over usage of eyeliner and chokers. But root them in Christ and His love and His people—and they will never be shaken.
"He alone is my rock and my salvation, my fortress; I shall not be greatly shaken" (Psalm 62:2).
Photo credit: ©Getty Images/lovelyday12
Kate Stevens is a worshiper, wife, and mom, and with the help of the Lord, that is her hierarchy of work. Beyond this, she works with the youth and children at her church and edits as a freelancer. She enjoys reading, writing, running, cooking, and practicing thinking pure and lovely things.
After being unsure if they ever wanted children, the Lord eventually blessed Kate and her husband Clint after nearly three years of waiting. They welcomed their first daughter in 2011, another daughter in 2013, and yet another daughter in 2016. Kate considers this her most time-consuming, emotion-full, sanctifying, not always pretty but trusting in the Lord's plan, and blessed work. Stuck in a house with four females, her husband Clint consistently reminds Kate of her identity and union in Christ.
You can read more of Kate's work here.
Parents: Need Help Navigating Our Crazy Culture with Your Kids? Listen to Our FREE Parenting Podcast!
Christian Parent/Crazy World with Catherine Segars is available wherever you listen to podcasts. Listen to our episode on battling for your kids in prayer by clicking the play button below:
The views and opinions expressed in this podcast are those of the speakers and do not necessarily reflect the views or positions of Salem Web Network and Salem Media Group.
Related video:
Are you in the trenches with your toddlers or teens? Read Rhonda's full article here!