Why Does God Expect So Much of Moms?
Ruthie Gray

Crosswalk.com Contributing Writer

2017

1 Aug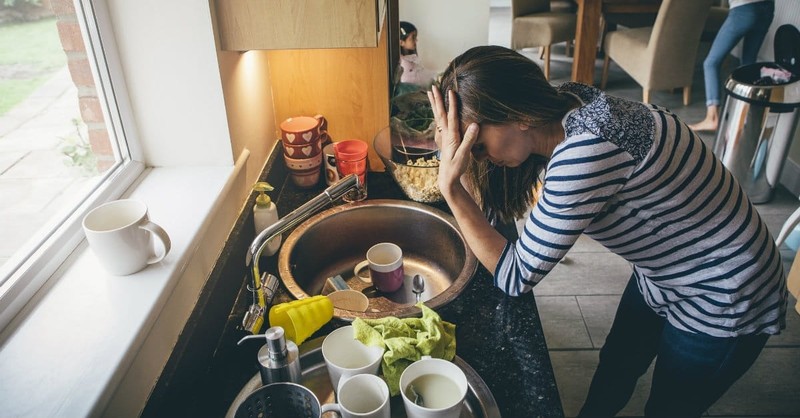 I didn't plan to have a fourth child. Life was stressful enough parenting three, teaching school, and settling in from a recent move.
In my eyes, I couldn't handle another kid. The timing was lousy. What was God thinking? Even though I already loved the child growing in my womb, I stewed for nine months.
Money was tight, my life was busier than ever, and kids were all up in my grill–both at school and at home!
And then, it got worse.
The baby came… and had her days and nights mixed up. I didn't sleep for two solid weeks, becoming feverish with mastitis.
As I cocooned myself in warm sheets, praying for rest, the school called. My first grader was receiving discipline for misbehavior.
While her actions weren't devastating (the kid was only seven years old), for me this was the last straw.
Why does this have to be SO HARD, God? Why did you ask so much of me?
Moms have been asking this question for years. If there is one person who lives under extreme amounts of pressure around the clock, it's a mother. She can't even sleep on her problems because of midnight feedings, sleepwalkers, and vomit at 4:00 AM (why does it always happen at night?).
"I really don't think I'm cut out to be a mom of five. It is TOO much sometimes! I'm not a take-charge person who is good at giving orders and making decisions. I'm like an ostrich most days, just wanting to stick my head in the sand and make everyone go away!" A frazzled mom recently confided.
Jesus experienced stress comparable to a mother tugged in multiple directions. The disciples badgered Him with shallow questions such as "Who gets to be first?" and, "Who gets to sit next to you in heaven?" The demanding crowds chased Him from town to town, tugging His garments, and begging for healing. 
"Yeah, but that was Jesus. He could do anything. I'm not God–I can't take all this!" Even so, Jesus our Shepherd left a tangible example for we moms to follow.
1. A shepherd gives his life. 
"I am the good Shepherd. The good Shepherd gives His life for the sheep." (John 10:11 ESV)
I don't think it's coincidence that Scripture likens us to sheep–it's a well-known fact they readily wander into danger. We need a Shepherd to guide us. To correct us. To retrieve us when we stray.  
Shepherding is not a part-time job. It's a life-time job. Whether we realize it or not, once we birth our children, we are in it for life.
And we thought birthing was the hard part.
2. A shepherd guides his sheep. 
Unlike Christ, we moms aren't perfect, so we're maturing as we seek to grow maturity in our children. God uses us to shepherd our children, effecting the same principle by maturing us in the process.
Christ will not leave us to our own devices. He not only corrects, but forgives and teaches. And we must do the same.
How many times God has disciplined us, and how many times have we disciplined our young ones?
We need a shepherd, and so do our kids.
3. A shepherd gains a high calling.
You may not think you're qualified to shepherd your kids–I sure didn't. When that fourth one came along, I thought God had gotten me mixed up with some other mom. One much more loving, patient, and compassionate.
I questioned His judgement. Think of it–the sheep calling out the Shepherd?! I see my error now, but in the thick of it? All I saw was walls, and I wanted out. 
There's a little-known fact that sheep recognize human faces. Christ said, "My sheep hear my voice and I know them, and they follow me" (John 10:27). Your face is dear to your sheep, mama. And even when you lose your temper, even on your worst day, your sheep recognize your voice. 
God, in His infinite wisdom, chose you to be your child's mother. We often think He must have been mistaken, but Scripture says He chose the weak of this world that He might be glorified (1 Corinthians 1:27).
It's been 21 years since my little "surprise" was born. 21 years of mistakes, 21 years of grace, and 21 years of giggles. 
I am not the same mom I was back then–praise God! Why? Because my Shepherd patiently corrected me, loved me, and never gave up on me. He matured me through difficulties in motherhood, including job changes, financial strain, and–a mother's worst nightmare–multiple hamsters.
Now that I've reached this second phase in life (the one where my kids leave home and I and try not to worry about them), I've realized God's faithfulness. He actively heard even the most frantic pleas as I balanced a kid on one hip while fielding sibling squabbles and slapping dinner together.
Many times, I envisioned my prayers bouncing off the ceiling–emotions high and hormone levels higher. Often, after shooting a prayer heavenward, my attitude worsened. I questioned my faith and God's sanity in trusting me with motherhood.
But you know what? His faithfulness is evidenced in my husband, my adult children, and our strong family ties. 
You see, God used me–imperfect, frail, temper-fraught me–to raise these children to adulthood. They learned their mother wasn't perfect, but they also perceived her love for God and for them.
And now, they step into life with eyes wide open, knowing God will use them in all their imperfections to accomplish His purposes.
In Abide in Christ, Andrew Murray said, "The Christian thinks his weakness His greatest hindrance in the life and service of God: God tells us that it is the secret of strength and success." 
Take heart, dear mama. Draw near to Jesus. Read His Word, think His truths, and pray for His strength (even if it's behind the bathroom door). Why does God expect so much of moms? Because he shepherds and matures us, bestowing our highest calling, so we can in turn give him glory through our weaknesses.
Even when unexpected kids come along!
Ruthie Gray is a wife, mom of four, Gigi, and caregiver, living in the sandwich generation and blogging to keep her sanity. When she's not snacking on plastic drumsticks with The Tiny Tornado or snuggling Baby Cakes (her grandbabies), you can find her coaching young  moms to capture joy in parenting at RearReleaseRegroup.com. Ruthie is the author of Count to Nine; 9 Liberating Steps for Mom Frustration and Anger. Click to download her Wife and Mommy Survival Kit here.
Photo credit: