Tips for Parenting Opposite Personalities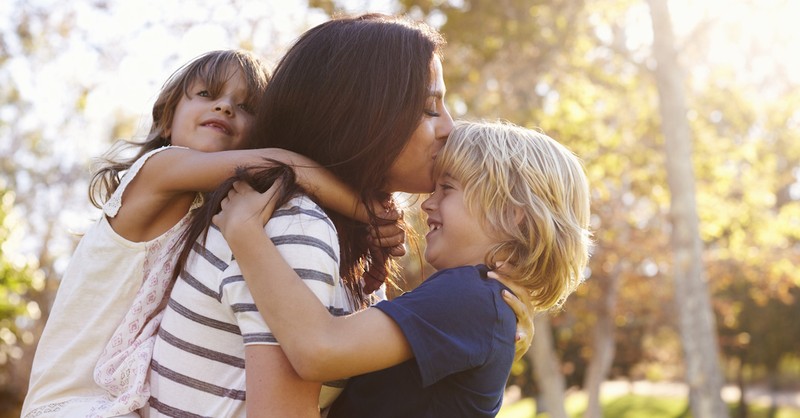 There are very few similarities between my first and second born. And honestly, I think we are at the point of one disagreeing with the other just because they prefer to be so distinct from the other. Most days, they are good friends, which I do not understand.
One prefers alone time while the other has to be within the physical reach of another human. One reads to herself while the other will only read to another person. One has a high pain tolerance, while the other wails over the thought of a paper cut. One is pleasant to everyone she meets, while the other has to extend a personal invite into her inner circle on a daily basis—sometimes, I'm not even in her good graces. One would live in sweatpants while the other loves arranging new, funky outfits.
That is what got me thinking about how to simultaneously parent two kids at opposite ends of a spectrum.
While telling one that she needed to practice femininity and care, even at a young age, and put more attention into getting dressed in the morning, I feel like I needed to say this behind closed doors for fear of the other one taking this as a cue that her longing stares into the mirror were a means of practicing righteousness. Likewise, I want to whisper when counseling the other that her beauty is fleeting and amounts to nothing in the eyes of eternity, so the other daughter doesn't use this as an excuse to hit the snooze button a few times and pull on her familiar leggings and hoodies.
I am sure Isaac and Rebekah felt the same way as they parented Jacob and Esau—the smooth versus the hairy. The hunter versus the momma's boy. I am confident that the best counsel is not from Isaac and Rebekah, who each chose their favorite son. Like all parenting, I am confident that this is a matter of the heart.
It All Starts with the Heart
You see, every heart's intention is made manifest through our actions. Jesus turned the notion of all sins against other people completely upside down with the Beatitudes in Matthew 5. We cannot come to the Lord during confession and say that we are good because we have yet to murder anyone in life.
Jesus extends this by saying that if we hate our brother, that is the same as murder. If we look at this with temporary eyes, we would see this as really harsh. But if we consider this from an eternal perspective, we would see that Jesus was teaching us that sins against others are often not compulsory—they are the fruit of the heart's posture.
There was anger, envy, and discontent there long before the desire to off that person. The book of James tells us, "But each person is tempted when he is lured and enticed by his own desire" (James 1:14 ESV). Jesus wasn't being harsh—He was pointing us to the first step. If we can get our hearts in check, much sin will surely be put to death.
This is how you parent two opposite kids who have opposite sin issues. Yes, Scripture gives us plenty of fuel to speak to specific sins, but we have to start where all sin begins. For the one sister, her heart's posture is laziness. For the other sister, her heart's posture is pride.
Three things to keep in mind:
1. Shepherd Them to Detect Their Own Sin
We have two girls who have been baptized, and one is still in the works. Our two older girls are to the point in their spiritual maturity where we are guiding them in their repentance, not pointing everything out.
Spiritual maturity is a funny thing, and it definitely does not depend on the person's age. We heard a sermon from a pastor and good friend who said that if you want to see how spiritually mature someone is, watch their reaction when things don't go their way.
When our two daughters are in sin, we ask questions, leading them to recognize it. "How did you handle that?" "How do you think she felt when you used that tone?" "Does your eye roll honor the Lord?" Or we will just ask blanketed questions about everyone's day: "What was the lowest part of your day?"
Routine talks like this lead them to see their own sin, even if it's the opposite from their sister.
2. Remember the Kingdom of God
Romans 14 says, "Therefore let us not pass judgment on one another any longer, but rather decide never to put a stumbling block or hindrance in the way of a brother. I know and am persuaded in the Lord Jesus that nothing is unclean in itself, but it is unclean for anyone who thinks it unclean. For if your brother is grieved by what you eat, you are no longer walking in love. By what you eat, do not destroy the one for whom Christ died. So do not let what you regard as good be spoken of as evil. For the kingdom of God is not a matter of eating and drinking but of righteousness and peace and joy in the Holy Spirit. Whoever thus serves Christ is acceptable to God and approved by men. So then let us pursue what makes for peace and for mutual upbuilding" (13–19).
There was much division between the Jews and the Gentiles over what they were and were not allowed to eat or even touch. Jesus came to make all food clean, but at its bottom line, Paul tells us to abstain from eating if it causes a rift with another believer.
My girls are by no means offended by what the other sister is wearing to the point of causing them to stumble, but they both have to know that it all comes back to the kingdom of God. Their hearts must be oriented to eternal matters, pursuing righteousness, peace, and joy in the Spirit.
Because of this, I can speak to both of them at the same time about how they view their appearance and clothes, and hairdos. We can talk about what apathy and vanity say about our hearts—and if Jesus lives in our hearts, how are we being ambassadors of Him in what we wear and how we wear it?
3. Keep the Standard
Parenting two opposite kids simultaneously is good accountability because, as parents, we have only one standard to uphold: God's Word. If we are talking out of both sides of our mouths, we have created our own standard—and it's probably one that only measures our leisure time with their behavioral patterns.
We are raising children in a postmodern world, which means they are bombarded with relative truth. Not only are the endzones changing rapidly, but now the rules are written in pencil. It is our blessed and weighty responsibility to dictate God's economy to them. "Let your eyes look directly forward, and your gaze be straight before you. Ponder the path of your feet; then all your ways will be sure. Do not swerve to the right or to the left; turn your foot away from evil" (Proverbs 4:25–27).
The only way we can keep our eyes forward is to maintain God's standard in His Word. This keeps all members of your party at peace and with proper expectations of your own parenting.
Photo credit: ©Getty Images/monkeybusinessimages
Kate Stevens is a worshiper, wife, and mom, and with the help of the Lord, that is her hierarchy of work. Beyond this, she works with the youth and children at her church and edits as a freelancer. She enjoys reading, writing, running, cooking, and practicing thinking pure and lovely things.
After being unsure if they ever wanted children, the Lord eventually blessed Kate and her husband Clint after nearly three years of waiting. They welcomed their first daughter in 2011, another daughter in 2013, and yet another daughter in 2016. Kate considers this her most time-consuming, emotion-full, sanctifying, not always pretty but trusting in the Lord's plan, and blessed work. Stuck in a house with four females, her husband Clint consistently reminds Kate of her identity and union in Christ.
You can read more of Kate's work here.