To the Mother Who Feels Like She Isn't Enough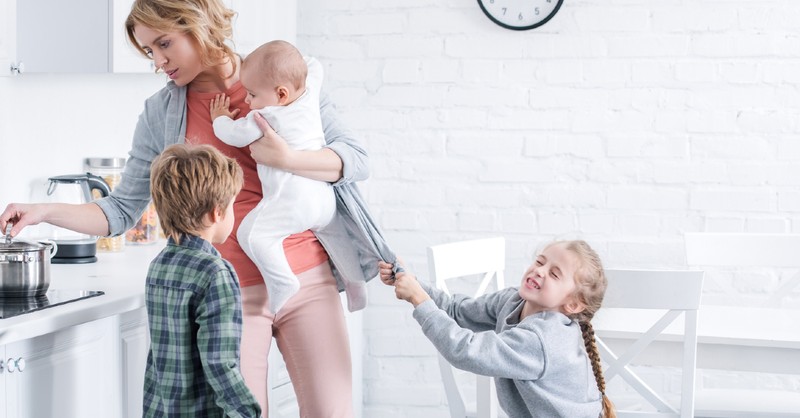 "God, help."
It was a simple, honest prayer and quite frankly, it was the only one I had the strength to muster. My eyelids felt like they weighed ten pounds after another night of minimal sleep. I wondered what it was about the eleven o'clock hour that seemed to signal my son to cry without any hope of being consoled, no matter what I tried. Was there something wrong with me as a mother? Was there someone else who would be better equipped to take care of this beautiful baby boy? Was I enough?
I wish I could say that after my first child, these types of questions stopped. That simple two-word prayer, "God, help," was one I used more times than I can count when I first became a mother. And while I did grow more confident in my parenting with each child, each one also presented his or her own set of unique challenges. As soon as it seemed as though I'd navigated through one difficult phase, another one would come like clockwork.
While I've never experienced a time in my thirteen years as a mom when I've said, "You've got this parenting thing down. You're good," God has been faithful to encourage me during the times I needed it most. He sent a man who sat behind me on an airplane and listened to my son scream for twenty minutes straight. But instead of complaining, he told me what a great job I was doing. He sent a friend who showed up at my doorstep and offered to help during my first weeks as a new mom.
Over time, I realized my doubts weren't a cause to question whether I was enough, but an invitation to go to the One who is always enough. They were the moments he allowed me to see that it wasn't my perfect parenting skills or my step-by-step plan that would enable me to raise them up, but his wisdom and guidance. In my weakness, he was able to display this strength and grace.
What about you, friend? Are you at the end of yourself, questioning whether or not you're equipped to mother your kids well? Here are three truths to remember on the days when you feel like you aren't enough:
1. The everyday moments when we pour into our kids matter just as much as the milestone victories.
We love seeing the fruits of our labor, don't we? But mothering is a calling where we may not see fruit when we want to. We may teach our kids kindness and love, and then wonder why they're hitting their sibling or classmate. We may teach them to show respect, but then watch as they interrupt, call names, or get an attitude with someone. Sometimes, the seeds we plant will burst forth and show signs of growth. But other times, we'll wonder how long the seemingly perpetual winter will last.
One thing we can be sure of is this: When we love our kids and we keep seeking God in the midst of the challenging seasons, he shows up. Even during the times when we question whether or not he's working, he never stops moving in the hearts of those who invite him into their lives.
"And I am sure of this, that he who began a good work in you will bring it to completion at the day of Jesus Christ." Philippians 1:6 ESV
If you're uncertain whether or not anything you did today made a difference, you can know God will finish the work he started in you and in your children. He is not a God of incompletion or unfinished assignments.
2. Our feelings of inadequacy are an opportunity to rely on God's completely adequate, all-sufficient grace.
Nothing reminds you of your need for God's grace like parenting, does it? Our children remind us not only of their need for forgiveness and mercy but of our own need for it as well. I must constantly remind myself that my anger over my kids' poor choices will not display the righteousness of God. And while discipline is certainly something I need to enforce, it will serve no purpose if it's not done while also seeking God's wisdom.
When I'm having a particularly discouraging day, I often remind myself that it is God who makes the seeds we plant grow. Not our micro-management or helicopter parenting, but his Spirit. Even Paul, who devoted his entire life after conversion to spreading the gospel, faced discouragement and frustration when the churches he planted strayed from the truth.
In 1 Corinthians, he blatantly tells the church they are still worldly and are mere infants in Christ (1 Corinthians 3:1). Even though he preached the solid foundation of Christ to them, they were misled by sin and distortions of the truth. But while Paul's frustration is apparent in this passage, what strikes me is his recognition that any spiritual growth this church experiences will not be a result of his greatness or holiness, but God's Spirit and grace. He does not say he feels inadequate or incompetent because of the church's wandering. He realizes his job was to introduce them to the gospel and preach the Word, but God would bring the growth.
"So neither he who plants nor he who waters is anything, but only God who gives the growth. He who plants and he who waters are one, and each will receive his wages according to his labor. For we are God's fellow workers. You are God's field, God's building." 1 Corinthians 3:7-9 ESV
This passage serves as an important reminder for us as mothers too. Despite our best efforts to raise our children in the truth and give them a solid foundation, they are still human beings prone to their own sin nature. They will stumble, make mistakes, and poor decisions. Our job is not to ensure they live a perfect life, but that their foundation is secure and unmoving. And if the foundation is on Jesus Christ, it will be.
3. Motherhood is a continual process of refinement. The more we let God shape us, the more aware of his presence we will become.
Motherhood is a constant process of surrender and dying to self. We learn when to tighten the reins on our kids and when to let go. We put the needs of those who depend on us above our own. We give up sleep, personal space, and sanity for the sake of those God entrusted to us, and often we wonder if anything we're saying or doing is making a difference. But in this sacrificial love, God shapes our hearts to look like his. He teaches us to be sensitive to his Spirit in new ways and allows us to see his character in ways we didn't perceive before giving birth to new life.
If God allowed us to be completely confident and self-sufficient without ever doubting or questioning ourselves, we would miss the unique opportunity to rely on him. Our pride would prevent us from turning to him for strength and grace, and we would likely forget where each of these gifts comes from.
But when we realize it is God who will equip us and give us the guidance we need, we're able to enter into a beautiful relationship of reliance on him. We recognize he is the ultimate giver of life, and he loves our kids more than we ever could.
No matter what the future holds, we can trust in this promise from a Psalm of David:
"Cast your cares on the Lord
and he will sustain you;
he will never let
the righteous be shaken."
Psalm 55:22 NIV
Friend, I don't know the parenting challenges you're facing today, but I do know this: God is with you through it all. The truth is, none of us are enough on our own. But his strength and grace are enough. And when we rest our identity as moms on this truth, we can hold our heads high with confidence.
Photo Credit: GettyImages/LightFieldStudios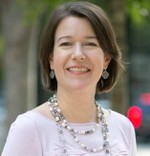 Abby McDonald is a writing coach and the author of Shift: Changing Our Focus to See the Presence of God. Her mission is to empower women to seek God in the middle of life's messes and to share their faith with courage. Abby writes regularly for Proverb 31 Ministries' daily devotions team, and her work has been featured in numerous publications. You can connect with Abby on her website where you can grab a free worship playlist to help you shift your focus toward God. You can also connect with Abby on Instagram.
Related podcast:
The views and opinions expressed in this podcast are those of the speakers and do not necessarily reflect the views or positions of Salem Web Network and Salem Media Group.
Related video:
You can read Rhonda's full article here!