5 Ways to Be a Better Dad
Kile Baker

Contributor

2022

22 Feb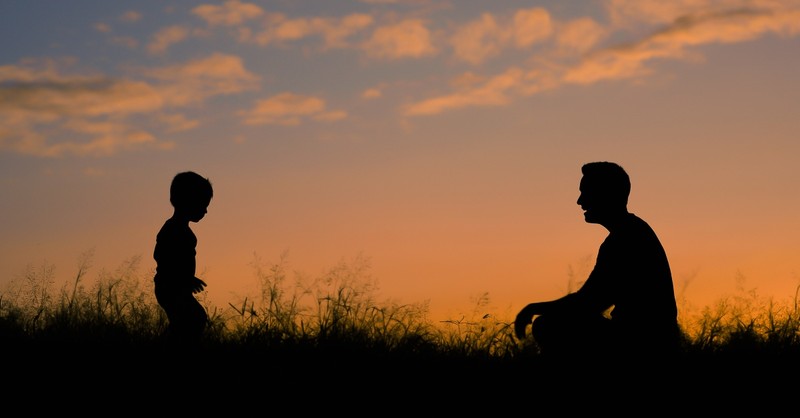 Everyone has a father, but not everyone has a dad. This may be somewhat of a semantical preference, but I think there is a difference between the two. In my opinion, you can "father" a child biologically, but you can only be a dad relationally. It's the coupling of intentional time, effort, love, affection, and relationship building.
Some of my favorite words in the English language are "dad" and "daddy" because my kids chose to say them to me in an affectionate way. Here are five ways to be a better dad:
1. Be Loved by Your Heavenly Father
The first, and I believe foremost, way to become a better Dad is to let yourself be loved and instructed by your heavenly Father. Scripture is quite clear that without faith in Christ, we cannot be in the family of God. Instead, we are like illegitimate children, with no inheritance or claim to a Father looking to give everything to His kids. And yet, through Christ, His only begotten Son, we can join God's family.
In Romans 8:15-16, the Apostle Paul lets us know that the Father has adopted us and that we are now God's children by His Spirit. This is not only an incredible gift and realization; it's comforting to know that the Father of everything has chosen to be our Dad, including us in His family.
1 John 3:1 See what great love the Father has lavished on us, that we should be called children of God! And that is what we are!
God the Father has "lavished" His love upon you. He has given His love to you willingly and intentionally. This means that God has loved you so that you can show that love to others — especially to your kids. No person can show love to another unless they are loved. So the best way for you to grow in your love for your kids and discover new depths of how to love them is to be loved by your Heavenly Father. It's to read how Jesus talks about Him, pray to Him, to even picture God as a loving Father rather than just a distant, powerful being. You have a Father, a Dad who is invested in your life and future.
2. Forgive Your Own Dad
Most people have some "Dad wound," especially men. Some of our wounds come from our Dads because they were angry, apathetic, absent, or antagonistic towards us. We wanted their love, attention, presence, or simply their acknowledgment that they saw us and cared for us. Many of us never got that, so the wound never healed. Instead, it remains open, harming how we raise our own kids until someday we give them a frighteningly similar wound to our own. We've passed down the wound we received, even though we tried everything we could to avoid it.
Maybe the best thing you can do as a Dad is to forgive yours. For the times he wasn't there, didn't seem like he cared, or for the way he treated you. If you're a Christian, this is something you're not only called to do but should do because you also have been forgiven: Matthew 6:14 For if you forgive other people when they sin against you, your heavenly Father will also forgive you.
The example the Father has set for us by forgiving us, His children, even as we have sinned against Him or others, is an incredible one. The Father's heart is one of compassion, mercy, grace, and truth, among other things, and that extends to forgiving us when we didn't deserve it. Your own Dad may not deserve forgiveness, but you should forgive him anyways. Not because he deserves it or has earned it, but because your Heavenly Father has forgiven you and has shown you the power of forgiveness.
After all, what did the Father do when He forgave you through Christ? He drew you, like a Dad, to Himself. You love the Father, are grateful to Him, want to spend time with Him, and come back to thank Him without ceasing because He has forgiven you. Your relationship with your Heavenly Father and your earthly father are the two most significant factors on what kind of Dad you will be to your kids. If you forgive your earthly Dad, pray for him, and have a better relationship with him, it will heal the wound you have and make you a better Dad to your kids. So with these two foundational ways of being a better Dad in place, let's look at more practical ways you can be a better Dad.
3. Enjoy Them as Kids, Raise Them Like Adults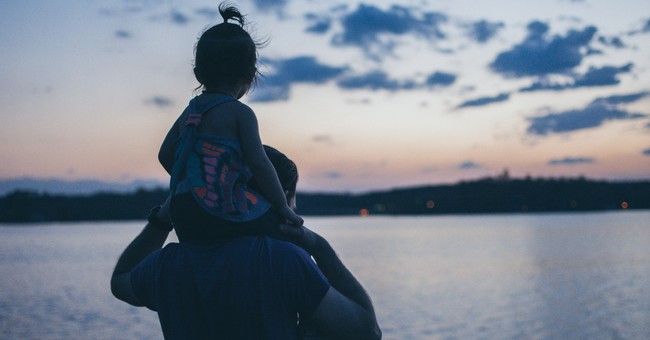 Photo credit: ©Unsplash/Brittani-Burns
The kid stage is fun, tiring, frustrating, rewarding, and memorable. They're cute, cuddly, snotty, eating machines that need constant attention and love. Don't miss out on this stage! The common saying of "they grow up so fast" is common for a reason, they roll over, crawl, walk, and then it's off to college. It's way too quick for comfort. When they're in the kids' stage, enjoy them, take videos and pictures to capture the moment, and be present in the moment.
But even in the kid stage, lead and draw them forward to adulthood little by little. As Dads, we aren't helping raise kids because they're already kids — we're helping raise adults! This is an essential shift in how we think about our relationship with our kids. This means that we can allow ourselves to be kid-like when we play with them. We need to wrestle, pretend, do funny voices, stay up late with them, go on adventures and have food fights (outside!). These kinds of opportunities are priceless. Play and fun are pivotal to their development and help cement fond memories with us.
We can also teach them lessons along the way about cleanliness, discipline, teamwork, and responsibility, among other things. Even though our kids may be wild and just want to continue to play, stopping them at certain points or at the end to teach them something about being an adult will land well as they are engaged, present, and attuned to you. So do both!
4. Make Sure to Disciple in Love
Discipline sometimes gets a negative connotation, but it's important to the development of our kids. Discipline is required to master a skill, say no to something bad for us, or be corrected when we've done something wrong. Our kids need discipline, too, especially from their Dads.
The writer of Hebrews says as much as they encourage the importance and place of discipline: Hebrews 12:9-11 Besides this, we have had earthly fathers who disciplined us, and we respected them. Shall we not much more be subject to the Father of spirits and live? For they disciplined us for a short time as it seemed best to them, but he disciplines us for our good, that we may share his holiness. For the moment, all discipline seems painful rather than pleasant, but later it yields the peaceful fruit of righteousness to those who have been trained by it.
There are two critical realizations here.
The first is that God the Father disciplines us as Dads. We need it! We need to be corrected and drawn to Him to be better Dads ourselves. We need to love truth and be disciplined in our lives to know what's bad for us, so we don't pass those things on to our kids, and to be continually drawn back to the Father.
The second is that discipline actually will "yield the peaceful fruit of righteousness." If you think of disciplining your kids in the long term rather than the short term, you'll realize that it is for their benefit and your respect that you're doing it. You know your kids better than anyone else; you know what works with them and what doesn't. The important part is that you discipline them with love in the moment, intending to make them better in the future.
5. Have the Courage to Tell Them God's Truth
As Dads, we often get all of the "tough talks" and moments with our kids. Moms do this too, of course, but I can tell you from experience that I've heard the phrase "go talk to your son…" more than a few times from my wonderful wife. It may be doing the "Dad" voice or simply using a different type of influence than moms have to help our kids.
One of the most important things that need to come from both parents is telling our kids the truth. I don't mean answering every question when they ask it because kids need maturity level to handle certain bits of information. I mean to reinforce God's truth about them and tell it to them regularly.
In our culture today, just about everything is flexible: truth, identity, gender, sexual preference, emotional importance, whether God exists or not, commitment, and standards of excellence, just to name a few. Our culture has prized the individual over community and personal preference over ultimate truth. As Dads (and as parents in general), we need to speak God's truths into their lives every day.
While this may not be popular in our culture today and can undoubtedly bring trouble, the end of some friendships, or social pressure, we need to have the guts to let our kids know how God has created them and what He has spoken about them.
We need to tell our kids that whatever gender they were born with is who they are, and God did not make a mistake in making them that way. We need to tell them the importance of telling the truth in everything we do because the truth brings freedom and comfort. We need to tell our kids that God has made males and females unique and complementary to one another. We need to reinforce that God and people deserve our best and that we should follow through with what we say we're going to do. We need to have the courage to tell them about the importance of fidelity, marriage, and commitment to other people because God has made us to glorify Him even as we interact with one another.
There are obviously a lot of ways to be a better Dad, but I think these five can be foundational for us to have a lifelong relationship with our kids and can help prepare them for a lifelong relationship with God. All five of these are counter-cultural in a way, and that's intentional. Our kids spend a lot of time in the world, with all sorts of influences on them every day as they are away from us. As Dads (and as parents), we are constantly battling to give them what is good and Godly. This is our task as Dads — to constantly draw them closer to God, even as culture and society fight to pull them away. Perhaps the most incredible way to be a Dad to your kids is to continually point them to their Heavenly Father, who loves them far more than even we could.
Photo credit: ©Getty Images/kieferpix
Kile Baker is a former Atheist who didn't plan on becoming a Christian, let alone a Pastor, who now writes to try and make Christianity simple. Kile recently wrote a study guide to help people "look forward to and long for Heaven." You can get one on Amazon here. He also writes at www.paperbacktheologian.com. Kile is the grateful husband to the incredibly talented Rachel, Dad to the energetic London and feisty Emma and Co-Lead Pastor at LifePoint Church in Northern Nevada. He single handedly keeps local coffee shops in business.