5 Ways to Ditch "Mom Guilt" Once and for All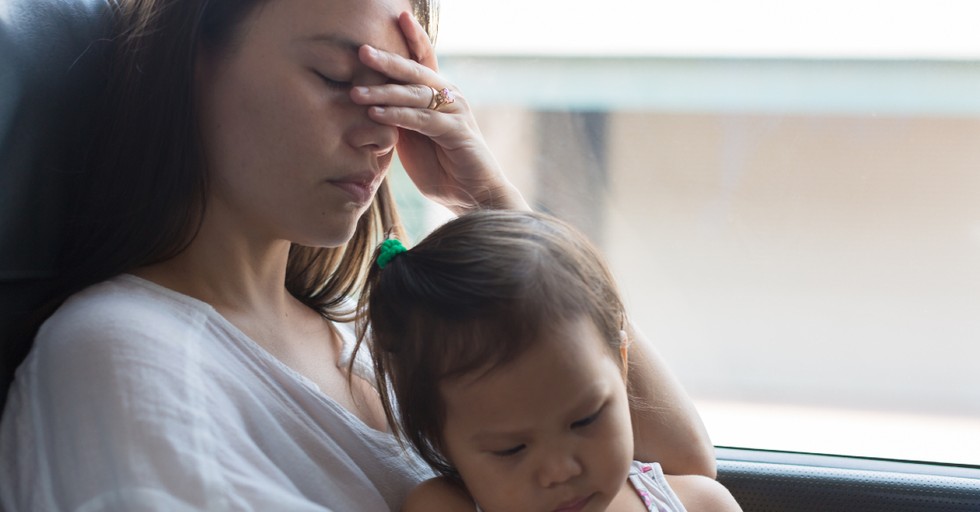 "Mommy," my 5-year-old asked, "will today be a no-work day so that you can spend the whole day with me?" I get questions like this frequently.
I'm a mom of two who juggles a freelance workload as well as a part-time job at my local church. My kindergartener, who was accustomed to my whole world revolving around her and her older brother, is beginning to adjust to my new work schedule.
Freelancing and working in ministry often means that I tuck away for a few odd hours during the day to "get work done" all the while multi-tasking and managing the needs of our household. After a particularly busy week, my daughter will demand my attention. When she does this I can easily find myself riddled with "Mom Guilt."
I feel remorse for not being able to give her more of my full and undivided attention.
As I learn to balance and prioritize family alongside my workload and household demands I've developed a few strategies to tackle "Mom Guilt" head-on. If you've been struggling in this department as well, take a deep breath and then begin to incorporate these 5 steps into your parenting.
They will likely reduce your "Mom Guilt" if not remove it altogether.
Photo Credit: ©GettyImages/globalmoments
1. Know the Why Behind What Takes Your Time

Slide 1 of 6

One of my friends is wrapping up her Master's program and getting her teaching credential. For just shy of a decade she shifted away from working full-time in order to care for her babies.

As her youngest approached school age, she started contemplating what might be next for her. That contemplation turned into dreaming and those dreams became a reality when she embarked on her Masters. Her program is time-intensive and requires her focus and energy. She has to study and student teach and make everything fit into her already busy family schedule.

Throughout her coursework, she has occasionally questioned if she was doing her children a disservice by taking her focus off of them in order to pursue higher education and ultimately a career in education. When she gets down and out, she has to remind herself "why" she started in the first place.

This pursuit of hers isn't all that uncommon. So many moms press pause on their careers and educations while their children are little.

Resuming a career after a long pause, or returning to education does not have to riddle us with guilt. Instead of being racked with guilt, we need to remember the "why" and that what we're doing is for the good of ourselves as individuals, and for our children and households as a whole.

When you get sucked into a guilt mindset take a moment to pause. Perhaps write down all the benefits of your particular pursuit and how what you're doing will be of benefit to your family.

Photo Credit: ©Getty Images/Tutye

2. Invite Your Children into The Process

Slide 2 of 6

When I was a little girl my parents owned and operated a small Dive and Scuba magazine. My parent's home office was an extension of their bedroom, a space complete with several small desktop computers and a functioning type writer. Their second office was the deck of a dive boat.

One of my favorite childhood memories was when my parents brought their "work" to my 5th grade classroom. They brought in several kiddie pools and all sorts of marine and aquatic lifeforms to my school.

Sometimes, to earn a buck or two, my parents would sit me in front of their tiny computer and have me type my Dad's articles into a word processor. I felt very much a part of their work. Their work was our family's work.

Whether this invitation into their work was intentional or a necessary by-product of owning a small business and having five children is irrelevant. The lesson that was left with me is that our children can absolutely be a part of our professions.

As my husband prepares sermons he'll often run through some of his thoughts at the dinner table. His notes are fair game for our kids to comment on and contribute to. Last spring, when I published a Bible Study guide my son was one of my biggest cheerleaders. He went so far as to do a live reading of my intro for friends and family.

When our children are a part of our work the guilt that we often carry in "doing the work" can dwindle into distant memory. It took me so long to realize this, but our children can be our biggest champions and cheerleaders.

Excluding them from what we are doing removes the possibility of them cheering us on to the finish line.

Photo Credit: ©GettyImages/KatarzynaBialasiewicz

3. Set Expectations and Create Rhythms as a Family

Slide 3 of 6

Developing a rhythm that works for our family as a unit has been a game-changer for me personally and for our family as a whole.

Helping our children know what day it is and what needs to happen personally and professionally for my husband and I on those days has helped our children transition from situation to situation.

This is something that comes with age. I couldn't have expected our daughter to understand that Daddy preaches on Sundays when she was three, but now that she's five she understands what we do on Sundays. The same applies to weekdays.

My husband and I are learning to create boundaries around our work time and fit that work into pre-set hours. We try to have a weekly check-in where we discuss if something outside of our already planned schedules comes up. Sharing this information goes miles with our kids.

When my ministry is in session I am out of the house on Monday nights. Letting my kids know that I am gone on Mondays prepares them so that once Monday arrives and I am not there for dinner or bedtime routines they are not distraught.

Communicating schedule with our little ones has multiple wins: Not only does it draw them in as a part of the team but it also prepares them in advance for breaks in our normal rhythms.

Furthermore, it greatly reduces any guilt I may be carrying as I prepare my own work or to leave the house during a time that they would expect me home. Knowing that they are peaceful gives me peace. Having peace means having little to no Mom Guilt.

Photo Credit: ©Getty Images/Wave Break Media

4. Enjoy Distraction Free Time with Your Children

Slide 4 of 6

As our children grow we've had the joy of watching them adopt some of our hobbies as their own.

couple years ago my husband got into mountain biking. Not long after, our son joined him. Soon, I was up on a bike of my own and then, to our astonishment, our youngest joined the crew cruising her bright purple bike down some pretty awesome trails.

Just about every Saturday that the weather is good we'll be out as a family getting in as many laps as we can.

When we're on the trail we have the benefit of having little to no cell phone service. This means that our time together is essentially uninterrupted. Our children crave our attention; for our family Saturday rides provide an opportunity to solely focus on each other.

I've noticed that after a day spent together our kiddos will need a little recharge time on their own. During this time I might work for an hour or so, or allow myself to rest guilt-free.

Perhaps mountain biking isn't your family's idea of a good time, not to worry, connect with your spouse and discuss something that you'll enjoy doing together that would be appropriate to invite your children to participate in. Maybe for your family it's a game and pizza night or playing soccer at the park.

Find whatever it is that you all can do together distraction and, if possible, technology-free.

Spending quality time together fills our children up. As parents, when we know that we've given our children our time it's easier to focus on the daily demands of life without carrying the added weight of guilt. This applies to Moms and Dads alike.

Photo Credit: ©Getty Family Facebook Page

5. Evaluate the Root of Your Guilt

Slide 5 of 6

Have you ever stopped and asked yourself why you're carrying so much guilt?

After our firstborn came into the world I returned to work. I was working a 40 plus hour work week and commuting nearly two hours a day. I felt massive amounts of guilt for not being with my son.

I longed to be with him, but the reality was that my income was vital to the survival of our family. My income paid half the mortgage and the bills. Not working would have been disastrous for our little family at the time, nevertheless I was racked with guilt.

I've felt guilty over my part-time work schedule. I've felt guilty for not cooking enough. I've felt guilty for letting the laundry pile up, or guilty for "being a bad mom."

If there is something to feel guilty about, as minuscule as it might be, I've probably felt guilt about it. It's downright ridiculous. My kids typically aren't even the ones applying the guilt, I do it all on my own.

Maybe you do this as well? Perhaps the root is trying to stand up to the figment of parenting perfection that makes its way into social media, television, and sometimes our own communities. I've observed other mothers and thought to myself, "Wow, she's such a great Mom. I can't hold a candle to her.

When I move in closer and get to know that mom a bit better I've learned that she is struggling just like me. There is no such thing as a perfect mom. She doesn't exist, so we need to stop trying to be like her.

Photo Credit: ©GettyImages/bingokid

Even When You Fail...

Slide 6 of 6

In Romans 5:1 the Apostle Paul addresses the church in Rome, writing: "Therefore, since we have been justified by faith, we have peace with God through our Lord Jesus Christ."

The peace that Paul is speaking of can just as easily be applied to our parenting as it can to other situations in our lives.

If we have submitted ourselves to faith in Christ, to connection in community through the church and to confessing our sins as it says in 1 John 1:9 "If we confess our sins, he is faithful and just to forgive us our sins and to cleanse us from all unrighteousness," then when we fail in our parenting we have an opportunity to self-correct and learn from the word of God and the body of Christ.

The reality is that we are going to mess up as parents, and yet we do not need to live in an endless cycle of grief and guilt.

Submit your parenting to the Lord. Talk about your short-comings in trusted circles, and if necessary seek support.

When you find yourself struggling, or perhaps "failing" in your parenting talk to your children. Our children are incredible! They can be most beautiful example of Christ's love and forgiveness.

I know that when I've been needlessly harsh with my kids or short with them, when I've asked for their forgiveness and explained what happened in the situation they have responded in love, forgiveness and empathy.

So, today, if you are grappling with guilt, submit your feelings to prayer, talk to your children and spouse, seek restoration and forgiveness if needed, and then begin to implement the tools above.

Baby steps momma, you're doing a great job.

Keep loving those babies, point yourself and your family towards Jesus and let go of the guilt you've been carrying.

Photo Credit: ©Pexels/August de Richelieu