6 Ways to Prepare Your Child for High School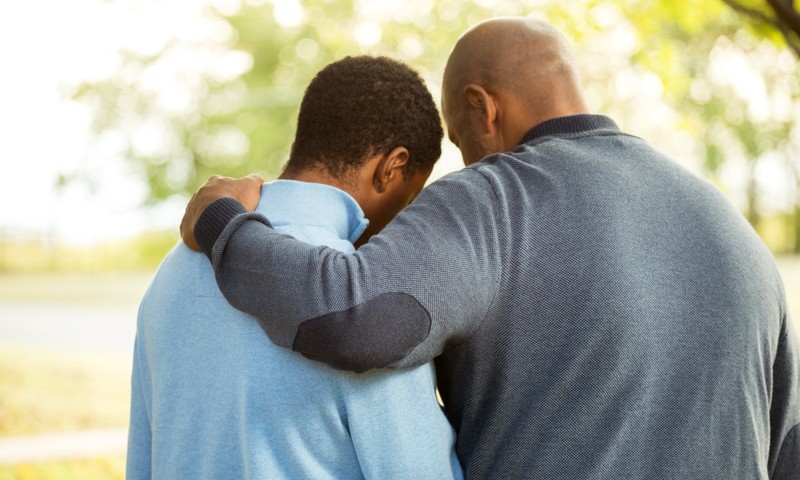 I would suppose that swirlies, wedgies, and noogies have all faded with accordion headbands and velour tracksuits when it comes to incoming freshman—the little fish in a big pond.
Nonetheless, it's never been harder to be a Christian student. Realities like a global pandemic, social media, relative truth, and polarizing stances—even within the church—has left students either confused, apathetic, hopeless, rebellious, or a combination of them all.
However, the good news is that we have Jesus, and he always saves the day.
6 ways to prepare them:
1. Remind Them of the Gospel
Jesus came to redeem all the brokenness you and your student will see, and we must remind our students that he is indeed enough. We're so used to the loud, flashing lights of what the world deems important. Jesus often doesn't come in hot like that.
There is immense power in Christ, but it takes discipline and daily reminders to recognize it and then walk in it.
Likewise, tie all the beauty your student sees to the Gospel. All their victories and successes in high school are because Christ and his work is enough.
2. Be Set Apart
In Deuteronomy, Moses has reminded Israel of God's commands. They have responsibilities in being God's chosen people—and they definitely need to be reminded of these. By chapter 14, Moses spends time reviewing their dietary restrictions because he wants them to be set apart.
This is called holiness, and it should be our aim daily.
They weren't set apart in an overtly, aggressive way, but they were set apart as a reminder that they are not yet home. I mean, I take my shoes off when I got in anyone's home—but I don't bring my pjs to dinner.
Remind your student to be set apart in high school. Together, brainstorm ideas of how to do this outward obedience to reflect their heart's love for the Lord. Consider: praying before lunch, refraining from bad language, or not participating in certain clothes trends.
These aren't things to draw attention to—when we are light, the darkness will know it.
3. Teach Them to Not to Set Themselves Up as the Main Character of Their Lives
We are called to love, serve, consider others more important, lay our lives down, and find shelter in the shadow of God's wings. Any other type of living leads to entitlement, arrogance, and pride.
Please, still talk with your incoming freshman about what their dreams are! What do they want to see come from their high school years? What are their goals and objectives? What new activity or academic class do they want to try?
But remind them that Jesus is ultimate. He is King and Lord and wants to lead us through his will for our lives—even in high school. Psalm 32:8, "I will instruct you and teach you in the way you should go; I will counsel you with my eye upon you." Gah, what a sweet promise!
4. Listen to Them
We all want our kids to come to us when something big is going on. We want to be their first soundboard for counsel, and we want to help them decipher truth from fiction.
Ideally this starts when they are young, and we practice listening to everything they have to say about everything every single day. Right now, it genuinely tries my patience to listen to my three daughters talk about 4th grade drama, who pretended to nap and who was drooling, all the names of the kids in the class listed in alphabetical order, who can't sit together at lunch because of allergies, the names of everyone's pets, and the list grows as each of them do.
However, we trust that we are building trust with our girls—if they know we are listening to the small stuff, then it will be a habit and a joy to come to us when it's the big stuff.
But if this wasn't a practice with your teen growing up, or if they just aren't a talker, then this point isn't hopelessly gone.
Listening just means you are paying attention to your children. Listening means you are seeking out ways to connect to them intentionally, and that may not be through talking. Oftentimes this means meeting them where they are. Time spent and acts of service are great ways to demonstrate that you are listening to them. Even if your teen isn't a talker, still ask hard questions as the Spirit directs you.
5. Read Your Bibles
Second Peter 1:3, "His divine power has granted to us all things that pertain to life and godliness, through the knowledge of him who called us to his own glory and excellence" (ESV).
Take heart, parents! God has given us all we need through the knowledge of himself. This is what it means to behold Christ—we know the Lord, then we reflect him, then we are transformed by it all. Then the more we know, the more we reflect, and the more transformation happens (2 Corinthians 3:18).
With all the noise dive-bombing them daily, they must be tethered to truth.
We have access to "all things that pertain to life"—including how to navigate high school as a parent and as a student—but we must pursue that knowledge of the Lord.
We know God by reading his Word—and quite simply, your student cannot live without it. When I pray for my students, I pray that they would not be able to sleep, and that food would not taste good until they have spent time in the Word.
There are so many Bible reading plans that we have easy access to. Pick one as a family or choose a plan to read one-on-one with your student.
6. Let Go a Little
We just got a new puppy, and she's precious. She's also expected to gain 10 pounds a month for 7 months. She's only 10 weeks old right now, and I can carry her outside and to her crate—but there's zero chance I'm going to carry her the same way in the coming months.
Why? Because she's growing so much! Ha-ha! I guess we could ultimately even look at our children the same way! My 10-year-old would laugh if I tried to wear her in a sling again.
I've worked with high school students for 15 years, and I've seen a lot of parents try to do just this... metaphorically speaking. It's very natural for us to want to clamp down on what we can no longer control yet are still responsible for. And it is a scary world because of sin. However, the more parents try to squeeze their teen into submission the more they will fight back.
Boundaries? Yes. Hard questions? Yes. Accountability, discipleship, consequences for bad decisions? Yes, yes, yes. But helicopter parenting, getting involved in their daily conversations with friends, following them in your own car—well, I don't know if you've ever tried to hold a 70-pound dog or swaddle a tween, but both scenarios are going to look ridiculous with a lot of struggling and flailing.
Never Alone
Ultimately, nothing can separate your student from the love of God (Romans 8:37–39). Many saints have gone before us and endured hardships while walking in holiness and righteousness, so your freshman can, too.
Yes, we still have responsibilities with obedience we are asked to walk in. But praise the Lord we are not walking in them alone. "For the Lord will not forsake his people; he will not abandon his heritage" (Psalm 94:14).
Photo Credit: ©GettyImages/digitalskillet
Kate Stevens is a worshiper, wife, and mom, and with the help of the Lord, that is her hierarchy of work. Beyond this, she works with the youth and children at her church and edits as a freelancer. She enjoys reading, writing, running, cooking, and practicing thinking pure and lovely things.
After being unsure if they ever wanted children, the Lord eventually blessed Kate and her husband Clint after nearly three years of waiting. They welcomed their first daughter in 2011, another daughter in 2013, and yet another daughter in 2016. Kate considers this her most time-consuming, emotion-full, sanctifying, not always pretty but trusting in the Lord's plan, and blessed work. Stuck in a house with four females, her husband Clint consistently reminds Kate of her identity and union in Christ.
You can read more of Kate's work here.