4 Ways to Teach Children a Biblical Worldview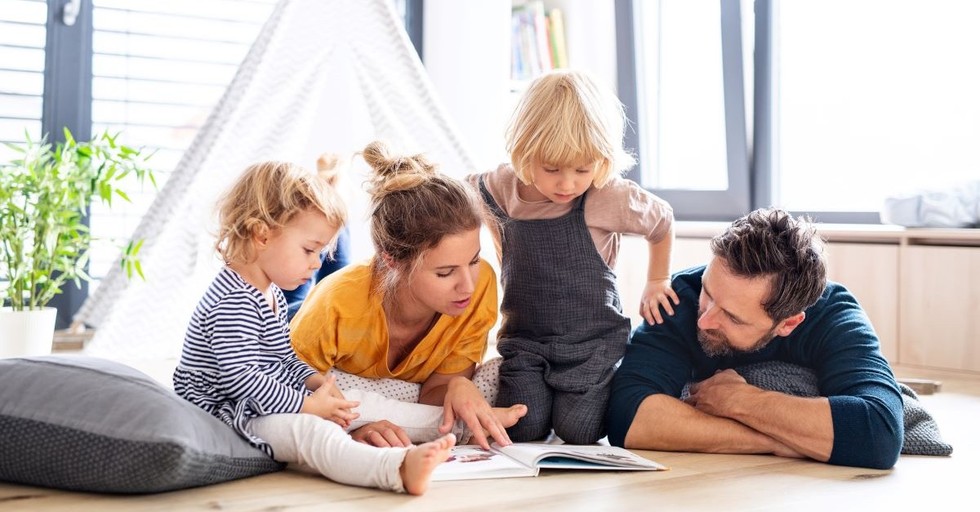 Remember old-style TV dinners? The microwave plates had separate compartments to prevent the meat, potatoes, and veggies from mingling. That's the way many people see faith in God. Keep your beliefs in one section on the tray of life, and don't let them touch anything else.
But God commands just the opposite. And you must commit yourselves wholeheartedly to these commands that I am giving you today. Repeat them again and again to your children. Talk about them when you are at home and when you are on the road, when you are going to bed and when you are getting up. Tie them to your hands and wear them on your forehead as reminders. (Deuteronomy 6:6-8 NLT).
God's truth pervades every part of the world because God created the universe and every person. It's all under His sovereign control. The Bible, God's Word, provides wisdom and understanding about God, ourselves, and our world. It answers all the important questions of life. There is no earthly or spiritual realm God's Word does not address.
Our beliefs and experiences shape our view of the world. This worldview guides our decisions and reactions. A worldview based on anything other than truth is shaky at best. That's why it's critical for parents to teach a biblical worldview to children. Neglecting training on a biblical worldview is like building a house without a foundation. It leaves no solid framework to evaluate and respond to life.
I know some of you may be thinking, "I don't even know what my own worldview is. How can I possibly teach my kids about a biblical worldview?"
Start Where You Are
You don't need to know it all to parent. In fact, it's probably better if you don't think you know it all. That leaves room for dependence on God in raising children and teaching them a biblical worldview. God intends for parents to be primary models. You've heard it said that more is caught than taught. The implication of God's command to parents in Deuteronomy is that when kids spend time with mom and dad, they will naturally follow what they see. The primary goal for parents is to become good models in biblical worldview thinking.
Four Steps to Developing a Biblical Worldview
I suggest four steps to establish the foundation of a biblical worldview in your children. Ideally, these begin early in life. But if you, like me, learned about biblical worldview years into parenting, just jump in where you are.
Photo credit: ©GettyImages/Halfpoint
1. Study the Bible Together

Slide 1 of 3

Commit yourselves wholeheartedly to these commands...(6:6 NLT).

Yes, this may seem obvious, but it needs to be said. Without a knowledge of the Bible, it is impossible to develop a biblical worldview.

It may be as simple as opening the Bible to Genesis and reading a small passage together at the dinner table each day. Simply discuss a few key questions for each passage you read: What does this tell me about God (Father, Son, Spirit)? What do I learn about myself and the world? How can I use this information in my daily life?

Or you may work through a Bible study together. Or follow a Bible reading plan. The order doesn't matter so much. Set a goal and go for it. If you falter, try again. Just do it.

2. Model a Biblical Worldview

Repeat them again and again to your children (6:7 NLT).

A model is a pattern to copy. It guides us. Jesus is our pattern (Philippians 2:5). Likewise, parents are the first models for children. But there are many other competing models. Our children are bombarded by worldview messages from an early age, mainly through media. Consider the message of every Disney movie—follow your heart. The worldview belief is that every person has a good heart that will lead in the right direction. But Jeremiah 17:9 NLT tells us the heart's true state: "The human heart is the most deceitful of all things, and desperately wicked. Who really knows how bad it is?"

Don't our kids need to know this truth?

I'm not suggesting you never watch another Disney movie (though it's true no one will die without them). Instead, I'm urging parents to become the louder influence by intentionally demonstrating, day in and day out, how to understand and respond to life according to biblical beliefs.

Bring God into every aspect of life. Remember the TV dinner trays? If you've been relegating faith in God to one compartment of life, it's time to dump the tray and mix it up. Talk about God when you rise in the morning. When you send your kids off to school. When you eat. Work. Play. Rest. This teaches God is present in every minute of the day, every day of the week. It will show how His Word is relevant. Parents need to model both behavior and thinking.

Model Biblical Behavior

Your children, from the earliest years, observe every move you make. As the Lord teaches you what is right, it's important to do it. While the list below is not exhaustive, it gives some topics to consider:

Activities—Do our choices crowd out time for God? Do we have a healthy balance? Are they helping us love God more, or do they detract from our allegiance to Him?

Entertainment—Do our games and leisure activities promote rest and peace, or are they simply a means of escape from the world around us?

Media—Does what we allow ourselves to hear and see comport with God's standards? Does our intake promote anxiety and fear or peace and joy?

Emotions—When we experience intense feelings, do we exercise self-control when expressing them?

Sexuality—Have we allowed the world's rapidly changing values to undermine our biblical understanding of gender, marriage, and family?

Possessions—Do we offer part of what we own to God, who provides for us? Are we generous toward those in need?

Relationships—Do we choose friends wisely? Do we consider others' needs to be at least as important as our own? Do we offer respect, grace, and forgiveness?

Trust in God—Do we demonstrate peace in changing or difficult circumstances? Do we seek God's guidance from the Bible and through ongoing prayer? Do we pray for our children in their presence?

If you feel badly reading these questions, please hear my heart. Condemnation is not my goal. The questions are designed to help you start to think from a biblical worldview. Ask God to show you how to model His ways to your children.

Model Biblical Thinking

While the axiom "More is caught than taught" is true, your words are also powerful. Your children may never understand that God is your source of wisdom if you don't open a window into your thoughts through your words. Consider the difference in the following statements and questions:

Here's what I think. // Let's see what the Bible says about this question.

We have a two-car garage. // God gave us a two-car garage.

How will we manage without our wrecked car? // I wonder how this accident fits into God's plan.

There's no way we can pay all our bills this month. // Let's pray and trust God to provide for our needs.

That politician is ruining our country. // Sovereign God raises up leaders for His purposes.

You keep messing up over and over! // God has forgiven me, so I forgive you.

It's easiest to fudge the truth, just a little bit. // Let's be honest, even if it's harder.

Let's take a vacation with my bonus. // Let's ask God how he wants us to use this blessing.

I figured out that problem. // God helped me understand how to solve that problem.

Look at that fabulous sunset! // Look at that beautiful masterpiece God created for us!

I'm just running in and out to get my errands done. // Let's look for someone to bless today.

What a coincidence! // There are no coincidences with God.

Photo credit: ©Getty Images/Brand X Pictures

3. Discuss How You Evaluate and Arrive at Decisions

Slide 2 of 3

Talk about them when you are at home and when you are on the road (6:7 NLT).

As our children grow developmentally to think critically, we initiate conversations about the decision-making process. Our goal is to teach children how to analyze and respond for themselves, rather than feed them all the answers (as if we have them all). That's why there's an emphasis on dialogue—asking questions and exchanging ideas.

The safe atmosphere you create promotes freedom for your child to explore various concepts and compare them to God's Word. Don't be surprised when they're childish. After all, they are children. Listening without immediate criticism gives an opportunity to understand their hearts. When a course correction is needed, ask, "Have you considered what the Bible says on this subject?" Then wrestle together through Scripture to find wisdom.

I know a mom who sets aside a special "chat time" with her child each day. While I recommend this as a great idea to connect, the verses in Deuteronomy give a somewhat different picture of how these worldview conversations get going.

Life happens. We discuss it. When we're at home playing, eating, studying, fighting. When we're driving. When we're at events. Seize opportunities to ask what they think and why they think it. Let the conversations ebb and flow like waves around rocks on the shoreline.

Some ideas for discussion:

Compare and contrast competing ideas or choices with God's Word.

Guess beliefs and worldview from words and behavior (others or your own).

Figure out the underlying agenda being promoted.

Ask how God's truth applies to a situation.

Photo credit: ©GettyImages/monkeybusinessimages

4. Widen the Funnel of Responsibility and Independence

Slide 3 of 3

Tie them to your hands and wear them on your forehead as reminders (6:8 NLT).

Our goal as parents should be to equip our children for release from our authority to God's authority. I've heard that process described as a funnel. As children mature, parents should increase responsibility and independence little by little until they own their beliefs. We hope that our kids willingly choose to wear God's commands and live them out. As you expand the funnel, continue to model and discuss thinking through adolescent years, allowing trial and error to become your child's teacher. Still under your authority, they have a safety net, but a day comes quickly when they become fully responsible for their decisions.

If that sounds a bit scary to you, you're not alone. As the years slip by, we become increasingly aware of the shortage of time to prepare our children. But during this stage of parenting, pray for God's wisdom and begin the process of releasing children toward independence. He will direct your steps.

Deep Roots Stand Firm

If you feel inadequate in teaching a biblical worldview to your children, take heart. We don't rely on ourselves or any formula. We trust God, who knew just what He was doing when He put children in families. He equips you and helps you persevere.

And now, just as you accepted Christ Jesus as your Lord, you must continue to follow him. Let your roots grow down into him, and let your lives be built on him. Then your faith will grow strong in the truth you were taught, and you will overflow with thankfulness. Don't let anyone capture you with empty philosophies and high-sounding nonsense that come from human thinking and from the spiritual powers of this world, rather than from Christ. (Colossians 2:6-8 NLT)

You don't need all the answers to teach a biblical worldview. You just need to rely on the One who knows all the answers.

Photo credit: © Getty Images/XiXinXing