When You Absolutely, Positively Must Take the Keys from Mom or Dad
Chris Fabry

Author and Radio Personality

2018

10 Jan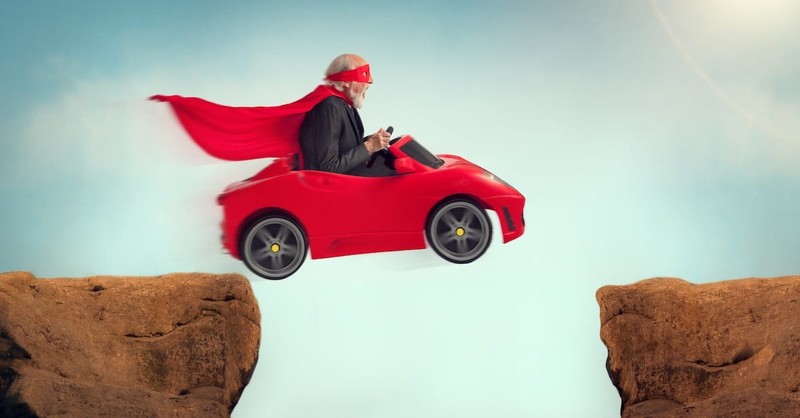 I suppose some parents realize intuitively it's time to give up driving for the good of humanity. I've met very few adult children who have had that experience. Most have horror stories of watching an aging parent weave down the road, leaving dents in parking lots and mailboxes. Some have had accidents leaving others injured.
If you are in this situation of knowing it's time for your aging parent to stop driving but you're getting pushback, I have advice that comes from personal experience that might help fill the gap between what you see and what they feel. This is about keeping the neighborhood children and pets safe while at the same time honoring your father or mother.
Taking the keys from your parent is one of the hardest things you can ever attempt. It's the triple backflip off the high dive of relationships. Here are a few things to consider as you leap into this process.
Set the Right Goal
The goal seems simple. It's your job to take the keys and keep everyone safe. However, this isn't the goal. Your main goal is to love well. Keep that at the center of all your actions, decision making, and communication as you move forward. If you are motivated by love for your parent, it will be easier for them to accept what is being presented. (And this is never easy.)
Pray for Wisdom
It sounds like a given—and a spiritual cliché—but it's important. How many times have you rushed to solve a problem without fully bathing it in prayer? Invite God to walk alongside you in this decision. Ask for wisdom and guidance and an ability for your parent to see what you see. James 1:5 exhorts us to ask God for wisdom and expect him to answer. When you begin to pray for your parent, your heart will change toward them.
Think like Atticus
Atticus Finch told his daughter, Scout, "You never really understand a person until you consider things from his point of view . . . until you climb into his skin and walk around in it." If you think like your parent, you'll realize the depth of this decision and the weight it carries. Imagine yourself handing over the car keys. This will rob your parent of their independence and dignity in a tangible way. Showing empathy for your parent will help them see your goal is love.
Find the Whisperer
Without divulging family secrets, there was one person in our family who was recognized as "The Parent Whisperer." This was the child, for whatever reason, the parent listened to and trusted. Sometimes this child isn't in the daily orb of the parent's life. Perhaps this is the person who broaches the topic and leads the parent toward truth.
Find the Friend
There may be someone outside the family, someone your parent respects and trusts, who can step in and have a conversation. "I saw you driving the other day and it concerned me. I wouldn't want anything bad to happen to you or someone else." If this person (perhaps a pastor) has this come up in the natural flow of a conversation, it will add to the reality that things in life are changing.
Celebrate Pushback
The last thing you want your parent to do is shut down and give up. You want them fighting for their rights and their dignity. So if you don't get abject acquiescence, celebrate. Your parent has real life inside that's struggling to the surface. Remember, you're looking in the mirror of your own reality.
Emphasize Reality
One elderly woman called her grandson to report she had driven off the road and needed help. She had purchased ice cream at the store and it was melting. The only problem was, he was three states away. Help your parent see the reality of the situation in a kind but firm way. The family can't be driving hundreds of miles to rescue the vanilla swirl.
Problem Solve
One of the huge hurdles of every parent is not being a "bother." The last thing anyone wants is to be a burden, particularly when your parent feels they have the ability to drive themselves. Express that you understand this and help strategize a way your parent could be helped while helping someone else. Perhaps a person in the neighborhood who has lost a job could be hired for a small fee. Express your own desire to be there and help because you love spending time with the parent—and remind them of all the years they gave to you. This is your turn to reciprocate.
These are simply guidelines I hope will help. There are so many different situations and complications I haven't addressed. But if you keep the main guideline to show and express love to your parent and to honor them as you walk through this difficult time, you may not only keep the communication lines open, you might see the relationship grow stronger.
Chris Fabry is an award-winning author and radio personality who hosts the daily program "Chris Fabry Live" on Moody Radio. He is also heard on "Love Worth Finding", "Building Relationships with Dr. Gary Chapman", and other radio programs. A 1982 graduate of the W. Page Pitt School of Journalism at Marshall University and a native of West Virginia, Chris and his wife, Andrea, now live in Arizona and are the parents of nine children.

Chris's novels, which include "Dogwood", "June Bug", "Almost Heaven", and "The Promise of Jesse Woods", have won five Christy Awards, an ECPA Christian Book Award, and a 2017 Award of Merit from Christianity Today. His eightieth published book, "Under a Cloudless Sky", is a novel set in the coalfields of his home state of West Virginia. His books include movie novelizations, like the recent bestseller "War Room"; nonfiction; and novels for children and young adults. He coauthored the Left Behind: The Kids series with Jerry B. Jenkins and Tim LaHaye, as well as the Red Rock Mysteries and the Wormling series with Jerry B. Jenkins. Visit his website at www.chrisfabry.com.
Under a Cloudless Sky by Chris Fabry
ISBNs: 978-1-4964-2828-8 & 978-1-4143-8778-9
Hardcover: $24.99 & Softcover: $15.99
January 2018
Tyndale.com