Where's The Baby Jesus?
Gwendolyn Mitchell Diaz

2002

3 Dec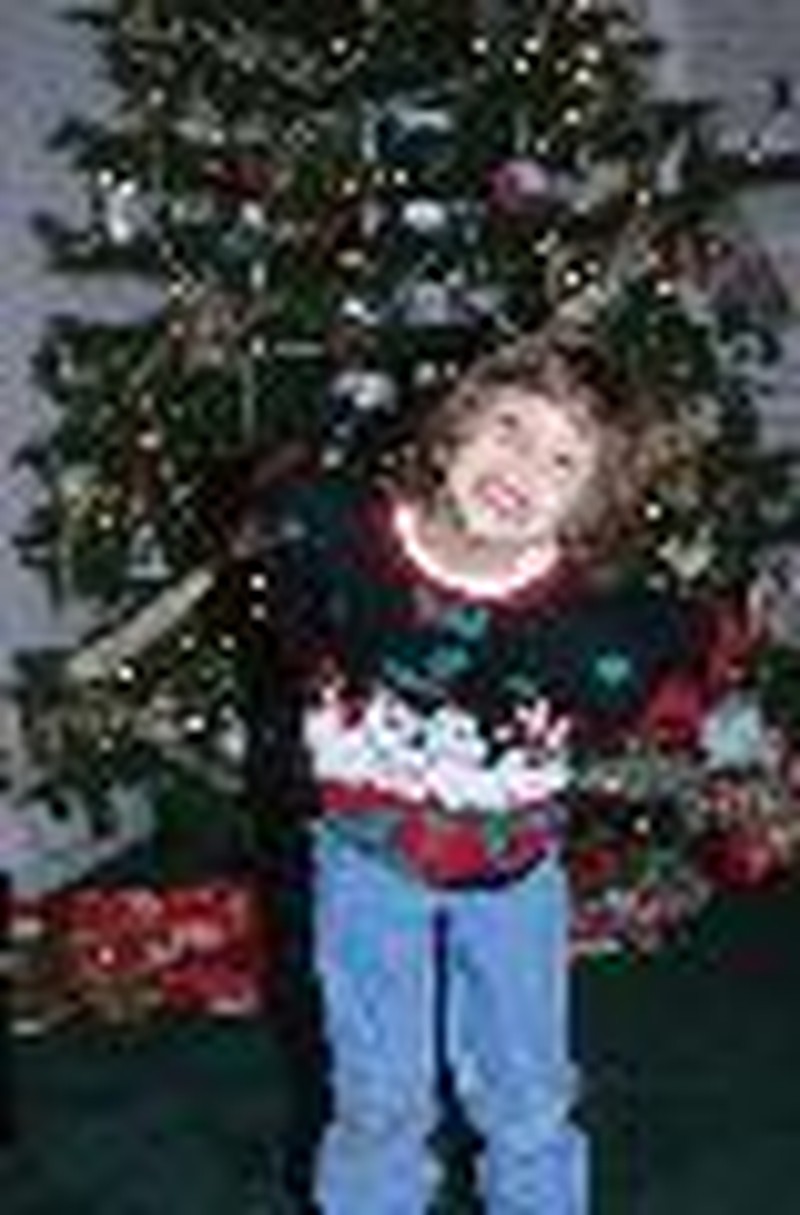 My weekly article had been mailed to the publisher. My husband had boarded a plane for a five-day conference. All four sons were corralled at school. And the cat and the dog were napping peacefully on the back porch. It was the perfect afternoon to rearrange the furniture and begin decorating the house for Christmas.
This year I wanted it done right. I wanted my home to sparkle with sophisticated elegance and my tree to look as if it had just been ordered from the pages of a decorating magazine. (Actually, I was willing to settle for one that could hold its own next to the pre-decorated trees at Wal-Mart!)
I filled my favorite mug with spiced tea, placed a Mannheim Steamroller CD in the stereo, lit a few fragrant candles, and began rearranging furniture. I picked up several pieces of popcorn that had hidden under the couch for close to a year, retrieved enough change to do most of my Christmas shopping, and, in just a matter of minutes, I had created a clean space in front of the picture window that was large enough to handle our six-foot tree. I wrestled it into the stand, dragged it into the family room and anchored it to the window. I was thrilled. Everything was going great - until I decided to open the window for a little fresh air. There went the tree!
Just as I got the tree re-situated and began unpacking the gigantic boxes filled with decorations, the front door burst open. "Surprise! We're home. School let out early today. We forgot to tell you there was a teacher workshop this afternoon." 
Oh, joy.
Within minutes the family room was a scene of total chaos. Country music was blaring from the stereo, hot chocolate was dripping on the carpet and lights were dangling from the ceiling fan. 
"I get to hang the stockings."
"No, I claimed them first."
"Oops! What happened to Rudolph's nose?!"
"I guess he sneezed too hard."
Laugh. Laugh. Giggle. Giggle. Pinch. Punch. "OW! Mom, he hurt me!"
Soon boys and bells and bows and boxes were scattered from one end of the room to the other. It looked as if an ornament factory had exploded in the vicinity of the tree. I couldn't find anything - including the star I had so carefully placed on the piano bench before the invasion took place. I hunted through the boxes, looked under the couch, reached behind the TV stand, and even peered inside a pair of smelly Nikes. Still no star.
"Come on, guys. Help me find the Christmas star," I pleaded. "We can't hang the lights until we put the star on top."
"What's the big deal about a star?" the youngest one wanted to know. "Let's just stick an angel up there. That's what Peter's mom does." 
"I don't want an angel. I want my star that blinks on and off with the Christmas lights. I can't have Christmas without my star." I was emphatic.
"Ooooo. Mom can't celebrate Christmas without her star," an older son mimicked with playful sarcasm.  
"Yeah, I'll bet that's what all the mothers with starving children in Africa are saying..." someone else chimed in, "... if we could just have blinking stars on the tops of our trees, we would be completely happy right now."
I rolled my eyes at all four of them, stuck an angel on top of the tree, strung the lights, and started searching for the box of wooden ornaments I had collected over the years. "OK, guys, where are my keepsake ornaments? Help me look for them."
"Don't say it, Mom. We know. You can't have Christmas without your special ornaments." 
They thought they were real funny. I shook my head and ignored the fact that two of them were now playing catch with a shiny glass ball. One of them slam-dunked it into the trashcan. 
"Uh oh! Mom, why didn't you tell us this thing was breakable?"
I clenched my teeth and kept searching.
"Whatcha lookin' for now, Mom? You've sure made a mess in here. It's no wonder you can't find anything!"
"I'm looking for the wind-up snow man that always sits on the windowsill," I replied - having given up on the tree. (It looked more like it belonged in a Ripley's Believe It or Not book under 'most ornaments hung from a single branch' than on the cover of a decorating magazine.)
"APB - there's a snowman on the loose. All units keep your eyes open for a runaway snowman!" a wiseguy reported into his cupped hand. "Mom can't have Christmas without her snowman."
"Oh, no," one of them exclaimed in mock seriousness as he peered out the window. "There's a black hat floating in a puddle on the driveway. Things don't look good for the snowman."
I had to smile. They were having far too much fun for me to be upset. "We forgot something," I suddenly remembered as I spied an unopened box. "We didn't set up the nativity scene."
Little hands reached for individual camels and sheep and wise men and angels as I carefully unwrapped them. Tenderly they arranged (and rearranged!) them in the crèche which had been crammed with pine needles.
"Where's the baby Jesus?" I questioned as I searched through every piece of paper. "Hey, guys. Help me find Him. We can't have Christmas without the baby Jesus!"
"Well, what do you know. Mom finally got it right!" a little voice exclaimed. "There's only one thing we really can't have Christmas without.  It's the baby Jesus!" 
There were tears in my eyes as I searched the room. I found the ceramic infant sleeping under the piano - next to the star! "Who cares how the room looks," I thought, "as long as we have the baby Jesus."
A Mother's Prayer This Christmas:
Lord, thank you for my children and their healthy exuberance.  And thank you for the lessons they teach me about You. Please don't let me get sidetracked by all the glittery things that life has to offer.  Give me a focused heart, dear God, one that fully comprehends the fact that all I really need is Jesus.
Gwendolyn Mitchell Diaz is first and foremost a wife and the mother of four sons. In addition, she has recently entered the world of communications as a writer and speaker. Gwen combines her passion for teaching biblical truths, her own experiences as a wife and mother, and a wonderful sense of humor to share God's truths in a new and exciting way. 
She is the author of: The Adventures of Mighty Mom (Here She Comes To Save The Day ... If Only She Can Find the Keys); Mighty Mom's Secrets For Raising Super Kids (Guidelines for the Adventure Called Parenting); Sticking Up For What I Believe (Answers to The Spiritual Questions Teenagers Ask);
Sticking Up For What Is Right (Answers to the Moral Dilemmas Teenagers Face); Sticking Up For Who I Am (Answers to the Emotional Issues Teenagers Raise).