Why Regular Laughter Is So Essential for All Moms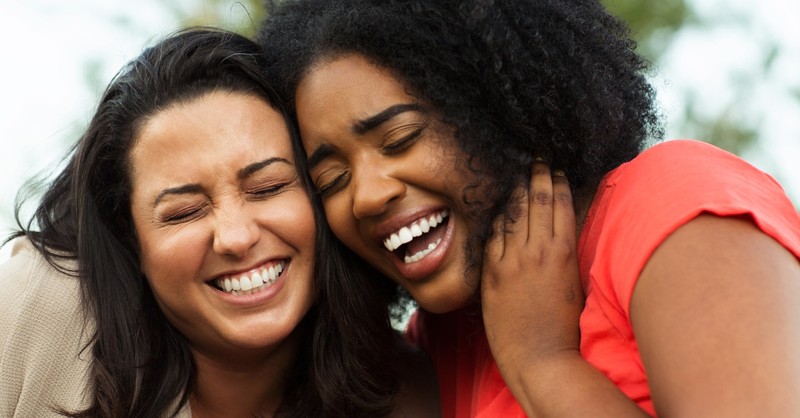 I really love to laugh. No. I mean it. In life, I deeply appreciate and connect with people who enjoy humor. I love comedies over dramas. I laugh at myself often. I think we should all take ourselves so much less seriously than we do. For example, I'm fine with pointing out my own issues or awkwardness. I'm not trying to be unkind to myself, but if I'm in the middle of a conversation and I do something that even I think is a little weird, I stop and say something about it so I and the person I'm talking to can both laugh.
Humor is a great bridge to true connection. As a matter of fact, laughter is universal across all languages. I believe that we should all just laugh more. Moms especially. If ever a demographic of people needed some humor in their lives, right up at the top would be mothers.
I mean, basically the top of the top. Moms need some laughter therapy.
We Need a Daily Dose of Laughter
If you're like me, you probably had no idea laughter therapy is a real thing. It's true, though.
You might not know the name Dr. William F. Fry, but this man is known in the scientific community for his research on health and humor. He even coined a new phrase for studying the impact of laughter on health: gelotology. It comes from the Greek word gelos, which means "laughter." Fry believed that laughter is as good for your body as exercise is. Studies have gone on to prove Fry correct. We all know it feels good to laugh, but did you know science is proving that laughter significantly lowers hormones such as cortisol (remember, the stress hormone)?
Laughter increases your body's antibody levels. It increases the production of immune cells. It even suppresses pain, and I don't mean just emotional distress.
Laughter increases a person's pain tolerance, and it releases endorphins, which help relieve anxiety.
Have a Bag of Tricks
So, here's my question. When was the last time you laughed? I don't just mean chuckled at something your kids did or some meme you saw online. I mean, when was the last time you had a good belly laugh?
What if the next time you started feeling totally overwhelmed and hopelessly anxious, you watched your favorite comedian or called that friend who always makes you laugh? I know it doesn't seem very spiritual, but even God says in His Word that a merry heart is good for us.
Solomon, the writer of Proverbs who was known for being a wise man, said, "A merry heart does good, like medicine, but a broken spirit dries the bones. It is so fun to think that thousands of years ago, the Lord showed him what science is proving true. A merry heart and laughter are as good for you as medicine! The Word of God also says, "The joy of the Lord is your strength." It doesn't say the joy you create by trying really hard is your strength. It says His joy is your strength. So, here's a thought. Maybe the next time you feel anxious, don't just pray for peace. Boldly pray for supernatural joy! What a fun idea!
Just as God's love washes over you, imagine God's joy bubbling up inside you.
Think Like a Kid
Remember when you were little and you used to blow into your straw and your drink bubbled up to the top, maybe even splashing over or overflowing your cup?
The Bible says God breathed His breath into Adam and Adam became a living being. I keep seeing this picture in my heart as I type of God's blowing His breath into our hearts today and our joy bubbling up. Now, there's a funny picture!
Let's be honest, though: some days, it would take God's supernatural joy to make us laugh. Do you know what I mean?
Some days, when our kids are driving us crazy or are skipping their naps or our teens are testing our patience—when everything feels hard and overwhelming—laughing would be a miracle in itself.
But if God knows the power of laughter and wants us to have strength, then let's imagine Him blowing His breath into our hearts. Let's imagine Him giving us an infusion of His joy!
Laugh at the Enemy
The truth is, the challenges we face each day and the lies we believe can seem so big and overwhelming. But what if we laughed at the Enemy? What if we laughed our way through the forest of fear, replacing every anxiety with God's truth and laughing at the darkness rather than hiding from it?
Think of these phrases (or even say them with me). Remember, we aren't laughing at what we are saying. We are laughing at the Enemy, who is trying to stop us from believing them. Ready?
• God is with me! Ha ha ha!
• Nothing can get me! Ha ha ha!
• I'm gonna make it! Ha ha ha!
• Satan, you don't scare me! Ha ha ha!
• I've got all I need! Ha ha ha!
• God's my shelter! Ha ha ha!
• This will all pass! Ha ha ha!
• I don't have to be afraid! Ha ha ha!
• Jesus is going to give me strength! Ha ha ha!
• My kids have a great mom! Ha ha ha!
• God is so proud of me! Ha ha ha!
• I'll make it to the other side! Ha ha ha!
I don't know what your day has been like, but just stop right here and ask the Lord to replace every bit of your anxiety with His joy.
Father, fill my heart now! Overwhelm me with joy that doesn't make sense. Give me Your joy as the strength I need for the rest of today and tomorrow. Help me remember that You desire to produce joy within me. May Your joy in my heart produce laughter in my spirit and even my body! Help me notice the humor around me and Your joy within me. I ask in Jesus's name. Amen.
Becky Thompson is the bestselling author of the books Hope Unfolding, Love Unending, Truth Unchanging, My Real Story, and Midnight Mom Devotional. Becky also shares hope-filled truth through her top Christian podcast, Revived Motherhood. She lives just outside of Nashville with her husband, Jared, and their three children.
Adapted from Peace: Hope and Healing for the Anxious Momma's Heart. Copyright © 2020 by Becky Thompson. Used by permission of WaterBrook, an imprint of Penguin Random House LLC.
Photo Credit: GettyImages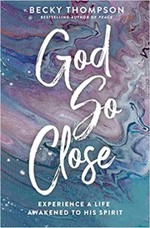 Becky Thompson is a bestselling author and the creator of the Midnight Mom Devotional community gathering more than one million moms in nightly prayer. Speaking to the struggle of balancing life as a wife, mother, and daughter of God, she has become the voice of modern Christian motherhood. Becky lives in Oklahoma with her husband, Jared, and their three children. Her latest book, God So Close: Experience a Life Awakened to His Spirit, is available now.