Happily Ever After: Myth and Reality
Lori Smith

Crosswalk.com Staff

2004

8 Jun

COMMENTS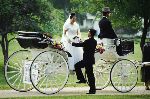 Wendy waited to get married until she was 46. She knew that God had promised her a husband, and when Mark came along she knew that he was the one.
He'd been married before and had a son in his early twenties. After his divorce, he became a Christian. To Wendy, he was the perfect gentleman. They went to church together, they both loved the Brownsville antique shops, and he even cooked! He never pressured her to become physically involved; Wendy took that as a sign of his spiritual maturity.
In Wendy's words, she was "Cinderella who found her prince." A short walk down the aisle was the only thing between her and happily ever after.
Today, Wendy sees things in Mark that she should have seen earlier. (In fact, she now remembers seeing them earlier, but didn't think they were serious.)
A few months after their wedding, Mark stopped going to church. He didn't have many close Christian friends to challenge him to stay in church, and the few who did confront him were quickly rebuffed.
Not much later, he lost his job. He found something part-time, and even though he's not real happy with it, he's not looking for anything else.
Wendy works all day and comes home to cook and clean for everyone. (Mark's son moved back home after college.) Mark doesn't see any need to help with "women's work."
The most hurtful aspect for Wendy is that they no longer talk - at least, about anything important. "Imagine lying in bed next to someone and feeling like there's a Grand Canyon between you. And you'll never get across it."
For Wendy, divorce isn't an option. She struggles each day dealing with the reality of her marriage.
Here's what Wendy would tell you if she could:
Listen to your friends and family. If they're concerned about someone you're dating, take their concerns seriously.

Get to know your fiance's friends and family. If he doesn't have close friends, that could signal a serious problem.

Make sure that your premarital counseling delves into all the necessary issues.

 

Ask the hard questions. Don't let yourselves off easily.
I know that Wendy's story is rare, but I wanted to share it with you. I think it's important to remember the harsh realities of marriage. Marriage can be wonderful, but it's not guaranteed to be. Imagining that you're destined for "happily ever after" can prevent you from seeing potential problems. Just remember to keep your eyes open!
Copyright Lori Smith, 2000 - 2003



Lori Smith lives in northern VA where she frequents a local ballet studio, hikes in the Shenandoahs, and throws the occasional pity party.  Find more of her writing and preview The Single Truth at www.thesingletruth.org.