How to Deal with a Breakup When You're Still in Love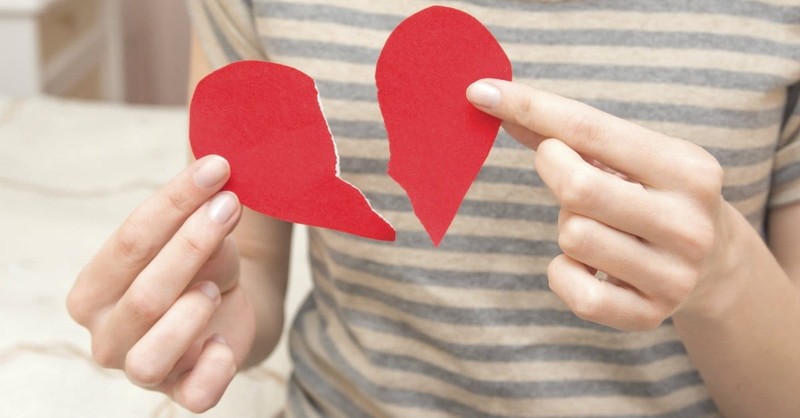 EDITOR'S NOTE: He Said-She Said is a biweekly advice column for singles featuring a question from a Crosswalk.com reader with responses from a male and female point of view. If you've got a question about anything related to singleness or living the single life, please submit it to hesaid-shesaid@crosswalk.com (selected questions will be posted anonymously).
QUESTION:
Currently I'm going through a breakup; I was with this man almost 4 years, and it was amazing most of the time—we were so connected to God in the beginning.  He broke up with me saying it's not the right time, and I know he has a lot on his plate…he's working at a job where it takes a lot of his time and his mom is very demanding of his time too. I was there through the struggles when he played football; I was at every game recording them, and was there when he didn't really have his own and now he does. Yesterday I asked if he loved me, and he said yes he loves me and that was the end of that. I texted him a few more times without response. Do I give him the space and just keep hoping we'll find our way back?
HE SAID:
Relationships can be extremely confusing and baffling at times. While they can bring incredible delight and enjoyment, they can also be the source of much frustration and hardship, as you have experienced.
Over the years, you seem to have had quite a history with your ex-boyfriend and have stood by him through many seasons in his life. You were supportive of his activities and have stayed true. However, as much as we pray, listen to God's voice and see his leading, sometimes things don't work out exactly as we hope, pray and want for ourselves.
It is often said, the most stressful activities in life are marriage, a move and a change in jobs. Your ex-boyfriend has experienced two of these, and as a result caused a shift in your relationship. Realizing this doesn't make the situation any easier especially when you receive what seems to be a contradictory message from the one you love and care for.
Relationships should make each person better as a result. If the joining of two people doesn't encourage and grow one another then the relationship is going to have difficulty developing further.
It sounds like you've made quite an effort to stay in touch and pursue a relationship after he broke up with you.  His response to you may mean he loves you, but not currently bein love with you. At this point, give him some space to get settled into his new home and job. For good or for bad, most men find their identity and purpose in their job and your ex-boyfriend probably needs some time to establish that identity along with making his new home his "castle."
At the same time, work on yourself apart from him. Try to refrain from contacting him and allow God to show you the next step.  Continue to pray for him, yourself and the relationship. If you truly love him, your desire is for his best … with or without him.
SHE SAID:
My first thought is that there appears to be a maturity issue going on. I do not know your ages but based on the information you have given, you both sound very young. I know you have been together for four years, at which you would likely know each other well enough to work through things. But in those fours years, life has changed a lot for him. Those changes are enough to make him doubt his relationship with you. I see this happen a lot with singles who date in high school to dating in college to dating in their twenties. Life changes so much during those times that people simply are not mature or old enough to maintain their feelings for another person. As much as they say they have prayed, life throws them so many new changes they are simply not able to maintain certain commitments—specifically of the heart. 
I wish I could say that every person you meet, who says you were an answer to prayer—that you were the one God said to marry, will automatically guarantee a life-long commitment. The reality is people are not perfect and they change. Some people grow toward maturity in Christ, and some change and fall away from Christ. Because we are so influenced by this fallen world, people can say things but may not necessary have the skills or growth in Christ to follow-through. So what does this mean for you?
While I do believe you are father along in maturity, willing to go through whatever life throws you, he is not. He is showing you by his lack of communication, influences of his mother, changes in work, etc. how easily his feelings have changed. This is a person who is not ready to grow with you in Christ at this point. Yes, you can wait, pray and hope he does grow up and see you were the right person for him. However, be aware this may take some time. Be careful as you wait that you do not manipulate him to take you back. It will only make things worse. 
Do I believe through prayer that he could come back to you? That God can grow him to be equally yoked with you again? With God anything is possible. I just want you to also be prepared if he doesn't come back. I pray the Lord heals your broken heart. 
Matthew 19:26 Jesus looked at them and said, "With man this is impossible, but with God all things are possible."
HE is … Cliff Young, a Crosswalk.com contributing writer and a veteran single of many decades. He has traveled the world in search of fresh experiences, serving opportunities, and the perfect woman (for him) and has found that his investments in God, career and youth ministry have paid off in priceless dividends.
SHE is ... Kris Swiatocho, the President and Director of TheSinglesNetwork.org Ministries and FromHisHands.com Ministries. Kris has served in ministry in various capacities for the last 25 years. An accomplished trainer and mentor, Kris has a heart to reach and grow leaders so they will in turn reach and grow others. She is also the author of four books.
DISCLAIMER: We are not trained psychologists or licensed professionals. We're just average folk who understand what it's like to live the solo life in the twenty-first century. We believe that the Bible is our go-to guide for answers to all of life's questions, and it's where we'll go for guidance when responding to your questions. Also, it's important to note that we write our answers separately.
GOT A QUESTION? If you've got a question about anything related to singleness or living the single life, please submit it to hesaid-shesaid@crosswalk.com (selected questions will be posted anonymously). While we are unable to answer every inquiry, we do hope that this column will be an encouragement to you. Click here to visit the He Said-She Said archives.
Publication date: April 14, 2016