How to Move on from Rejection without Feeling Insecure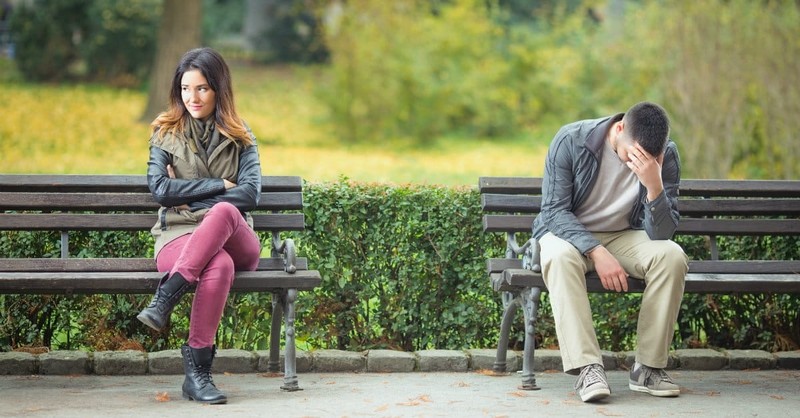 EDITOR'S NOTE: He Said-She Said is a biweekly advice column for singles featuring a question from a Crosswalk.com reader with responses from a male and female point of view. If you've got a question about anything related to singleness or living the single life, please submit it to hesaid-shesaid@crosswalk.com (selected questions will be posted anonymously).
QUESTION:
There's this girl at church who for the longest time I'd considered prayerfully. We were great friends and used to hang out a lot among our church peers a ton (for hours sometimes). After summing up all my courage I did ask her out and confessed that I did like her for her godly character and personality, only to be rejected. She did confess she was interested in someone else (who's probably interested in her as well but hasn't said anything to her). While I am completely capable of respecting her answer, this hasn't done so well in terms of my spiritual life and emotional stability. I feel insecure, bitter, ugly and sometimes even wonder whether my skin color/ethnicity has had anything to do with my rejection.
I'm quite a shy (albeit large framed) guy, and can't bring myself to act overly macho and take it on the chin. I feel utterly embarrassed around her, and oft times emasculated because I just cannot compare to the person she's interested in terms of sheer financial stability, looks, age etc. (I'm not a mess, I'm organized and well-educated, but I just can't compare). To make matters worse, she's become increasingly distant from me and I regret having told her.
My question is this, given all the insecurity, and feelings of ugliness I must now deal with, how certain can I be that God has good plans for me? And why must he see me suffer and do nothing about it? How do I cultivate a spirit of thankfulness? How do I act around this girl who I must see at Church twice a week, who clearly wants less to do with me?
HE SAID:
Congratulations for being man enough to walk up to a girl and let her know how you feel!  Many guys can't do something like that and often try to leave hints or have their friend ask her friend if she might be interested without telling her their interest. 
There is no reason whatsoever to hang your head low about doing so. 
However, a rejection for a first date because the person you asked said she was interested in someone else and for it to affect your spiritual life and emotional stability, has me concerned.  "Feelings of ugliness" because you were turned down for a seemingly good reason (or even not) is not a mature nor Christ-like response.
What I have learned over years of rejection is, you can't change someone else's mind or feelings for what they think of you, no matter how ridiculous or insensitive a reason may be, which this wasn't.  You can do your absolute best to present the most favorable image of yourself, make yourself attractive in every way, be spiritually, financially and emotionally responsible, but still not receive a positive response to an invitation for a date.
I am not aware of anyone being "one for one" in life with regards to asking and marrying the first person they're interested in. It just doesn't happen, or at least very often.  Ask around, see if you find any guy who married the first person they asked out on a date.
It is perfectly normal to feel a sense of awkwardness around her because you allowed yourself to be vulnerable with her, which to most is quite refreshing. Over time, that awkwardness for her should lead to respect that you confidently shared your feelings with her. There will probably be a time when she looks back upon that moment and acknowledges the courage you displayed. This may not transpire into a date but should give you some solace.
Don't compare yourself to others. You will always be able to find someone wealthier, better looking, more athletic, and more talented than you are. In the same way, there will always be others less so in comparison to you and may see you in the same light as you do with this other guy.
In the end, God has your back if you continue to trust in Him, and even when you don't.  He didn't create you to hang you out to dry. Seek Him and the bigger purpose for yourself, which will give you confidence in many areas of your life. Rid yourself of those ill feelings for her as they will in the end make you less attractive overall.
SHE SAID:
Wow, I know it was hard to ask someone out and then be rejected. Rejection is one of the hardest things in life. However, it is also something everyone deals with at some point in time. Even Christ was rejected. 
I think what we are dealing with has very little to do with this girl that you asked out. While she may have rejected you due to your skin color, your size or your looks, would you really want to date someone like that? Would you want a woman who isn't attracted to you? So, let's get down to what I think the real issue is…who you are in Christ.
So tell me, what kind of relationship do you have with the Lord? Do you know that He loves you as you are? Do you understand your value? Do you understand your importance? Do you understand He has work for you to do? Life isn't about who you date or eventually marry but your relationship with Him? From that relationship you learn your value, your direction, and your purpose? From that relationship, all other relationships are defined, including a possible spouse.
So, what do you do? 
1. Make sure you are saved and know what that means. Often we can grow up under the salvation of our parents, even going to church our whole lives, never fully understanding what Jesus has done for us personally. (Check out this article)
2. Set up an appointment to go to a Christian counselor. This will help you in areas of self-esteem. There may be some things you are not dealing with regarding how you see yourself. Very few people look like models or celebrities. While you can lose weight, get buffed, get someone to help with your clothes, work on your personality, etc.—and that can help you feel better about yourself—ultimately you want someone to love you for you.Your focus should be to please God. If the right woman sees that in you, then that is what will attract her to you.
Psalm 139:13-14,"For you created my inmost being; you knit me together in my mother's womb. I praise you because I am fearfully and wonderfully made; your works are wonderful, I know that full well."
3. Pray for God to bring a man into your life to disciple you. I sense that you may have never been mentored or discipled. Having a wiser man come along side you to teach, encourage, and hold you accountable will help in many ways. Your counselor, pastor or other leader at your church could help you in finding the right person.
And regarding the girl who is distancing herself from you, just let it go. This is life and there will be similar situations.There will come a time when you will reject someone, for whatever reason, as well and the tables will turn. But if you are friends first, then hopefully you will be friends later. 
2 Corinthians 12:9, "But he said to me, "My grace is sufficient for you, for my power is made perfect in weakness." Therefore I will boast all the more gladly about my weaknesses, so that Christ's power may rest on me."
HE is … Cliff Young, a Crosswalk.com contributing writer and a veteran single of many decades. He has traveled the world in search of fresh experiences, serving opportunities, and the perfect woman (for him) and has found that his investments in God, career and youth ministry have paid off in priceless dividends.
SHE is ... Kris Swiatocho, the President and Director of TheSinglesNetwork.org Ministries and FromHisHands.com Ministries. Kris has served in ministry in various capacities for the last 25 years. An accomplished trainer and mentor, Kris has a heart to reach and grow leaders so they will in turn reach and grow others. She is also the author of four books.
DISCLAIMER: We are not trained psychologists or licensed professionals. We're just average folk who understand what it's like to live the solo life in the twenty-first century. We believe that the Bible is our go-to guide for answers to all of life's questions, and it's where we'll go for guidance when responding to your questions. Also, it's important to note that we write our answers separately.
GOT A QUESTION? If you've got a question about anything related to singleness or living the single life, please submit it to hesaid-shesaid@crosswalk.com (selected questions will be posted anonymously). While we are unable to answer every inquiry, we do hope that this column will be an encouragement to you. Click here to visit the He Said-She Said archives.
Image courtesy: ©Thinkstock/bokan76
Publication date: May 11, 2017