If I Take Medicine for My Anxiety/Depression, Does That Mean I'm Not Trusting God?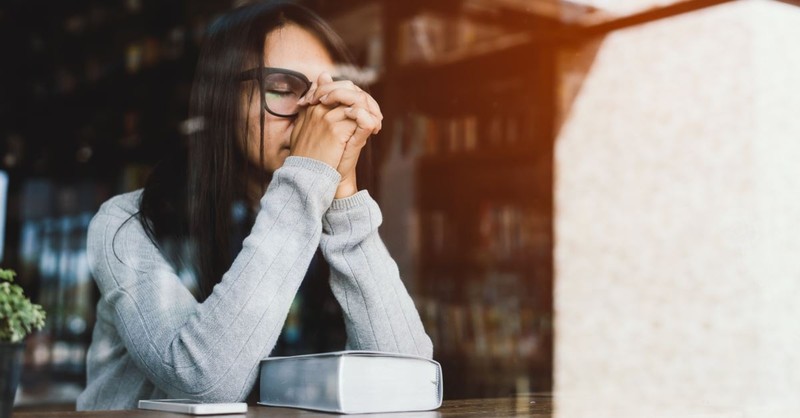 Editor's Note: Crosswalk's Singles Advice is an advice column for singles featuring an anonymous question from a Crosswalk.com reader with a thoughtful, biblical reply from one of our single editors.

I have had anxiety and depression for years now. I read scriptures about trusting God, peace, and joy, but the relief doesn't last. I've gotten the feeling from some of the members of my church that they think I should be able to just pray about my issues and be faithful about them, and that the symptoms will just go away. I really try to trust God. But I still feel anxious, panicked, and down. I feel so guilty that I'm not able to read a scripture about God's love, trust it, and move on.
I've been told by some people that I should maybe try out some antidepressant medicine to help, but I don't want to rely on worldly things instead of God, and I don't want to be faithless about God's ability to fix my problems. Is it wrong to be on antidepressants if I'm a Christian?

Hello! Thanks so much for reaching out with this question. I'm sure that many people can relate to the place that you're in! Here are my thoughts.
You can both trust in God and trust in medicine.
The short answer to your question is no: I personally don't think that it is wrong for a Christian to be on an antidepressant to help with their mental health. I can understand the stigma around it, because we are supposed to trust that God alone can heal. He can and does heal, but he chooses to gift us with physical conduits that he heals us through. Let's look at a biblical example of someone who fully relied on God, but also took medicine to heal their ailments.
In those days Hezekiah became ill and was at the point of death. The prophet Isaiah son of Amoz went to him and said, "This is what the Lord says: Put your house in order, because you are going to die; you will not recover."
Hezekiah turned his face to the wall and prayed to the Lord, "Remember, Lord, how I have walked before you faithfully and with wholehearted devotion and have done what is good in your eyes." And Hezekiah wept bitterly.
Before Isaiah had left the middle court, the word of the Lord came to him: "Go back and tell Hezekiah, the ruler of my people, 'This is what the Lord, the God of your father David, says: I have heard your prayer and seen your tears; I will heal you…'"
Then Isaiah said, "Prepare a poultice of figs." They did so and applied it to the boil, and he recovered (2 Kings 20:1-7).
We see in this story that Hezekiah, one of Judah's righteous kings, is ill—and, although he prays to God to heal him, also takes a poultice of figs as medicine. And he recovered! God blessed that decision.
So, we see that trusting God and trusting God's provision through medicine can go hand-in-hand. The same goes for any other type of physical thing we take to help us: food, exercise, pain killers. It would be ridiculous if we thought "Wow, I'm really hungry, and God has provided this food for me to eat to fix that. But, I don't want to rely on this world, and only want to rely on God, so I'm not going to eat it!"
So, in the same way, if any type of medicine is right for us, we shouldn't feel guilty for using it. Instead, we should ask God to heal us and thank him for making doctors that create the medicine that can help us.
But…Explore Other Options, Too.
I will say, though, that antidepressants might not be the answer for every anxious or depressed person. I am not a counselor or psychiatrist, but I've seen it in my life and my friend's lives that sometimes there are other issues at hand that will not be solved by an antidepressant alone.
The mind, body, and soul are all connected and affect each other. A physical issue (like your brain's chemistry) will affect your mind and your soul, potentially making it feel like it's a spiritual issue when it really isn't.
For instance, someone could be having a really hard time sleeping because of their anxiety, which in turn might make them apathetic towards evangelism. In their quest to always be ultra-spiritual, they might try to fix their apathy by trying to disciple their supposed selfish and ungrateful heart—but the issue wasn't a spiritual one to begin with, it was simply physical!
So, you may find for yourself that an antidepressant will help solve your anxiety and depression and help you to find peace and joy in your relationship with God. It's a totally valid and guilt-free option to explore with your doctor. Many are surprised that Primary Care Physicians can also prescribe antidepressants. You don't have to go to a specialized psychiatrist.
But, I want to encourage you to think about your mental health challenges from all angles, because it might be more than just your spirituality or just your brain chemistry. Because our mind, body, and soul are all connected, your challenges might be coming from your mind or your body in different ways.
Do you exercise regularly? Do you keep track of what you eat, and how it affects your mood? Have you tried cutting out gluten, sugar, or other problem foods to see if that affects your mental state? Do you make sure to fill your diet with nutritious and yummy foods, or do you eat processed foods that are convenient but lacking?
Or, do you have traumas or life-traps from your childhood that you still need to process and heal from? Were your parents there for you both physically and emotionally, or do need to grieve negligence? Do you pay attention to your patterns of thinking and how they could take away from feelings of safety, security, and hope?
I encourage you to dig deeper into all aspects of your life and how they could have a hold on your mental health.  
Anxiety and depression certainly are not a spiritual issues alone, and you absolutely do not need to feel guilty for not being able to just pray these issues away. Sometimes it isn't simply a spiritual issue. God wants us to be whole people, though, which means that the process to heal from what is making you panicky and sad might take more healing than a "magic prayer" or even a "magic pill."
What is encouraging, though, is how desperately God wants to heal you, and how he will be with you every step of the way. Psalms 103 is my favorite psalm and is such a beautiful reminder of who God is for us. Psalms 103:2-5 reads:
 Bless the LORD, O my soul, And forget not all His benefits:
Who forgives all your iniquities, Who heals all your diseases,
Who redeems your life from destruction,
Who crowns you with loving kindness and tender mercies,
Who satisfies your mouth with good things,
So that your youth is renewed like the eagle's.
Ask God to guide you through the whole self-exploration process to be the best you can be for him. And trust that God wants you to be mentally well much more than you do. Remember, he is prepared to heal all of your diseases in his own perfect way!

Kelly-Jayne McGlynn is the Family Editor for Crosswalk.com. She loves being able to combine her love for God with her love of writing, and highly enjoys being at a job where the debate over the Oxford Comma actually matters. 
Disclaimer: any single editor replying to reader questions through this advice column is a Christian seeking God's direction through his Word. We are not trained psychologists or licensed professionals. As we explore issues with you, we will seek God's guidance through prayer and the Bible.
Have a question? If you have a question about anything related to living the single life, please email singlesadvice@crosswalk.com (selected questions will be addressed anonymously). While we cannot answer every question, we hope you'll find encouragement in this column.
Photo Credit: GettyImages/palidachan