Is There Such a Thing as a Biblical Age Gap?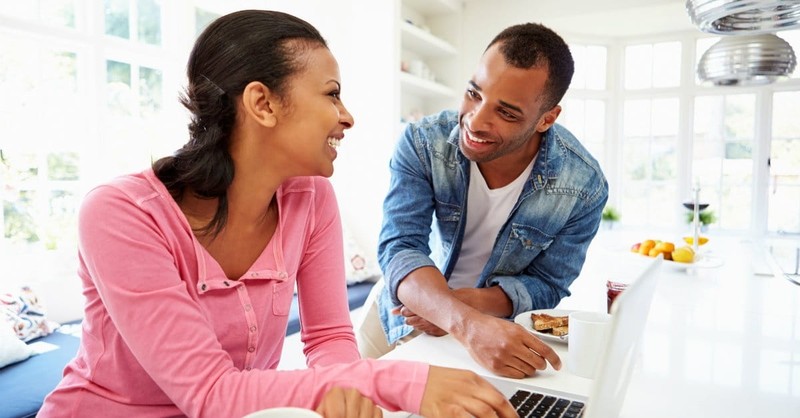 EDITOR'S NOTE: He Said-She Said is a biweekly advice column for singles featuring a question from a Crosswalk.com reader with responses from a male and female point of view. If you've got a question about anything related to singleness or living the single life, please submit it to hesaid-shesaid@crosswalk.com (selected questions will be posted anonymously).
QUESTION:
Is there a biblical / acceptable age gap that should characterize a Christian marriage or dating relationship?
HE SAID:
Even though we often hear from non-believers about how much the Bible dictates rules for how we "have to live" or what it says we "can't do," there are many things God allows for us to determine for ourselves within the parameters and freedom He gives us.
Oftentimes the difficulty comes when there is no specific guidance from the Bible at all. Many of us want that rule book to follow so we can determine what is right or wrong so we don't have to try to figure it out on our own.
Unfortunately, from all that I've read, there is no prescribed Biblical Age Gap that I am aware of and only one mention of the actual age of a couple.
Abraham fell facedown; he laughed and said to himself, "Will a son be born to a man a hundred years old? Will Sarah bear a child at the age of ninety?"  -Genesis 17:17
It can be inferred that Boaz and Ruth also had a significant age difference (in today's world standards).
Then he (Boaz) said, "May you be blessed of the LORD, my daughter. You have shown your last kindness to be better than the first by not going after young men, whether poor or rich.  -Ruth 3:10
Nevertheless, in searching the Bible for documented marriages, we don't find any that can sway us into a precise direction or give us an idea as to what God may be leading us to. In many ways it would make searching for a mate a little simpler if we knew exact parameters to follow.
To best determine what God wants for YOU in this (and other) areas, seek HIM.
Only by aligning yourself with the one who created you will you fully be able to understand what He wants for you.  No one else can tell you or prescribe for you what is best than God through the Holy Spirit.
SHE SAID:
I believe all relationships work best when we are in a similar life-stage, meaning our compatibility is at its closest. However, for each couple that would vary. While many people in the Bible may have married as teenagers, there are instances such as Ruth and Boaz where there was a considerable age difference. Read the story here!
We see a relationship form between Ruth and Boaz of friendship first. This was a friendship that would lead to Ruth asking Boaz to marry her. Boaz would be somewhat surprised that she would pick him as he was much older than Ruth. But it worked out as they both had learned to love from the inside out—where age didn't matter. 
So while I think most people are compatible within a smaller age range, I have met numerous couples like Ruth and Boaz that have proven this to be false. My own parents were 12 years apart, eventually requiring my mother to take care of my father until he died. While she may have missed more years together if he had been younger, she treasured what time they had and would have done it all over again. 
So while I do not believe there is any biblical rule on the proper age gap to get married, I do think you have to look down the road, as you age together. You have to talk about having children, raising children, raising his or her children from another marriage, etc. Pray and ask for God's confirmation and trust that this person is the right one for you, wrinkles, age spots and all. 
"Commit to the Lord whatever you do, and he will establish your plans." -Proverbs 16:3
HE is … Cliff Young, a Crosswalk.com contributing writer and a veteran single of many decades. He has traveled the world in search of fresh experiences, serving opportunities, and the perfect woman (for him) and has found that his investments in God, career and youth ministry have paid off in priceless dividends.
SHE is ... Kris Swiatocho, the President and Director of TheSinglesNetwork.org Ministries and FromHisHands.com Ministries. Kris has served in ministry in various capacities for the last 25 years. An accomplished trainer and mentor, Kris has a heart to reach and grow leaders so they will in turn reach and grow others. She is also the author of four books.
DISCLAIMER: We are not trained psychologists or licensed professionals. We're just average folk who understand what it's like to live the solo life in the twenty-first century. We believe that the Bible is our go-to guide for answers to all of life's questions, and it's where we'll go for guidance when responding to your questions. Also, it's important to note that we write our answers separately.
GOT A QUESTION? If you've got a question about anything related to singleness or living the single life, please submit it to hesaid-shesaid@crosswalk.com (selected questions will be posted anonymously). While we are unable to answer every inquiry, we do hope that this column will be an encouragement to you. Click here to visit the He Said-She Said archives.
Publication date: