Is it Possible to be Addicted to Love?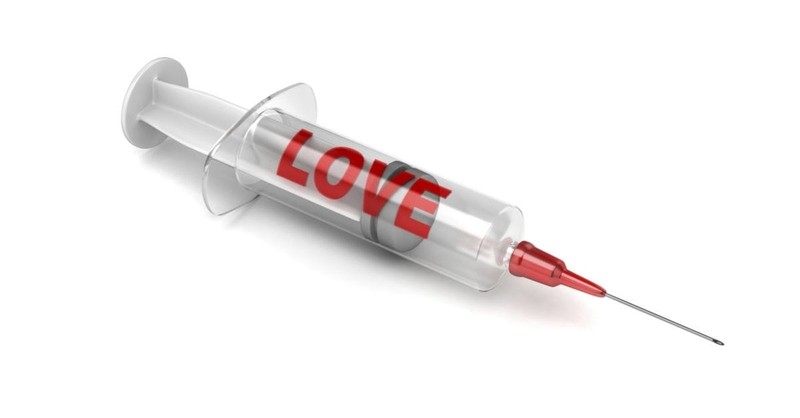 EDITOR'S NOTE: He Said-She Said is a biweekly advice column for singles featuring a question from a Crosswalk.com reader with responses from a male and female point of view. If you've got a question about anything related to singleness or living the single life, please submit it to hesaid-shesaid@crosswalk.com (selected questions will be posted anonymously).
QUESTION: Is it possible to be addicted to love? If so, how can I know I am? And how can I stop it?
HE SAID:
According to the lyrics of an old Robert Palmer song, Addicted to Love sounds more like a medical condition rather than an emotion we all seek in order to survive.
Your lights are on, but you're not home
Your will is not your own.
Your heart sweats, your body shakes
Another kiss is what it takes

You can't sleep, you can't eat
There's no doubt, you're in deep
Your throat is tight, you can't breath
Another kiss is all you need

You're addicted to love
However, if you've ever been "in love," these lyrics seems to hold some truths. Feelings of love can feel like a sort of out of body experience, uncontrollable at times, and euphoric in nature.
Can a person be addicted to love?
Definitely. We all have an uncanny capability and susceptibility to be "addicted" to almost anything. It's important for each of us to understand what those things may be and more importantly, why?
Many addictions are the result of a common emotional deficiency of some sort.
How can I know if I am?
Wanting and desiring love is how God designed us and it is imperative for each of us to have someone(s) in our life to love and to be loved by. However, when that insatiable "need" consumes every waking moment and we are not able to function outside of having those feelings met, that "addiction" may signal we have other issues more pressing than an inherent craving caused by not having a spouse or significant other.
How can you "stop" it?
Many singles I know have an enormous heart with so much love to give and they seek that someone special to share it with. Instead of trying to squelch that blessing (or any blessing) God gave you, find another outlet or opportunity in which to use it.
Share your "addiction" with family, extended family, friends, strangers, a charity or a ministry. Show your love to others and I guarantee you will receive so much more in return.
I understand how a person's focus on seeking love can become overwhelming and seem like a negative addiction, but turn it around to be a positive one by giving it away.
SHE SAID:
Sure, anything can become an addiction that meets a need in your life. This is true from an emotional, social, physiological, physical and even spiritual end of things. The key is how that addiction is affecting your life (and the lives of others around you).
So you say you might be addicted to love. If you are addicted to falling in love, it may actually be lust. Everyone loves those amazing feelings of when you first find yourself attracted to someone. Your stomach gets butterflies, your blood pressure rises, you can't seem to stop thinking of them. But, as soon as you start to date and have to deal with real issues, the butterflies have flown away and your thoughts of them becomes more about how to get out of the relationship.
Addictions is when we attach ourselves to something that meets a need in our lives. Believe me, a really good hamburger and some fries can go a long way. But every time I crave that burger, I have had to ask myself some questions. Am I really hungry? Is there a way to meet my physical needs in a healthier way? If I am not hungry for food, then what am I really hungry for? A burger (or falling in love) may be a quick fix but it can have lasting painful effects.
Your addiction to love may simply be a need or desire for your relationship with the Lord to be stronger, better and more real. I believe all Christians desire to draw closer to God due to this huge hole in our hearts. But because we are human, we find other things to fill that hole. From shopping, to food, to drugs, to over serving at Church, to work, or even love.
Remember, God created love because he is our perfect example of it. Start seeking God's love for you and how it can manifest in and for others, HIS way. Then, your needs will be met in the right way.
There is no fear in love. But perfect love drives out fear, because fear has to do with punishment. The one who fears is not made perfect in love (1 John 4:18).
HE is … Cliff Young, a Crosswalk.com contributing writer and a veteran single of many decades. He has traveled the world in search of fresh experiences, serving opportunities, and the perfect woman (for him) and has found that his investments in God, career and youth ministry have paid off in priceless dividends.
SHE is ... Kris Swiatocho, the President and Director of TheSinglesNetwork.org Ministries and FromHisHands.com Ministries. Kris has served in ministry in various capacities for the last 25 years. An accomplished trainer and mentor, Kris has a heart to reach and grow leaders so they will in turn reach and grow others. She is also the author of three books.
DISCLAIMER: We are not trained psychologists or licensed professionals. We're just average folk who understand what it's like to live the solo life in the twenty-first century. We believe that the Bible is our go-to guide for answers to all of life's questions, and it's where we'll go for guidance when responding to your questions. Also, it's important to note that we write our answers separately.
GOT A QUESTION? If you've got a question about anything related to singleness or living the single life, please submit it to hesaid-shesaid@crosswalk.com (selected questions will be posted anonymously). While we are unable to answer every inquiry, we do hope that this column will be an encouragement to you. Click here to visit the He Said-She Said archives.
Publication date: February 12, 2015