Should You Pursue Someone Who Isn't Interested Initially?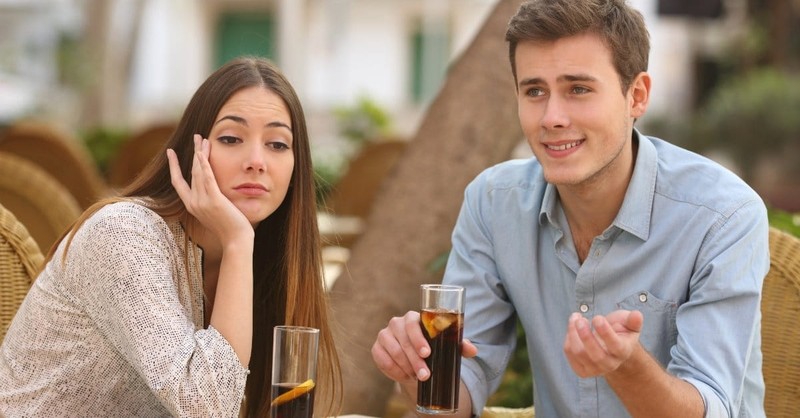 EDITOR'S NOTE: He Said-She Said is a biweekly advice column for singles featuring a question from a Crosswalk.com reader with responses from a male and female point of view. If you've got a question about anything related to singleness or living the single life, please submit it to hesaid-shesaid@crosswalk.com (selected questions will be posted anonymously).
QUESTION: "I recently met a wonderful Christian girl on eHarmony. We met over coffee a few weeks ago and enjoyed our time together.  At the end of our meeting, I asked her if she was interested in getting to know me more, and she said, "Yes." I've been told by a few people that's not a good idea because it may put the girl on the spot and it may come across that I'm rushing things. I sent her two texts after we met and she didn't respond for two days. The following day, I e-mailed her, telling her that I'm taking her lack of response as a hint that she's not interested in building a friendship with me, and I respect her decision. The next day, she responded and apologized for the delay (she was seriously thinking things through and asking her family for advice); she said that although she thinks I'm a wonderful person and would like to build a friendship with me, she is "fairly certain" our friendship will not go any further. I now consider us good friends (brother and sister in Christ) and we have agreed that I will continue looking for another Christian girl, while she remains available for another Christian guy. However, I do remain interested in her and I'm hoping she will change her mind in the future. If a girl is not interested in the beginning, is it unwise to pursue her in the future?"
HE SAID:
First of all, I have to disagree somewhat with those who thought it was not a good idea to inquire about your date's interest in getting to know you. 
As for myself, I would rather know right off if the other person was mutually interested, or more importantly not, than to wonder why my pursuit (texts, e-mails, phone calls, etc.) was falling short. What's wrong with asking and being put on the spot? Shouldn't we (especially as Christians) be speaking truth…and shouldn't we be able to accept it without admonition?
With online dating, you haven't had, nor have, the benefit of getting to know one another in a casual non-dating situation. Therefore, every face-to-face meeting is usually interpreted as a more serious interest and can be thought of as a date of sorts. 
Just because two people do not hit it off does not make either one necessarily bad or wrong.
It's no surprise we are living in an instant society. If a text isn't answered in 10 minutes, we follow it up with an e-mail chastising the person for not getting back to us. And if the e-mail isn't responded to in two hours, we post something on social networking telling the world how bad of a person they are.
In the old days, it was totally acceptable to call back (or respond) in a day or two after a date and even to someone who was being too forward.
I have found when something is of God, it works simply and quickly and can hardly be stopped from happening.  Whether it's finding a job, a home or even a relationship, it seems like when God is a part of it, it happens with little effort. The difficulty or issues come when we try too hard to make something work because (we think) we know what's best for ourselves.
It sounds as if you are still pretty smitten over this woman. If she is the one for you, there will be a time she will come around and seek more time with you. At this point, it seems like she has been trying to let you know as gently as possible she is (currently) not interested and wants to keep her options open. The slight uncertainty on her part probably allows for the "if God changes her heart and mind" possibility.
Continue your search with an open mind as to what God may have for you. Don't set too many boundaries or parameters, and don't try too hard, no one is attracted to a desperate person.
SHE SAID:
It depends on how much information you have about each other and how well you know each other. My issue with online dating is it only gives you a glimpse of who a person is. Without talking, spending time together, seeing how you respond to life issues, family, attending and serving at your church, friendships, etc., how can you really make a decision about someone. I realize that once you meet a person, you know pretty quickly if you are physically attracted to them. However, I have experience in my own life of friendships that started off with no attraction that later, once I got to know them through Christ, I felt very attracted to. 
So, can this young woman change her mind after spending some real time with you? With time through serving at church, interacting with mutual friends, Bible studies, etc., I say yes. Through Christ, anything that glorifies him is possible. She might start to like you and eventually love you from the inside out, versus what most of us do, from the outside in. But here is a bit of caution. You can't make anyone like you. While it is important that you spend enough time with her, so she can see more of who you are, you should not manipulate the circumstances to be in your favor. You really need to trust in the Lord. If she is the one for you and she is listening to God, God will tell her. If God is telling her but she isn't listening, then her maturity is not at the place that is best for you. Yes you can wait, but in the meantime, God may have someone else for you and you will miss it. The bottom line is pray about all of it, and trust God for the next step.
Jesus looked at them and said, "With man this is impossible, but with God all things are possible." -Matthew 19:26
HE is … Cliff Young, a Crosswalk.com contributing writer and a veteran single of many decades. He has traveled the world in search of fresh experiences, serving opportunities, and the perfect woman (for him) and has found that his investments in God, career and youth ministry have paid off in priceless dividends.
SHE is ... Kris Swiatocho, the President and Director of TheSinglesNetwork.org Ministries and FromHisHands.com Ministries. Kris has served in ministry in various capacities for the last 25 years. An accomplished trainer and mentor, Kris has a heart to reach and grow leaders so they will in turn reach and grow others. She is also the author of four books.
DISCLAIMER: We are not trained psychologists or licensed professionals. We're just average folk who understand what it's like to live the solo life in the twenty-first century. We believe that the Bible is our go-to guide for answers to all of life's questions, and it's where we'll go for guidance when responding to your questions. Also, it's important to note that we write our answers separately.
GOT A QUESTION? If you've got a question about anything related to singleness or living the single life, please submit it to hesaid-shesaid@crosswalk.com (selected questions will be posted anonymously). While we are unable to answer every inquiry, we do hope that this column will be an encouragement to you. Click here to visit the He Said-She Said archives.
Publication date: November 5, 2015