What to Do When It Seems Like God is Telling You and Your Ex Different Things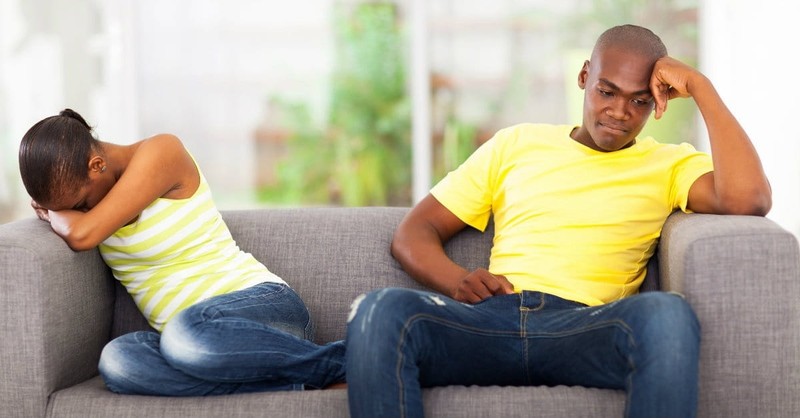 EDITOR'S NOTE: He Said-She Said is a biweekly advice column for singles featuring a question from a Crosswalk.com reader with responses from a male and female point of view. If you've got a question about anything related to singleness or living the single life, please submit it to hesaid-shesaid@crosswalk.com (selected questions will be posted anonymously).
QUESTION:
This is my story: My boyfriend and I of almost a year broke up a little over a month ago. We are both seniors in college. We had a rough two months over Christmas break. We almost broke up before classes started up again but we talked for hours and decided that we wanted to be together and we wanted to fight through this battle.
Over the next two weeks we worked really hard at getting back to what we had before. We were praying and seeking God together, but individually I was begging God to put love for me back into his heart. I felt God telling me that he was the man I was supposed to marry. We had talked of marriage and a life together down the road after graduating and such. So I strongly felt that God was showing me that we needed to continue fighting together, no matter how long it would take.
Then he broke up with me. He said he just couldn't get back to the way things were and that he felt God was telling him this was the best way to go. I am still devastated and have dove into my faith in search of peace and comfort. I have grown so much in my faith in this short time, but I still cannot shake the fact that he was the one for me. Everyone who knew us was devastated and some say maybe it was the "right person-wrong time" type of thing.
But I am having a hard time just accepting that God told us both different stories. I'm so broken and am not sure what else to do besides trust God's plan, but that is much easier said than done. I see him three times a week in class. I know there is a purpose for everything. If we would have broken up before classes started I could have had time to switch classes so I didn't see him three times a week but instead we broke up later.
Did God tell us two different things? How can God be contradictory? Was he really talking to both of us, or did one of us just choose to listen to God while the other listened to their flesh? I appreciate any help and guidance.
HE SAID:
I am sorry for your predicament. Nothing seems worse than truly believing you are hearing one thing from the Lord while someone you care so much about "hears" something different. 
Two weeks seem hardly enough time to work on anything, let alone a relationship, and the issue (at your young age, or any age for that matter) is not necessarily to get back to the way things were, but rather to see if you both want to grow in your future together.
There is not enough fortitude in the world to pray (or beg) God into doing something which He hasn't destined to happen. This is not to say we can't "go rogue" and act outside of his calling, but all of us know deep down when we do.
This is such a pivotal time in your lives as you graduate from college, find your first real job, determine where you're going to live outside of the safe confines of a college environment and become an adult. There are so many factors and unknowns for both of you to deal with over the coming years and this may be playing into your boyfriend's decision (or indecision).
In times like these, it's easy to listen to those who support and agree with your perspective and discount those whose viewpoint differs from where you want to see your future go at this moment in time. This may indeed be a "right person-wrong time" situation or it may be God protecting you for someone better suited and for whom will help you to become the person He has created you to be.
I would encourage you to use this unwelcomed time alone to discover what God wants you to do. You have a lot of decisions to make regarding your life and your career. Although it would be "easier" in some ways to work within the parameters and confines of a relationship, maybe this will open doors (and your eyes) to totally amazing opportunities you have never considered. 
Pray for God to open your heart for whatever He wants rather than for what you already have in mind.
SHE SAID:
I am so sorry this has happened to you. A broken heart is horrible. Time helps in the healing, but it does leave a scar. So I understand and will pray for you. 
Regarding your question of how could God be telling you both different things. First, you didn't share much about what caused the initial break-up. Without some of those details, I am not sure my answer to your question will be complete. Relationships take a lot of work, a ton of communication, and of course commitment. So how could you both hear something different from God?
First, because everyone isn't in the same place in their relationship with God, how they listen to God and interpret his instructions will vary. People can appear to be mature, but when they are tested, their maturity shows in how they react. People who are mature in the Lord, take the extra time to really listen to God. They seek answers from those that are wise such as their pastor, parent or friend. They also do not throw away a relationship, friendship or romantic one without being completely sure it's what God wants. They also give specific reasons as to why the relationship is over. These answers may or may not be what you want to hear but you should at least provide some type of closure.
Another reason you are hearing differently could what you thought was his lack of being obedient. Maybe he's afraid of the next step, realizing it would be marriage. Maybe he wants to do some other things in life before getting married. Maybe he's seeking advice from the wrong source. And maybe he just needs more time. So if these are the answers then why doesn't he just say it? Well fear can literally cause us to freeze up, not allowing us to think clearly.
So what do you do? You can wait and continue to pray. Pray and ask God to calm his fears: For God to reveal the truth to him but also to you. To remove any blinders you are both experiencing. To put godly, wise friends in both your lives. And lastly, for him to be obedient. This could be a test for you both. And I pray you both come through it to end up together. But if not, know it's best. You don't want to marry a man who isn't maturing or being obedient. So be careful your emotions aren't confusing your wisdom.
"This is the confidence we have in approaching God: that if we ask anything according to his will, he hears us. And if we know that he hears us—whatever we ask—we know that we have what we asked of him." -1 John 5:14-15
HE is … Cliff Young, a Crosswalk.com contributing writer and a veteran single of many decades. He has traveled the world in search of fresh experiences, serving opportunities, and the perfect woman (for him) and has found that his investments in God, career and youth ministry have paid off in priceless dividends.
SHE is ... Kris Swiatocho, the President and Director of TheSinglesNetwork.org Ministries and FromHisHands.com Ministries. Kris has served in ministry in various capacities for the last 25 years. An accomplished trainer and mentor, Kris has a heart to reach and grow leaders so they will in turn reach and grow others. She is also the author of four books.
DISCLAIMER: We are not trained psychologists or licensed professionals. We're just average folk who understand what it's like to live the solo life in the twenty-first century. We believe that the Bible is our go-to guide for answers to all of life's questions, and it's where we'll go for guidance when responding to your questions. Also, it's important to note that we write our answers separately.
GOT A QUESTION? If you've got a question about anything related to singleness or living the single life, please submit it to hesaid-shesaid@crosswalk.com (selected questions will be posted anonymously). While we are unable to answer every inquiry, we do hope that this column will be an encouragement to you. Click here to visit the He Said-She Said archives.
Image courtesy: ©Thinkstock/michaeljung
Publication date: June 8, 2017