The Things People Say
Lori Smith

Crosswalk.com Staff

2004

26 Jul

COMMENTS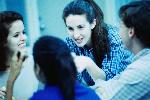 I got an email not long ago that went something like this:
"I have had many people tell me that God has someone for me, just be patient. If I had a dime for every time I heard that, I could buy a husband. Others say that before God can give me a husband, I must be content being loved by Him alone, and if I'm not, then God can never give me a husband. Do you think that is true?"
People often don't know what to say to their single friends. They can be well-intentioned, ignorant, or just plain mean.
One of my friends walked into church to find her ex-boyfriend with his new fiancee. The fiancee asked my friend if she was seeing anyone. When she said no, the girl looked at her and said, "Well, God must still have something to teach you," as if she had arrived because she was engaged and my friend was lagging behind.
Unfortunately, many people believe that we're single because we still have something to learn, and if we would just submit to God and learn the lessons He's trying to teach us, then He would grant our wish. (This thinking is so flawed! It is true, though, that married or single, we've all still got a lot to learn, and God allows our life experiences to teach us and draw us closer to Him.)
Lots of people think that we're unhappy, and that being married would make us happy. They feel sorry for us. They become obsessed—for our sakes—about finding someone for us. They constantly ask if we're seeing someone, and offer to set us up.
Most people kindly believe on our behalf that the right person is out there for us. They try to encourage us by assuring us that he's (or she's) out there somewhere. The problem is, they don't really know if that's true (and we're starting to be skeptical).
As singles, we have to assure the people who are trying to comfort us. It's a difficult position to be in, but I think we have a great opportunity to change the way the church views singleness—and in turn, the way each of our friends view the difficult circumstances they've been given.
I've heard of coming back to people with a smart remark: Q: "Are you seeing anyone special?" A: "I'm seeing you, and you're special!"
It's so tempting, but I challenge you to take every opportunity to set the record straight, in as gentle a way as possible. I tell people that I'm okay, that this is God's good gift to me for now, and that I'm blessed. I take each chance to teach one more person the things I've learned. Some people are more receptive than others. But it's making a difference, one person at a time.

Lori Smith lives in northern VA where she frequents a local ballet studio, hikes in the Shenandoahs, and throws the occasional pity party.  Find more of her writing and preview The Single Truth at  www.thesingletruth.org.
Copyright Lori Smith, 2000 – 2003