Franklin Graham Warns Church: Progressive Christianity 'Can Send a Person to Hell'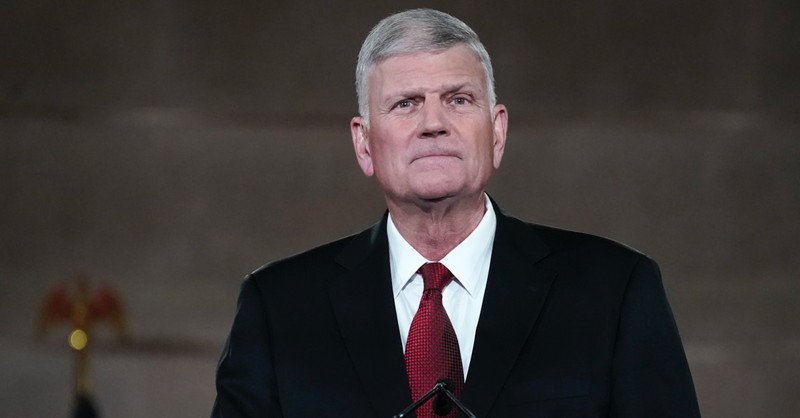 Evangelist Franklin Graham is urging the church in a new column to reject "progressive Christianity" and warning that it is "not a Gospel at all" because it rejects core biblical doctrine.
"The real, ultimate danger is that progressive Christianity can send a person to hell," he writes. "I know that sounds harsh, but it's true."
Graham, the president of Samaritan's Purse, penned the column for Decision Magazine, saying progressive Christianity is wrong on a series of issues, from sexuality to marriage to the deity of Christ. The column ran under the headline, "The Eternal Peril of Progressive Christianity."
"Progressive Christianity denies the divinely inspired, authoritative truth of the Bible as it intersects every facet of living," he writes.
"For example, although Scripture clearly says that marriage is between one man and one woman, proponents of progressive Christianity twist and distort the truth of God's Word on sexuality, focusing on such nonsensical trends as gender identity," he writes. "They deny God's distinction of the sexes, and instead invent their own misguided standards, unguided by the Word of God. The degrading cultural influences that embrace such movements as gay marriage have more sway on their beliefs than the Bible does."
On the topic of justice, he writes, "progressive Christianity is primarily concerned with the issues of social and racial justice (which the Bible does address), but most often neglects the far more fundamental issue of God's justice – how a holy and just God deals with sinful and wicked men."
Progressive Christianity, he writes, "is not a Gospel at all."
"It has nothing to do with the Gospel of Christ's death, burial and resurrection," he writes. "It results in nothing but spiritual confusion and chaos."
Progressive Christianity "frequently fails to see the ruinous consequences of mankind's depraved, sinful state," he says.
"Biblical teaching on the precious blood of Christ, the sacrificial, substitutionary, atoning work of Christ's death on the cross, is too often neglected or distorted," Graham writes. "... There's certainly nothing very forward-thinking about progressive Christianity. It actually regresses into unbiblical thinking and living, and it will put a person's very soul in eternal jeopardy."
Graham quotes Galatians 1:6-9, where Paul writes, in part, "I am astonished that you are so quickly deserting the one who called you to live in the grace of Christ and are turning to a different gospel – which is really no gospel at all. Evidently, some people are throwing you into confusion and are trying to pervert the gospel of Christ."
Pastors, Graham writes, must preach the whole gospel "if they want their congregants to be convicted of their sin and to trust solely in the blood of Christ for the forgiveness."
"Evangelicals need to guard the truth of genuine Scriptural preaching and living, remaining true and bold about exactly what the Bible clearly teaches," he writes. "There is no other way to be saved and secured for all eternity."
Photo courtesy: ©Getty Images/Drew Angerer/Staff
---
Michael Foust has covered the intersection of faith and news for 20 years. His stories have appeared in Baptist Press, Christianity Today, The Christian Post, the Leaf-Chronicle, the Toronto Star and the Knoxville News-Sentinel.