The Top 10 Christian News Stories of 2011
Anna Kuta

ReligionToday.com Editor

2011

19 Dec

COMMENTS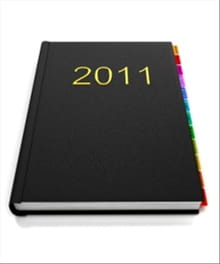 2011 was a year of uprisings, unrest, controversies and Christian persecution around the world. Here are the stories Crosswalk's editors believe most affected Christians around the world during the past 12 months.
1. The Rob Bell controversy: Megachurch pastor Rob Bell ignited a debate when his book Love Wins discounted the existence of hell and argued that "a loving God would never sentence human souls to eternal suffering." In addition to moving away from biblical Christianity, Bell also announced in September his departure from his 10,000-member church to "pursue a growing number of strategic opportunities … to extend the heartbeat of the message of [God's love] to our world in new and creative ways."
2. The Arab Spring and the Christian Winter: As the "Arab Spring" unfolded, Christians in the Middle East and Africa suffered as the movement of political unrest gave way to Muslim domination and rising hostility against religious minorities. Secular regimes are being replaced with Islamic states that have instituted sharia law, which is enforced on citizens of all religions, and the "Christian Winter" is only getting worse.
3. Disaster relief for the Japan earthquake and the southeast U.S. tornadoes: In the wake of devastating natural disasters, Christian agencies were some of the first to step in for both physical and spiritual aid.
4. Are Mormons Christian, and can Christians vote for a Mormon?: With the rising popularity of Republican presidential candidate Mitt Romney, many were left questioning his Mormon faith. Perhaps one of the biggest questions Christians have is whether they could or should vote for a Mormon. Then amid the controversy were the Joel Osteens who claimed Mormonism was just another form of Christianity…
5. 'The Doomsday Preacher': The Bible says no one will know the day or hour of Christ's return, but one man apparently thought he had the inside scoop. Harold Camping, the 90-year-old founder and chairman of Family Radio Stations, Inc., predicted the world would end on May 21, 2011. It didn't. Camping said he had miscalculated and that it would actually happen October 21. When it still didn't, Camping finally apologized for misleading his followers.
6. Iranian pastor faces execution for his faith: Thirty-four-year-old Iranian pastor Yousef Nadarkhani, who was sentenced to death for apostasy and leaving Islam, was given four opportunities in September to recant his Christian faith during a hearing to appeal his death sentence. He refused. As Nadarkhani faced imminent execution, religious freedom advocates around the world rallied on his behalf. He remains in prison, awaiting a final decision from Iran's Islamic authority, Supreme Leader Ayatollah Khamenei. Though Pastor Nadarkhani is alive, he has faced physical and psychological torture as well as continued pressure to recant, and he is in deteriorating health. His strong faith has been an inspiration to Christians around the world as millions continue to unite in prayer for him and his family.
7. To Train Up a Child deaths: A national controversy over the book To Train Up a Child, written by Tennessee pastor Michael Pearl and his wife Debi, gained new intensity after a third child was beaten to death, all at the hands of parents who owned the Pearls' book. The Pearls teach spanking children into obedience – advising parents to use a quarter-inch flexible plumbing line to hit children's arms, legs or back – but insist that blaming their book for the three deaths is preposterous.
8. Pat Robertson's comments on Alzheimer's: Christian broadcaster Pat Robertson said on The 700 Club in September that it would be justifiable to divorce a spouse with Alzheimer's to remarry because the disease was "a kind of death." Amid the resulting firestorm, Robertson initially had no comment, but a few weeks later said his statements had been "misinterpreted." His statements caused a discussion of two issues Christians traditionally believe in: The care of the sick and elderly, and the sanctity of marriage vows.
9. Unrest in South Sudan: After South Sudan seceded from Sudan in July, Sudan's Islamist regime began attacking and dropping bombs on the new nation. Thousands of Sudanese refugees in South Sudan, both Christians and Muslims who were persecuted by the regime, are currently displaced and in danger. South Sudanese president Salva Kiir warned that Sudan may be preparing to invade South Sudan, possibly attempting to provoke its southern neighbor into restarting a war.
10. Tim Tebow's faith: Former Heisman Trophy winner and Denver Broncos quarterback Tim Tebow has become one of the most polarizing and controversial figures in sports because of his bold Christian faith. Whether people are in favor of his faith or opposed to it, one thing is for sure: It has everyone talking.
In Memoriam
David Wilkerson, founding pastor of Times Square Church in New York City and author of The Cross and the Switchblade, was killed April 27 in a car accident at age 79.
John Stott, a leader of the Church of England who played a key role in the worldwide evangelical movement, died July 27 at age 90.
Publication date: December 19, 2011