Can You Trust God with Everything?
Ken Hemphill

Guest author

2001

4 Nov

COMMENTS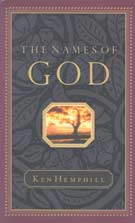 When God called Abram to leave his native land and occupy a new land that He would show him, He also promised to bless Abram and to make him a blessing. Part of the blessing was that He promised He would make of Abram a mighty nation.
Time passed and God continued to bless Abram and Sarah, but still they had no children of their own. When Abram was 99 years old, God reaffirmed His covenant. God appeared to him as El Shaddai, the God who is almighty to nourish, renewing his covenant and changing Abram's name to Abraham, the father of a multitude. Then the child of promise, Isaac, the beloved child of his own flesh, was born. After this journey of faith, God came to Abraham with a final test to see if Abraham had learned to trust Him to provide his every need.
When God calls to Abraham, he answers without delay. The command is told in an unadorned fashion, which belies the enormity of the request: "Take now your son, your only son, whom you love, Isaac, and go the land of Moriah; and offer him there as a burnt offering on one of the mountains of which I will tell you" (Gen. 22:2). It is not merely a son that God requires of Abraham, it is his only son, it is Isaac, the son whom he loved. It is the son who was the crucial foundation stone for the fulfillment of the promise that Abraham would become the father of many nations. This was not only a staggering faith commitment; it was an enormous personal challenge.
Abraham's response was one of immediate obedience. Not one word of objection is recorded in the entire text. No doubt he was struggling with a deep inner turmoil, but he had learned to walk with God and to trust Him to provide. I have often wondered if any dialogue passed between Abraham and Isaac. The text is silent. We are simply told that Abraham bound his son and laid him on the altar. It is precisely at this moment, as Abraham wields the knife that the angel of the Lord called to him from heaven. "Do not stretch your hand against the lad, and do nothing to him; for now I know that you fear God, since you have not withheld your son, your only son, from Me" (Gen. 22:12).
Have you come to a place in your faith pilgrimage where you know that you can trust God with your "Isaac?" Your Isaac may be your career, your family, a relationship, your retirement, your college plans, or the provision for tomorrow. What has become the focus of your life? Do you believe that God can provide for your needs? Are you willing to place your Isaac upon the altar?
There is an interesting verse in John 3. You may know that this passage is about an encounter between Jesus and Nicodemus, a Pharisee and ruler of the Jews. We remember this passage mostly for Jesus' statement that Nicodemus must be born again. When Nicodemus tells Jesus that he doesn't understand how he can be born again, Jesus responds in verse 12: "If I told you earthly things and you do not believe, how shall you believe if I tell you heavenly things?"
Chances are you have already trusted Christ for your salvation. In other words, you are trusting Him for issues relating to where you will spend eternity. But if you can trust God for eternal issues, then why do you struggle with earthly things when God has given such clear instruction?
Our ability to claim and live by God's promise will come only when we have experienced Him as Jehovah Jireh: the Lord who provides. We must first understand the character of God, and then we must willingly place our Isaac upon the altar of sacrifice and allow God to be our Provider.
Do you remember what happened in Abraham's life after the encounter with God on Mt. Moriah? All of God's promises were released in his life. He knew the blessings of Jehovah Jireh. Too many of us are missing the joy of seeing God's blessings fully released in our own lives because we are tenaciously clinging to that which seems most precious. We argue with God that we can't possibly put our career or our family on the altar because it is the only thing we have of value. The problem is that we have taken possession of what God gave to us in stewardship. We have failed to understand the fullness that God desires to bring to our lives.
This week, take several practical steps and see what God shows you about Himself.
1. Practice immediate obedience.
2. Learn to trust Him to be fully consistent with His name.
3. Believe that He is Jehovah Jireh, the God who provides.
4. Place that which is most cherished in your life on the altar. Surrender completely to Him.
5. Be prepared to praise Him whether He restores your Isaac or removes it. Remember He is God, fully loving and altogether trustworthy.
6. Practice these principles daily.
Excerpted from The Names of God, copyright 2001 by Ken Hemphill. Used by permission of Broadman & Holman Publishers, Nashville, Tenn., www.lifewaystores.com, 1-800-448-8032.
Ken Hemphill is president of Southwestern Baptist Theological Seminary. He has written a number of other books.
Are you holding onto something right now because it's challenging for you to trust God with it? When you've trusted God with a part of your life in the past - such as your family, or your career - how have you seen Him work in that area? Visit Live It's forum to respond, or read what others have to say. Just click on the link below.