As I contemplate and prepare myself for another Christmas, I wonder what this season will bring for me, my friends and family, and for those around me.  It's not surprising to find many of us facing continued hardships of a struggling economy, waning health and difficult (or non-existent) relationships, besides the typical "unknowns." 
Just this week I received a couple of prayer requests, one from a mother battling multiple sclerosis (who may not survive until Christmas) and two others who have recently been diagnosed with cancer. 
Isn't this the time of year when everyone is "supposed" to be happy, where wishes "come true," and everything turns out perfect (just like on the Hallmark and Lifetime channels)?  Maybe that's why so many families head to Disneyland for the holidays, where it claims to be the "Happiest Place on Earth."
In many ways, this time of year seems to accentuate our sadness and disappointments more than it heals them.  Maybe we just expect too much from the season.
Disappointment
Wikipedia.com defines disappointment as "the feeling of dissatisfaction that follows the failure of expectations to manifest" and The Encarta World English Dictionary defines expectation as "a confident belief or strong hope that a particular event will happen."
What I find interesting is how similar the "secular" definition of expectation is to the "biblical" definition of faith.
Faith is being sure of what we hope for and certain of what we do not see (Hebrews 11:1).
From the world's point of view, expectations are something we believe and hope will happen while from God's perspective, faith is being sure of what we hope for.
To expand a little further, expectations seem to be what we hope "we" (ourselves or others) can do (or have control in doing); while faith is believing what God is going to do.  If our disappointment comes from the failure of somebody we believed in or put our trust in (including ourselves), maybe our expectations are placed more on "mankind" than on our faith in God.
This isn't to say we shouldn't have expectations for ourselves (or for others) or by having faith in God alone we won't ever be disappointed.  There are many situations in life (and in death) where we may never understand the reason "why" things happen even with a strong faith, like the loss of a family member, a marriage breakup or a horrendous crime.  However, faith is having the hope of being certain God is in control, believing he knows and loves us even in the worst of times and knowing his way is perfect (Psalms 18:30).
Hope
God had planned something better for us so that only together with us would they be made perfect (Hebrews 11:40).
If we continue to place all of our hope and expectations only in ourselves, naturally we will be disappointed.  None of us are perfect nor can we expect to be.  However, if we place our hope in God, "together" it will be made perfect.
Peter often had solid unwavering faith, hope and insight, while he was with Jesus.
 Yet, many of us are quite aware of the time he wasn't.
Peter was more steadfast when he was with the Lord than when he was apart from him. 
As singles, we can sometimes feel as if life is an uphill, "us" against "the world," struggle.   Although there are difficult situations to face specific to singles, we don't have to face our struggles alone.  We have been offered a relationship with Jesus and a guide in the Holy Spirit, to live each day together with the Lord instead of on our own.
Therefore, since we have been made right in God's sight by faith, we have peace with God because of what Jesus Christ our Lord has done for us.  Because of our faith, Christ has brought us into this place of highest privilege where we now stand, and we confidently and joyfully look forward to sharing God's glory.  We can rejoice, too, when we run into problems and trials, for we know that they are good for us—they help us learn to endure.  And endurance develops strength of character in us, and character strengthens our confident expectation of salvation.  And this expectation will not disappoint us. For we know how dearly God loves us, because he has given us the Holy Spirit to fill our hearts with his love (Romans 5:1-5).
Even still, many of still seem to be at the end of our rope "hoping" for a miracle.
Miracle
We need to remind ourselves that God is in every moment of our lives because He has a plan for us. 
"For I know the plans I have for you," declares the Lord, "plans to prosper you and not to harm you, plans to give you hope and a future" (Jeremiah 29:11).
Oftentimes when a trial arises, we immediately question "Why?" instead of "What?"  We should be asking ourselves, "What is God doing through this bump in the road, struggle or heartbreak?" and "What do I need to learn, grow, change or do to be a part of it?"
Sheila Walsh, author and speaker, recently shared a story about being delayed at an airport causing her to miss her connecting flight.  As she was in line waiting to be rebooked, a distraught woman ahead was silently pleading for God to show her he still knew who she was.  When the woman turned around, she recognized Sheila from the Women of Faith Conferences and burst into tears explaining how much Sheila had ministered to her over the years.  That was her sign from God.
Sheila could have looked at her trouble and thought, "Why me God?"  Instead she made herself available to whatever he was doing and (together with him) ended up being used as a God-given sign for that woman.
I recently heard someone say, "Instead of always looking for a miracle, BE a miracle."  What I perceive the person to mean was instead of always seeking for something to happen for you, go out and be that (miracle) for someone else. 
We often think we know what is best for our lives and put pressure on ourselves to "make it happen," and when our expectations fall short we become disappointed.  However, if we look beyond our own struggles and allow ourselves to be used by God, we may be surprised at the miracles we may see.  God doesn't need us for his plans, but if we join together with him maybe we can be a part of something that is made perfect.
Don't miss what he is trying to do through you this season.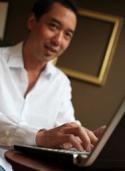 Cliff Young is a contributing writer to Sandlot Stories (ARose Books), as well as the monthly column, "He Said-She Said," in Crosswalk.com's Singles Channel.  An architect and former youth worker, he now works with Christian musicians and consults for a number of Christian ministries. Got feedback?  Send your comments and questions to CYdmg@yahoo.com. 
**This article first published on December 21, 2010.