God's Goodness
When joy gives way to sadness and light of good days fades into a dark season of personal pain it is common to hear God's people questioning the goodness of God.  That may be a natural response to our discomfort, but it is not the right one. Instead, Psalms 107 calls those who are hurting to purposefully "give thanks to the Lord, for he is good" (Psalm 107:1). His goodness, the psalmist reminds us, can be seen in the ways that God has delivered us from previous bouts with trouble and pain.  In speaking of God's goodness the psalmist employs a vivid word that should always prompt Christian thanksgiving, he writes: "Let the redeemed of the Lord say so" (Psalm 107:2) While there may be many earthly "salvations" from trouble for which to praise God, there is no doubting God's kindness to us when we consider our eternal "redemption" from the consequences of our sins. With that in mind, Psalm 107 poignantly prompts us to consider our part in our present pain. The song proposes that many of our troubles come when we "rebel against the words of the Lord" (Psalm 107:11). Boldly the lyrics declare, "Some were fools through their sinful ways, and because of their iniquities suffered affliction" (Psalm 107:17). Yet with all of this, the goodness of God is seen in the reminder that when sinners "cry to the Lord in their trouble, he delivers them from their distress" (Psalm 107:13, 19). It may be a dark season for you, but God is good. Even if your pain is self-inflicted, remember God is gracious to deliver.
-- Pastor Mike
MARCH OFFER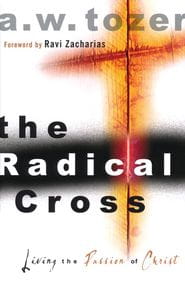 As we celebrate Easter this month, I want to recommend a book by A.W. Tozer called 
The Radical Cross: Living the Passion of Christ
.  I know that this book will enrich your understanding of what Christ did on the cross and encourage you in your walk with God. 
Get your copy of The Radical Cross for a donation of any amount 
this month.



Click Here to visit Focal Point Ministries' website