Tumultuous World
We live in a violent and tumultuous world—for now. Surprisingly, it's one of the byproducts of grace. Had God chosen to destroy every sinner at the moment of his or her sinful intent, our world would indeed be free from all the horrible headlines, but it would also be unoccupied. Instead, God graciously and mercifully provides time to bring many sinners to repentance, and this leaves us living in a prolonged period of human rebellion and suffering. On top of that, as a consequence of the first act of rebellion in Genesis 3, as well as a reminder of our dire need, God justly imposed material rebellion and natural corruption to be interwoven into the fabric of our planet. Therefore, the immediate forecast will be an ongoing string of moral and natural disasters, which will continue to erupt around our world as we go about calling men and women to repentance and faith in Christ. As Jesus warned, "You will hear of wars and rumors of wars. See that you are not alarmed… For nation will rise against nation, and kingdom against kingdom, and there will be famines and earthquakes in various places" (Matthew 24:8). It's doesn't feel good to hear a "bad forecast", but it does keep us from being demoralized while we continue to make our way toward a time and a place in which sin, violence, and suffering are a distant memory.
-- Pastor Mike
AUGUST OFFER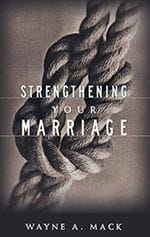 Do you know what biblical love is? It certainly bears little resemblance to what passes for love in the world today. When the people of our culture speak of "love" they are usually referring to something that impulsively springs from feelings of happiness, warmth, attraction, affection or pleasure. But the Bible uses the word to describe something very deliberate, usually without reference or thought to motives driven by good feelings.

In our marriage, understanding biblical love is critical. This month we have chosen a book that will challenge you to live out biblical love in this very important relationship. The book is titled Strengthening Your Marriage by Wayne Mack. Whether you are in your first few years of marriage or celebrating your golden anniversary, this book provides practical encouragement for your most important earthly relationship. Request Strengthening Your Marriage with your donation of any amount this August.
Click Here to visit Focal Point Ministries' website