Three Kinds of Prayer
There are three primary settings for biblical prayer which should have priority in our lives. The first is a focused type of scheduled prayer (Mt.6:6). This is the kind where, like Daniel's three times a day or Jesus' predawn appointments, we plan to meet with God for a significant session of "pouring out our hearts before the Lord" (Ps.62:8). The second setting for prayer is a team effort. This is when we meet with other Christians in groups to help one another direct our thoughts, intercessions and thanksgivings to God (Ac.12:11). Praying with others allows us to share one another's burdens (Gal.6:2) and prompts us to express requests and concerns to God that would have never otherwise crossed our minds. A third setting for prayer can take place in your life right now. It is the kind Paul called "praying continually" (1Th.5:17). These are the comments and request that should punctuate our lives as we reach out to our omnipresent God amid all the events and activities of our day (cf. Neh.2:4-5). Let's make all three a priority as we seek to deepen our relationship and communication with the living God.
Pastor Mike
FEBRUARY OFFER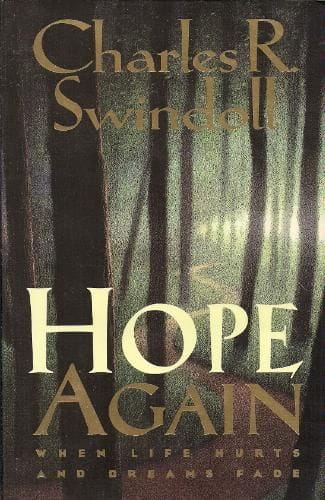 "I hope all is well!" "I hope to see you soon." "I hope I don't have any cavities when I visit the dentist." "Here's hoping!"
Like many words in our vernacular, the word hope is often tossed around casually and even mechanically. It comes to our lips spontaneously without a thought to its meaning or significance. Most of the time we use the word hope, we are really expressing a wish. It amounts to saying something along the lines of "it sure would be nice if such and such would happen." But there is so much more to the biblical word "hope".
In the Bible, hope refers to a confident expectation of a future event. This is not just wishful thinking; instead, hope is closely related to trust. It is the joyful anticipation of something we are certain is going to come about.

For your donation this month at Focal Point, we would like to send you a book titled Hope Again by Chuck Swindoll. This book explores the practical ways our hope in Christ moves us beyond our daily struggles. You will learn from a biblical standpoint how to find hope beyond failure, temptation, guilt, unfairness, immaturity, bitterness and more. Chuck calls this "A book for all who sincerely search for ways to hope again when your life hurts and your dreams fade."

Request Hope Again with your donation this month.
Click Here to visit Focal Point Ministries' website